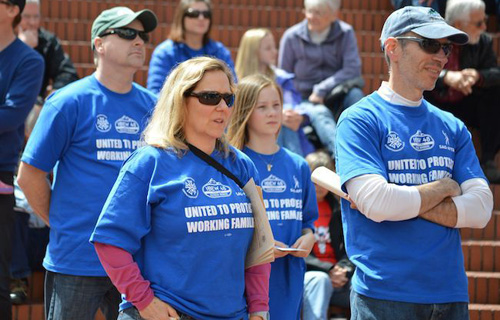 PORTLAND, Ore. (PAI) — For workers behind the camera at Portland NBC television affiliate KGW-TV, labor negotiations are going from bad to worse. There, 23 camera operators and editors are represented by Theatrical and Stage Employees Local 600, and 19 control room operators and technicians are represented by Electrical Workers Local 48. Neither union has been able to reach agreement on a new union contract in two years of bargaining.
The biggest obstacle, says IATSE representative Dave Twedell, is a company proposal to end union jurisdiction over union members' work, apparently in order to allow the station to use amateur footage shot by members of the public.
KGW-TV is one of 46 TV stations owned by Tegna, a company created last year as a spinoff of media giant Gannett. In bargaining with IATSE, Tegna negotiators have been threatening for months the company might impose its own terms at KGW, over the objection of union members.
On June 28, Tegna presented what its chief negotiator called the company's "best offer." For a highly profitable company, it's not much: A $250 signing bonus and two 1.5 percent raises – in a three-year contract that's half over with. IATSE's last contract at KGW expired February 2015.
The company offer would also eliminate a "successor" clause that preserves the contract in the event of a sale of the station. And it would end union jurisdiction. Twedell recommended against approving the company offer – mainly because of the jurisdiction proposal. In a July 11-12 secret ballot vote, members rejected it, 26-0.
Twedell says Tegna never fully explained why it wants to end union jurisdiction, but he thinks the answer is something he's calling the "Uberization" of TV news. Just as smartphones turn drivers into cabbies with Uber, they could turn bystanders into TV camera operators with an app called Fresco.
Users who download the app get notified by newsrooms if they're in the vicinity of breaking news events; they then shoot and upload photos and videos, and get paid if a news outlet uses the footage. So far, 11 Fox TV affiliates around the country are using Fresco, paying $75 for videos and $30 for photos – of which the user gets two-thirds.
At Fox stations KTTV in Los Angeles and KTVU in San Francisco, IATSE represents camera operators and has filed grievances and unfair labor practice charges to try to block the use of Fresco.
"This is precisely the business model of amateur news that we are fighting," Twedell says. "We have every reason to believe that Tegna intends to use a Fresco-like approach."
A third union at KGW, SAG-AFTRA, agreed to the "flexible jurisdiction" clause, and settled a new contract with Tegna. SAG-AFTRA represents KGW's on-air talent.
In Seattle, the same struggle is playing out at Tegna-owned KING-TV, where IATSE Local 600 and IBEW Local 46 represent similar units to those at KGW. There, the Seattle City Council took the side of the union, passing a resolution condemning Tegna by unanimous vote on June 27. The measure, by city councilors Kshama Sawant and Lisa Herbold, criticizes Tegna for downsizing KING-TV's news operation, and calls on all public entities that own Tegna stock to consider divestiture.
Twedell is looking to see if Portland City Council will do something similar. To discuss that idea, IATSE and IBEW hosted a town-hall-style meeting on July 27 in downtown Portland.
Meanwhile, negotiations between KGW and IBEW Local 48 paused June 29 when management announced two master control operators will be laid off this fall, including the station's IBEW union steward, Steve Smith. The station won't need those workers because their work will be done from a hub in Jacksonville, Fla., except during live broadcasts of local sports events, it said.
Under the IBEW contract, layoffs are supposed to start with the least-senior employees, and Smith has been at KGW 25 years. But the contract also says seniority is a factor only when workers are equal in merit and ability. KGW management points out Smith lacks a commercial drivers' license, something a much less senior worker has, so he has to go.
IBEW attorney Diana Winther thinks that's a paper-thin pretext – the station's satellite news truck, which requires a CDL to operate, hasn't been driven in a year, and KGW could have Smith get a CDL if it wanted to. A decade ago he offered to get one and was turned down by the station.
Maybe not coincidentally, Tegna has proposed a voluntary early retirement package in bargaining-two weeks' pay per year of service, plus health insurance, for members 55 or over who've worked there 15 or more years. The two sides next meet on August 2. They've been without a new union contract since June 2014.
Don McIntosh is Associate Editor, Northwest Labor Press
Photo: Workers at a public rally protest anti-union moves by KGW. | Northwest Labor Press