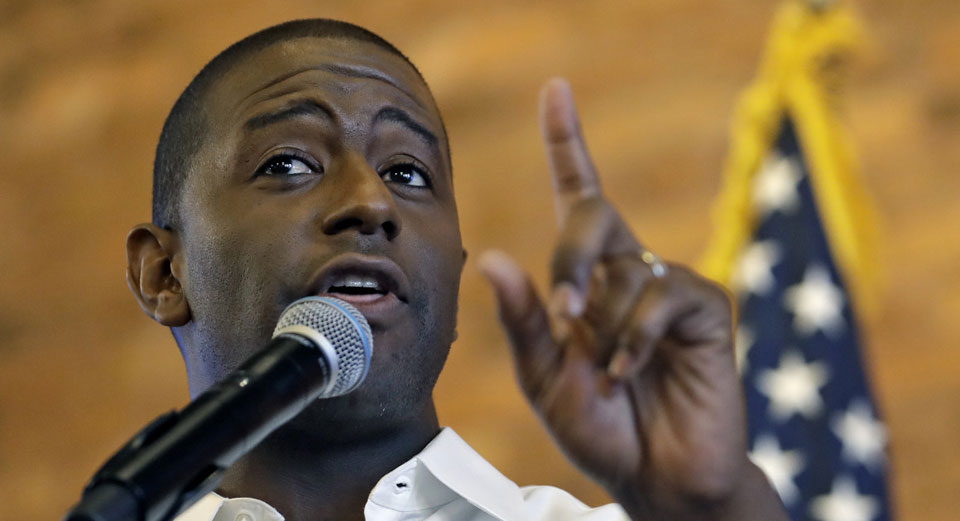 WASHINGTON—To win more big races in the future, Democratic political candidates in general and African-American nominees, in particular, will have to get through to people, particularly those who voted for Donald Trump, people who disagree with them, former Florida Democratic gubernatorial nominee Andrew Gillum says.
"You can't call them racist," Gillum said of the Trump supporters, replying to a question after his speech to the AFL-CIO's Martin Luther King commemorative conference, in D.C., on Jan. 18.
"If we're going to win, we have to put in the work, and it'll require some conversations with people with whom we don't really feel comfortable. We have to get them to a higher level where we can talk with them" on issues the two sides may have in common, he added.
That may be easier said than done, though. Television newscaster Melanie Campbell, who quizzed Gillum and then fielded the questions, commented: "If you voted for" the Florida constitutional amendment restoring voting rights to 1.5 million former felons "and then voted for the man" – DeSantis – "who didn't want you to have your rights back, there's a complication there."
Gillum supported the amendment, which passed overwhelmingly. Florida is 9.2 percent African-American, but 20 percent of Florida's African-Americans were disenfranchised by the felon lifetime voting ban. The amendment was backed by "a pretty powerful coalition of Republicans, Democrats, whites, Latinos, and African-Americans" because it was framed as a justice issue, he noted.
Gillum was one headline speaker at the opening of the three-day conference, which resumed on Jan. 20 after its delegates augmented an already-large AFL-CIO delegation to the Women's March on Jan. 19. In between, delegates broke into small closed sessions on voting rights, workers' rights, responsive justice, civil rights, economic rights and more.
The other advice Gillum had for political hopefuls was to "be yourself."
"I ran around the state advocating a $15 minimum wage, health care as a right not a privilege, and ban the box" on employment forms which asks applicants about prior criminal history, and has been used to ban African-Americans from jobs, Gillum said. The result: A very close loss, after a mandated recount.
The former Tallahassee mayor came within one-half of one percent of winning the governorship and his race drew presidential-level turnout: 8.2 million voters combined for all candidates, just short of the 9 million who voted in 2016. In 2014's off-year voting, 5.1 million turned out, Gillum said.
Gillum's lesson from the combination of his narrow loss, and a similar narrow loss by African-American State Sen. Stacey Abrams (D) in Georgia, and the referendum's overwhelming win is that "on issues of fairness and equality, we can win, even if we don't win elected office. And that we can't judge the long-term success of this movement – and it is a movement – by the results of one election cycle." He later told one questioner: "It lays a foundation for the future."
Gillum admitted, however, that he was handicapped going into the general election, which occurred only a few months after the primary, by the fact that he was the "outsider" candidate, given no chance to win.
He won the primary by several percentage points over the establishment favorite, former Rep. Gwen Graham, but had only a skeleton organization. Florida party honchos were so shocked that they did not move quickly to make resources available to him. That, in turn, led Democratic donors to view him with a jaundiced eye. He had to keep seeking dollars even in the homestretch of his drive.
The lesson he gave to the crowd is that while you must cultivate your base in the primary – Gillum, the poor man in the race, had just enough cash to do that – you must also keep lines open to the rest of the party and to its constituent groups. He did, to Hispanics in the Orlando area, and to organized labor, which was a big part of his campaign, since he comes from a union family.
Many conference sessions were devoted to voting rights, and many of the speakers were already looking towards 2020, even before Sen. Kamala Harris, D-Calif., who is one of three African-Americans in the Senate, officially joined the Democratic presidential nomination race on the King Holiday, Jan. 21. Harris is half African-American and half Asian-American. Her mother's family is from India.
The looming election led Campbell to ask Gillum about "the best kind of nominee to flip the White House" away from GOP incumbent Donald Trump, whom delegates viewed as racist and misogynist.
They met on a weekend during which Vice President Pence outrageously compared Donald Trump to the Rev. Dr. Martin Luther King Jr. by claiming that Trump, like Dr. King, urged legislative solutions to the ills of American society. Pence used Trump's handling of the government shutdown as an alleged example of the comparison, drawing criticism from across the political spectrum. The president himself observed the King holiday by making an unannounced three-minute driveby of the King memorial in Washington D.C.
Gillum didn't directly answer the question about "the best kind of nominee" to flip the White House. But with the high proportion of African-American female voters in early primary states, he said, "Women, specifically black women, are going to have a lot to say about that."
And they should put candidates, of all races, on the spot, by demanding detailed answers to the question "What you gonna do?" Not asking that was a mistake made by Black communities with Barack Obama, Gillum noted.
Other speakers included AFL-CIO President Richard Trumka, Executive Vice President Tefere Gebre – in tandem with Steelworkers Vice President Fred Redmond – AFT Secretary-Treasurer Loretta Johnson, and Metro Washington Central Labor Council President Jackie Jeter of the Amalgamated Transit Union.
Trumka said the MLK conference delegates show him "the future of the labor movement" as unions and the U.S. workforce, become increasingly diversified. Federal data back him up: One of every eight African-American workers (12.5 percent) were union members last year, two full percentage points more than the percentage of all U.S. workers. One of every 11 Hispanic-named workers (9.1 percent) were unionists, as were one of every 12 Asian-Americans (8.4 percent).
Trumka urged the crowd to even more activism. "The attacks on us, on our unions, on workers' rights, on voting rights, on civil rights, on women" are at the highest level in decades, he said. "It's only Jan. 18 and we have a mountain of work ahead."
"What is working for working people right now? Not our political system, when 800,000 people are locked out of their jobs" by Trump and the GOP. "Not our economic system, when one in every seven workers haven't seen a raise in years and five of every seven live paycheck to paycheck."
"This is not the American Dream," Trumka declared. "Our system is broken because it is rigged. Corporations and politicians" – he didn't name names – "have conspired to make it that way."
He also lauded African-Americans for standing up to such oppression. "Protectors of the status quo told people of color they couldn't integrate – but they did. They told some they can't vote – but they did. They told workers they couldn't unionize – but we did."
"The status quo is easy," but it means "do nothing and you'll get nothing," the federation chief added.
"It's our moment to fight for an America that treats every worker with dignity and respect, that builds bridges, not wall, to have the right to love whom you love and not get fired for it, the right to form a union, to have the right to vote, and the right to live in a community where you won't get arrested because of what you look like or what color you are."