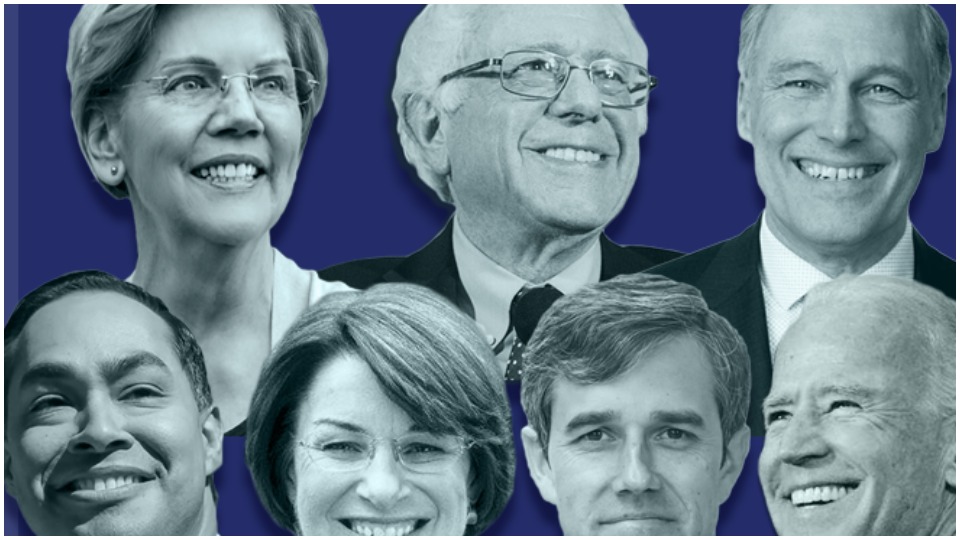 HOUSTON—From Elizabeth Warren and Bernie Sanders to Beto O'Rourke and Julián Castro, Democratic presidential hopefuls weaved pro-teacher, pro-education messages into their general campaign themes at a two-hour-long one-by-one Q&A on the evening of July 5 at the convention of the National Education Association, the nation's largest union.
There were few mentions of President Donald Trump, except to castigate his Education Secretary, GOP big-donor Elizabeth "Betsy" DeVos. Several hopefuls, led by Sen. Warren, D-Mass., declared they'd replace her with a classroom teacher. No candidate mentioned impeaching Trump, though several now advocate it.
The NEA forum was one of a string of such events unions and progressive groups are hosting to quiz the 24 Democratic hopefuls about their stands—and to give the campaigners chances to make their cases and recruit supporters. Coming forums will probably include California billionaire and Trump impeachment advocate Tom Steyer. They won't include Rep. Eric Swalwell, D-Calif., who dropped out July 5.
"I will name someone to be Secretary of Education who has been a public school teacher," Warren said, to cheers. Someone, she said, who recognizes, respects, and funds teaching as a calling to educate kids, who "keeps the door open" for them "to light up" with the excitement of learning. "Betsy DeVos need not apply!"
"And let's put a teacher in the White House!" Warren, a former special ed teacher and consumer-crusading Harvard professor, concluded, to more cheers.
Sen. Amy Klobuchar, DFL-Minn., added infrastructure to the president's failures, having seen the difference between well-run, well-maintained and crumbling schools while on the campaign trail. It was part of her overall pitch for that priority, though she did not mention the thousands of construction jobs it would create. Klobuchar also said she would replace DeVos.
The 9,000 delegates from every state, plus invited guests, gave repeated hearty applause and cheers to Warren and Sen. Sanders, Ind-Vt. Those two and Castro touted their detailed education plans. Castro also came close to Sanders's Medicare For All proposal for government-run single-payer national health insurance.
"I want to strengthen Medicare and make sure Medicare is available to everyone who wants it," former Housing Secretary and San Antonio Mayor Castro said. Sanders spent much of his first answer touting Medicare For All while defending Social Security, Medicare, and Medicaid against GOP attempts to cut them.
Warren, Sanders, and O'Rourke, a former Democratic congressman from El Paso, all endorsed strengthening unions and the right to organize, though only Warren did so unprompted. She declared making it easier to join unions, for teachers and other public workers, is the first step to raising pay.
And she lauded the teachers and their unions for their grass-roots-started RedforEd teachers strikes in West Virginia, Oklahoma, Arizona, Kentucky, South Carolina, Georgia, and elsewhere over lousy schools, bad working conditions, and low pay.  Those are models for the rest of labor and the rest of the country, Warren declared.
The issue of teacher pay "is partly about pay and partly about respect," Warren said in starting her pro-union, pro-worker answer.
"Here's the best place we can start to raise our teachers' pay and get more resources into our public schools, and that is to strengthen our teachers unions. Make it easier to join a union," she said before applause interrupted. "And give those unions more power when they come into negotiations."
"What we do together…is our strength," she said.
Pivoting back to her own screed against the corporate class, Warren said that strength is needed "because our democracy is under assault…by the rich and powerful. They get the tax breaks they want. They get the benefits they want. They get the exceptions they want."
"But for the rest of America, it's just not working. We have a chance to turn that around—and it starts with our teachers" and the RedforEd campaigns.
O'Rourke praised unionizing teachers, after being asked about it. He said he's "seen the devastation" from lack of unions for teachers and other public workers in Iowa, where the GOP-run legislature yanked union protections in 2017, and in his home state, Texas.
Conditions are so bad in Iowa that next-door pro-union Minnesota "has seen a bumper crop of physics teachers, chemistry teachers, and kindergarten teachers" immigrating. "So as president, I want to guarantee the right to organize to every teacher and every public worker in every state."
The Lone Star State bans public workers' unions from signing contracts. Texas union reps can "meet and confer" with bosses over changes, but nothing else.
Delegates also applauded former Vice President Joe Biden. He devoted his answers to education issues: Tripling the funds going to schools that serve the most low-income students, increasing funds for continuing education—including free community college and expansions of apprenticeships—and $100 billion in infrastructure funding to rebuild crumbling schools as well as other projects. And Biden would channel $100 million for mentoring programs.
"We can rebuild the infrastructure of our schools. It's horrible," Biden said. He would target the money to rebuilding and upgrading schools that serve the lowest-income kids. He also endorsed universal pre-kindergarten, a teachers' cause. "What I don't get is why we're even arguing about this anymore," Biden commented.
He also advocated free schooling beyond high school. "Twelve years" of education "is not enough to live in the middle class" anymore, he said, before advocating two free years of community college and/or apprenticeship training.
In general, the hopefuls weaved their education plans into their general platforms, as Castro did with his housing plans. He touted measures to increase middle class and reasonable housing and said it must help end housing segregation, which leads to school segregation and fewer opportunities for kids. Sanders pounded on his theme of income inequality.
"For 45 years, there's been a war against working people in this country," Sanders said of the 1%. "At the same time, the Republicans want to give tax breaks to billionaires and talk about cutting Social Security, Medicare, and Medicaid. We will not stand for that."
Sen. Kamala Harris, D-Calif., expanded on the predators on workers and students going to for-profit colleges and trade schools, which take federal aid on behalf of their students, then rip them off by leaving them untrained—or high and dry. Though Harris did not say so, Trump flacked one such ersatz school, named for himself.
As California Attorney General, Harris pointed out she sued one of the largest for-profit college chains, Corinthian, "and put them out of the business. And the reason is, they were predatory in their practices, as are so many in this field."
Delegates applauded candidates' commitments to raise teachers' pay. Sanders was specific: He'd hike it to $60,000 yearly, and enact a $15 federal minimum wage so that support staffers—cafeteria workers, janitors, teachers' aides, and others the NEA represents—could earn a living.
The hopefuls also drew strong applause for elimination of the nation's $1.6 trillion in student loan debt, or, actual enforcement of the program that forgives it for workers who enter teaching and other public service professions, as Klobuchar put it.
"If we could bail out the criminals of Wall Street to the tune of billions of dollars, we surely can cancel student loan debt," said Sanders, as part of his theme of battling for the rest of the country against the corporate class and the 1%.
In one of the few exceptions to sticking to campaign themes, Klobuchar answered the sole question about the Dreamers—undocumented young people and young adults brought to the U.S. as children whom Trump wants to evict—by saying she would immediately protect them by executive order, and then push for comprehensive immigration reform.
"You know these kids. They're in your schools…What I would do in my first 100 days is make sure Dreamers are safe and secure. Then I'd make sure there's a path to citizenship" for them "through comprehensive immigration reform. Every school has a Dreamer."
New York City Mayor Bill de Blasio added strong gun control to the mix. Both teachers unions, the Teachers (AFT) and NEA, have joined student-led gun control campaigns ever since the Feb. 14, 2018, massacre of 14 students and three AFT teachers at Florida's Marjory Stoneman Douglas High School.
If Congress won't pass strong gun control in its first 100 days, he'll implement it, including a ban on assault weapons like the AR-15 the Florida assassin used, by executive order, he promised.
Education "must be at the center of the 2020 campaign conversation," Eskelsen-Garcia, the moderator, concluded. "Educators are ready to make their presence felt in this election and we will play a vital role in choosing who becomes the next president of the United States."