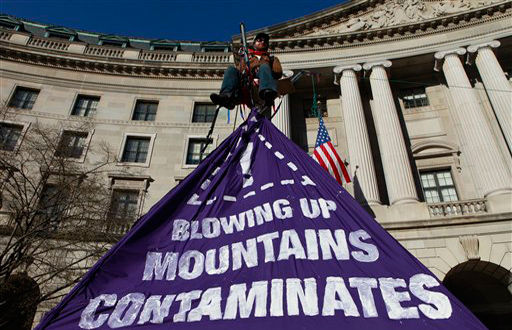 The Kanawha Forest Coalition, a group composed of local residents and environmental organizations, is desperately fighting a mountaintop removal project just outside of Kanawha State Forest, a state park in Loudendale, West Virginia. The coalition held the first of three educational lunchtime discussions Oct. 20 at the Kanawha County Public Library, giving the public an opportunity to learn about the dangers posed by this ecologically devastating practice. Meanwhile, this latest mountaintop removal operation comes at a time when a new peer-reviewed study has strongly linked its effects to lung cancer.
The operation in West Virginia is being conducted by coal and petcoke production company Keystone Industries, LLC, who in May obtained a permit from the state's Department of Environmental Protection (DEP) allowing them to mine just 418 acres east of Kanawha State Forest. Mining has been taking place since June, even though the detrimental effects it causes to the environment and people's health are well-documented. And given the added sensitivity of a state park and the wildlife it contains, the Forest Coalition believed it was time to get the word out to the general public, particularly in an attempt to generate grassroots support for a local movement against mountaintop removal.
The issue is of both ecological and economic import, Coalition member Doug Wood remarked: "If we're that close [to Kanawha State Forest], there are certain things that can happen that will damage the potential for tourism out there – blasting noise, for one thing; dust another thing. There's potential damage to the water resources that flow through the forest also, and to the fish and wildlife." He said the group hoped that Keystone's permit would be rescinded, allowing the land they are tampering with to be purchased by a conservation organization. The best likely bet to have the permit withdrawn would be to effectively point out the negative health effects the project could create. But any push to have the state DEP disallow the company from continuing would require a political effort, he added. "It would take a lot of the public getting involved, telling their elected representatives and Gov. Tomblin to look this over very closely."
Mountaintop removal is a notoriously messy and destructive fossil fuel mining method, which involves blowing off mountain peaks to access the coal within; the resultant debris then falls into bodies of water and valleys below. The practice has decimated large parts of the Appalachian landscape, caused health epidemics for local communities, and taken jobs away from people (the work is mostly done by huge machines, with only a handful of workers required to operate them). Now, a study by researchers from West Virginia University's Mary Babb Cancer Center found conclusively that the coal dust-laced particulate matter circulated into the air from this mining is directly linked to a decades-long spate of lung cancer.
In its introduction the study stated, "Epidemiological studies suggest that living near mountain coal mining activities is one of the contributing factors for high lung cancer incidence." The University of Indiana's Dr. Michael Hendryx, who had published earlier studies on the correlation, said, "This study shows that dust collected from mountaintop removal communities promotes lung cancer. Previous studies have shown this," and furthermore showed that it's "not due to smoking. But with this study we now have solid evidence that dust collected from residential areas near mountaintop removal sites causes cancerous changes to human lung cells."
Environmentalists say that the Obama administration needs to step in on this issue, curbing the spread of this harmful dust in the same way that the EPA has done with CO2 and mercury emissions. Non-profit environmental group Appalachian Voices explained that mountaintop removal, or 'surface coal mining,' "has been going on in Appalachia for a long time. The regulations have been modified a few times, the markets have had their ups and downs, and some of the names of the coal companies are different than they used to be. Aside from that, not much has changed. In 2009, there was a great deal of excitement about conversations with Obama administration officials," and people hoped the EPA would be "eager to hear from communities and make some real changes. Yet, five years later, mountaintop removal is still happening in Appalachia."
Thom Kay, a member of the organization, said, "The coal industry and its allies in Congress have always been eager to dismiss claims that air and water pollution caused by mountaintop removal has any link to the high rates of lung cancer, cardiovascular disease, and birth defects. Will this new study get them to finally change their tune? I'm almost certain that it won't. It will be up to those of us who care about the health of Appalachian communities to raise our voices and simply drown them out."
Photo: A demonstrator sits atop a giant tripod sign outside the EPA headquarters in Washington, D.C., in an effort to draw attention to the administration's apparent lack of action on mountaintop removal. Pablo Martinez Monsivais/AP