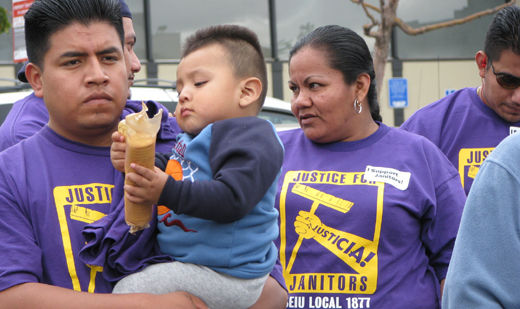 OAKLAND, Calif. – On the eve of a scheduled strike vote, the janitors who keep Safeway supermarkets clean around northern California have won a new contract preserving their health and pension benefits and raising the base wage rate for experienced workers to $14.05 per hour, higher than industry standards.
The workers had been scheduled to take a strike vote Feb. 20, but instead, after a tentative agreement was reached late the previous day, a quorum of janitors met to review the pact, and the overwhelming majority voted to ratify it.
"I'm thrilled that we were finally able to reach an agreement with Safeway's contractors that will protect our quality jobs and keep our communities healthy," said Zenon Angeles, supermarket janitor and member of SEIU Local 1877's executive board. "By coming together as a union, we were able to win a strong contract that will boost our wages, maintain our health care coverage and pensions, and safeguard our safety and health."
The previous agreement with contracting firms ABM, Crystal, Premier and AMS had expired Oct. 31, 2009; the new one will extend until Oct. 31, 2012. During the fall and winter janitors rallied and demonstrated around northern California. As talks became more contentious this month, over 150 janitors stopped work on Feb. 10 and 17.
Under the new pact, janitors' wages will rise by between 40 and 65 cents each year until in 2012, the base rate for experienced janitors will reach $14.05 per hour – significantly higher than today's average wage of $10.24.
Although the contractors didn't accept the union's proposals for "Green Cleaning" standards, including use of environmentally friendly cleaning products, the pact includes new provisions for janitors to raise issues such as lack of safety training in regular labor-management meetings. The contractors will also give the union information on health effects of chemicals and cleaning products used in stores, provide safety equipment as required by law, and work with Safeway to quickly replace malfunctioning janitorial equipment. Injured workers will have a streamlined process to file workers' compensation claims.
As in virtually every contract negotiation, health benefits were under challenge in the talks, with the companies dropping their initial proposals to end dental benefits, sharply increase hours of work needed to be eligible for health benefits, and eliminate family health coverage for new hires. The companies also sought to freeze wages for a year, lower starting pay for new janitors, and unilaterally take janitors out of their pension plan.
The new agreement maintains paid vacation, sick, funeral and jury-duty leave, strengthens seniority rights and improves workers' retention rights when supermarkets change janitorial contractors. For the first time, employers will contribute to a training fund for janitors.
Meanwhile, talks continue between SEIU 1877 and contractors hiring another 200 janitors who clean rival Lucky and Save Mart supermarkets. "We are hopeful we will be able to come to a settlement with them soon," said union spokesperson Rachele Huennekens.
Last year some 2,300 janitors who clean supermarkets in southern California, including Vons, Albertsons and Ralph's, won a contract with annual wage increases, no cost increase for health care, a 12-month medical leave of absence for job injuries, and strong Family and Medical Leave Act (FMLA) language.
Photo: Marilyn Bechtel/People's World