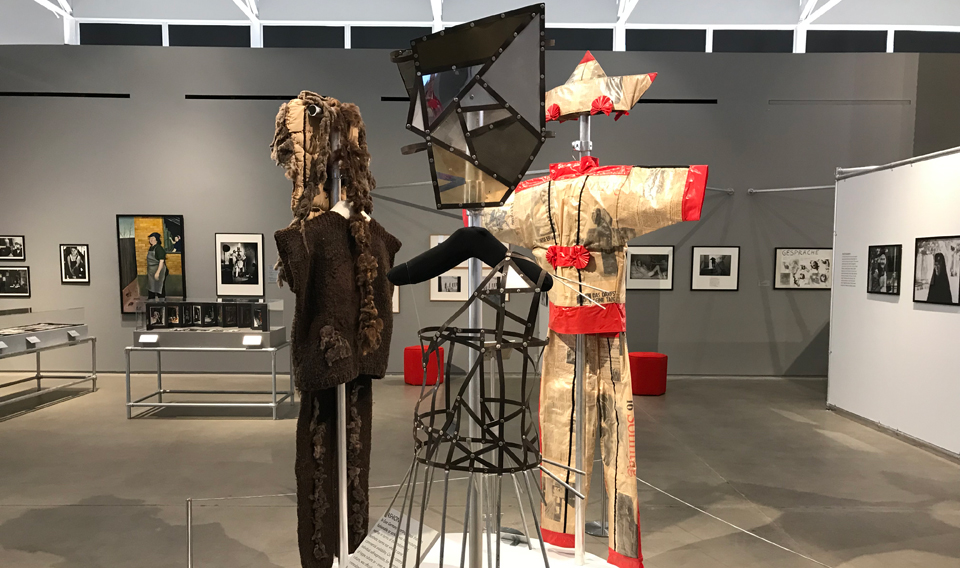 CULVER CITY, Calif.—The extraordinarily vital and creative Wende Museum of the Cold War is currently commemorating the 30th anniversary of the fall of the Berlin Wall (1961-89), with a magnificent exhibition, Medea Insurrection: Radical Women Artists Behind the Iron Curtain. The show originated at the Albertinum (Staatliche Kunstsammlungen Dresden—the State Art Collection of Dresden), curated by Susanne Altmann, adapted for its Culver City excursion by local curators Anna Rose Canzano, Dany Naierman, and Joes Segal.
A preponderance of the work on display is by artists who worked in the German Democratic Republic (GDR), but other artists from Hungary, Poland, Romania and Czechoslovakia are also represented.
Wunderbar together?
This exhibition is part of "wunderbar together," the slogan of the current German-U.S. initiative, a year of bilateral friendship activities with over 2000 events in all 50 states, funded by the German Federal Foreign Office, implemented by the Goethe-Institut, and supported by the Federation of German Industries (BDI).
It is evident that with such sponsorship, Medea Insurrection could not be mistaken for representing a neutral or balanced evaluation of the socialist experiment in Eastern Europe. The focus is on women, who were the lesser-valued members of the arts communities, not to mention establishments, in the socialist lands. These women often worked in media that official circles did not promote, such as fabric collage, weaving, embroidery and construction. In part by operating under the radar of approved art, some of these women avoided attention. And because they raised critical issues about women's place in society, regimentation and individuality, not to mention such taboo subjects as lesbianism, they expressed a radical critique even without overt political content.
The title of the show reflects the fact that in tightly controlled societies, artists, writers and historians often found subject matter in ancient history, fable and mythology, or in times and places far removed from their everyday reality, in order to make their points allegorically.
The focus here, then, is on artists who saw themselves working against the imposed Socialist Realist grain, if not in open protest, at least subtly pointing up the deficiencies of their situation. Were they "anti-socialist" elements, reactionaries, counter-revolutionaries whose voices needed to be quelled as bad examples? Or were they trying to be honest artists responding to the demands of their time, going to the roots of societal problems, making essential radicals of them, even while often working with typically harmless "female" materials? Often they displayed their work in non-official places, or designed clothing and costumes that popped out with refreshing flair and colorful originality.
Medea Insurrection proves that art, like everything else, must be viewed in context. Insofar as the title of the show tells us we're "Behind the Iron Curtain," a certain bias is built in: If we are only paying attention to the radicals and the women, that leaves out all those artists who created their work and pursued their careers more or less contentedly within the parameters of a socialist society.
Well, so be it: That's the objective laid forth in this exhibition, and as long as we understand that, there is an awesome wealth of material culture on display that has to be must seeing for anyone interested in this period, and also in the so undervalued production of art by women anywhere.
It also has to be understood that the Angst of national, political, cultural and often familial division was hardly dispelled by the demolition of a wall that stood for 28 years. According to the Los Angeles Times (Nov. 10, 2019), just as the exhibition opened, a significant minority opinion, according to recent polling by the Ipsos Institute, holds that the fall of the wall was not necessarily a good idea considering the dislocation that followed. In fact, only 54% viewed the fall positively. In another survey, the Dimap Institute found that over half of East Germans feel their post-Wende treatment has been unfair (Wende means change or transition in German), and as many as 64% do not think the two sides of the country have grown fully together as one. There is far from one standard of living across the whole country.
The L.A. Times quoted Thomas Paulsen, chief officer of the Koerber Institute for foreign policy in Berlin, reflecting current German nervousness about the bilateral relationship in the Trump era: "Germans see a need for greater independence from the U.S. Are we still wunderbar together?" he asks.
U.S. Secretary of State Mike Pompeo visited the site of the wall on the eve of the 30th anniversary and, again according to the L.A. Times, toured "guard bunkers in rural Germany where he had patrolled 30 years ago as a U.S. Army officer."
U.S. troops remain stationed on 19 military bases in Germany today, with a total of 35,275 enlisted men and women, more than half of the 64,416 troops stationed in Europe, which includes countries formerly in the Soviet Bloc, aside from the GDR, such as Hungary, Poland and Romania. Now these numbers are reduced from a decade ago, but the question can still be posed: How many Soviet bases—or even Russian bases—are located in these countries? None any more. And no troops stationed there either.
Many Germans are all too keenly aware that the U.S. bases in Germany (none, incidentally, within the boundaries of the former GDR) service both NATO and other U.S. imperial and militarist adventures—in the Middle East, Afghanistan and many others of the 150 countries in the world where the U.S. maintains military bases and operations. This is the Nachlass, the legacy of the Marshall Plan of the late 1940s and 1950s that brought West Germany into the prosperous capitalist and imperial orbit, but at the cost of national sovereignty.
What kind of future?
So back to the art: I for one am all for radical women, really and truly, yesterday, today and tomorrow, and am thrilled to see this work in America for the first time. Yet as I examined this work and heartily identified with its questioning, probing, resisting critique of what was, after all, a rather uniform, conforming society (that nevertheless had many positive features), I had to wonder: What kind of future were they imagining? Is what we have now what they were wishing for?
Unfair! Even I tell myself that. How could anyone divine the future and be held responsible for outcomes they never could have imagined? I recall saying things and behaving in ways in those years that I cannot be 100% proud of, so I cannot and do not stand in judgment.
As curator Susanne Altman, who grew up in the GDR and was present for the press reception on Nov. 8, remarked, it's a "complicated history. We're sifting through this story together." She also observed that with unification, many GDR artists felt they had been obliterated and forgotten, and women artists felt that even more strongly.
Two of the artists came to the Wende for the opening. Christa Jeitner, a largely abstract fiber artist, spoke of art as also "historical fact." "Art gives power to stand upright," she said. "Art was political itself." To be an artist implied "responsibility in communication." Jeitner is but one artist who found a liberatory spirit in neighboring Poland, where generally speaking a broader band of expression was tolerated.
Gabriele Stötzer was an inmate at Hoheneck prison for women in 1977, when she was 24, convicted on political charges. That is when her true identity as an artist formed itself, appreciating the "depth, passion, and indestructibility" she saw there among the other women. As a participant in the later Erfurt Women Artists' Group, she staged performance art, filmed and photographed it, celebrating the naked woman's body.
"It was impossible to predict or foretell," Stötzer told me when I asked if they achieved what they were seeking. There was a "need to speak for the freedom we wanted at the time." It was "intensive living—at that time and now."
In the 1980s some of the artists adopted a punk esthetic, which authorities found dangerous and could get you arrested. Others had already adopted themes and characters from classical mythology to represent resistance today. Artist Angela Hampel devoted her attention to the prophet Cassandra, the rebel Medea (providing the title to the exhibition), and the Amazon warrior Penthesilea, as well as to powerful Biblical-era figures such as Salome and Judith.
Romanian artist Ana Lupas began sewing her "Identity Shirts" in 1969: At first glance they look like bland worksite uniforms, but on closer inspection, each one is different, with variations created by different settings on the sewing machine and markings with ink and blood, each one a unique and personal expression, an inscription of passionate distinction amidst a field of apparent sameness.
Photography plays a notable part in women's protest art. Evelyn Richter became one of the most important East German photographers. Thrown off the official list, she managed to work independently with a body of work that placed workers, especially women, in the cogs of large-scale industrial enterprises, applying a Chaplinesque sense of alienation—but without the humor.
There's much, much more to see in The Medea Insurrection. A visitor could easily spend two or three hours perusing it all. Even if somewhat patchy in quality, it is a thoughtful, well conceived and earnest excursion into a little-known quarter of the socialist past with all too relevant implications for our capitalist present. The Wende also invited three women artists from the Los Angeles area to put up their work in counterpoint to the main exhibition. They include Lezley Saar, Sichong Xie and Chelle Barbour.
The mystery of the Blücher medal
On Nov. 9, opening night of the exhibition, Justin Jampol, founding director of the Wende, screened a recent episode of the Travel Channel that had aired on October 10, in which he starred. It had to do with a medal that came to the Wende, the Blücher medal, which was minted by the GDR but never actually awarded. It had been struck to award courageous heroes of the great impending showdown between East and West as tension mounted in the Reagan 1980s, showing "how close we came to losing it all" should a nuclear war have broken out.
The episode is highly engaging, a kind of historical, geographical, museological sleuthing thriller to uncover abandoned Soviet military sites in the old GDR that still exist but are slowly becoming overgrown by vegetation and neglect. The camera takes us into Stasi archives, where detailed maps of every street and house in West Berlin show possible invasion routes and places to secure. Jampol interviews surviving members of the GDR armed forces as well as American military to try and determine just how real the threat was—real enough to create a medal for heroes in a war that was yet to be. We enter secret bunkers where old computers and communications systems are still intact from the era, though no longer functional—and not on any tourist itinerary. Jampol is convinced that even highly placed GDR government ministers were not aware of these installations, showing how directly under the Soviet thumb the country was until the end.
Yet nowhere in the episode is any reference made to the most obvious fact: That on the Western side such facilities and detailed maps also had to exist, and actually still do as part of NATO and its constant encroachment on former Soviet territories. Pompeo just visited them. See above for more on the 19 U.S. military installations in present-day Germany.
Now the Travel Channel has its own politics, but it was frankly embarrassing and academically suspect for this story to be told in such a one-sided way, with all the blame on the socialist GDR and its big brother protector state, the USSR. I guess that's the price for living the wunderbar life together.
The Medea Insurrection: Radical Women Artists Behind the Iron Curtain is on view through April 5, 2020, at the Wende Museum, 10808 Culver Blvd., Culver City 90230. For more information, call (310) 216.1600 or go to the Wende website. Be sure to pick up a copy of the beautifully produced catalogue, a veritable full-color collector's item.