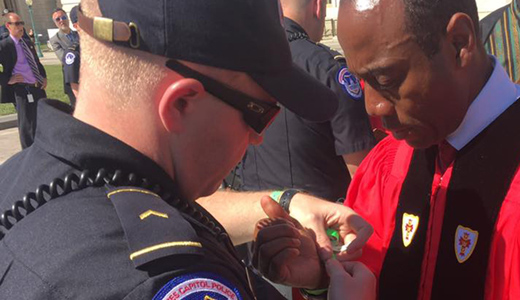 WASHINGTON – We refused to disband our rally at the U.S. Capitol Building yesterday, so police officers herded 300 of us away six by six.
Our nonviolent, civil disobedience was one action among many during a week-long mobilization aimed at starting a new, broad-based movement to restore democracy in the U.S.
We wanted to dramatize the fact that like our democracy, the Capitol has been captured by the far right to serve corporations and billionaires instead of the American people.
I was honored to be arrested with NAACP President Cornell Brooks, Sierra Club President Aaron Mair, labor leader Larry Cohen and Rev. Dr. William Barber, head of the North Carolina NAACP and a major leader in the fight against that state's vicious voter suppression laws. Others arrested included student activists, leaders of the women's rights movement and advocates for immigrants.
All are active in Democracy Spring and Democracy Awakening, allied coalitions of about 400 organizations that are beginning to work together to get big money out of politics and to protect voters' rights.
Since Monday a week ago, close to 3,000 activists came here representing organizations in these coalitions – or just themselves. They held teach-ins, rallies and marches and lobbied legislators.
There were sit-ins at the Capitol every day. Altogether, some 1,275 people were arrested for refusing to leave restricted areas.
Former Texas Agricultural Commissioner Jim Hightower explains that "… this is the start of something big … to make democracy happen again."
Hightower points out that the House and Senate have done nothing to address America's widening wealth gap nor the plummeting American standard of living. Legislators have also ignored the huge debt burdening college students, the fossil fuel-caused climate change that is destroying the planet and the growing threat to women's right to choose.
He says "progress on every one of our issues is hopelessly walled in by corporate bribery funds, K Street lobbyists, crony capitalism, Koch-headed ideology and nefarious voter suppression."
As President Obama said in his State of the Union address, elected officials feel free to ignore the American people because instead of voters choosing who will represent them, representatives are choosing who will vote for them. They've gerrymandered voting districts to ensure the re-election of right wing incumbents and have passed laws making it harder for working people, minorities and students to cast ballots.
Worst of all, the Supreme Court has made it legal for corporations and billionaires to buy elections.
"We want our democracy back"
Addressing the crowd prior to yesterday's rally at the Capitol, Larry Cohen, the immediate past president of the Communications Workers of America (CWA) said "today we're sending a message to Congress: what you are doing isn't working. We want our democracy back!"
He said that if all movements in the U.S. united "and stayed together down the long road, we can restore and expand voting rights, get big money out of politics and fix the Senate, which is refusing to do its job and is instead blocking consideration of the President's nominee to fill the vacant Supreme Court seat."
Rabbi Mordechai Liebling, Director of the Social Justice Organizing Program at the Reconstructionist Rabbinical College, added, "Voting is a sacred act and so is civil disobedience to restore voting rights and to reawaken our democracy."
After Liebling spoke, almost a thousand people marched to the Capitol.
On their way, they passed some 4,000 immigrant rights advocates holding a demonstration in front of the Supreme Court. The Court was deliberating whether or not to uphold President Obama's executive order giving protection to undocumented immigrants whose children are American citizens.
People from both groups cheered each other and joined together before the marchers continued to the Capitol. Once there, march participants were arrested for refusing to disband.
When he was arrested, Rev. Barber said "we are building a new Reconstruction movement. It's only in its adolescence. Those who don't want it to mature are trying to stunt its growth."
Also arrested was Jim Pandaru, who had travelled to Washington from West Haven, Connecticut.
"I wanted to take part," he said, "because I want to be an example to others that it might take more civil disobedience and ratcheting up the movement to counter the assault on our rights.
"Activists from all different groups need to stand shoulder to shoulder. I believe this is the beginning of a great and much needed awakening of our entire society."
CWA President Christopher Shelton was also arrested. He said "our democracy is not for sale. Starting today, we are taking back our democracy.
"Today starts the new American revolution!"
Photo: NAACP Pres. @CornellWBrooks arrested at #DemocracyAwakens to honor his grandfather James Edward Prioleau. NAACP twitter.