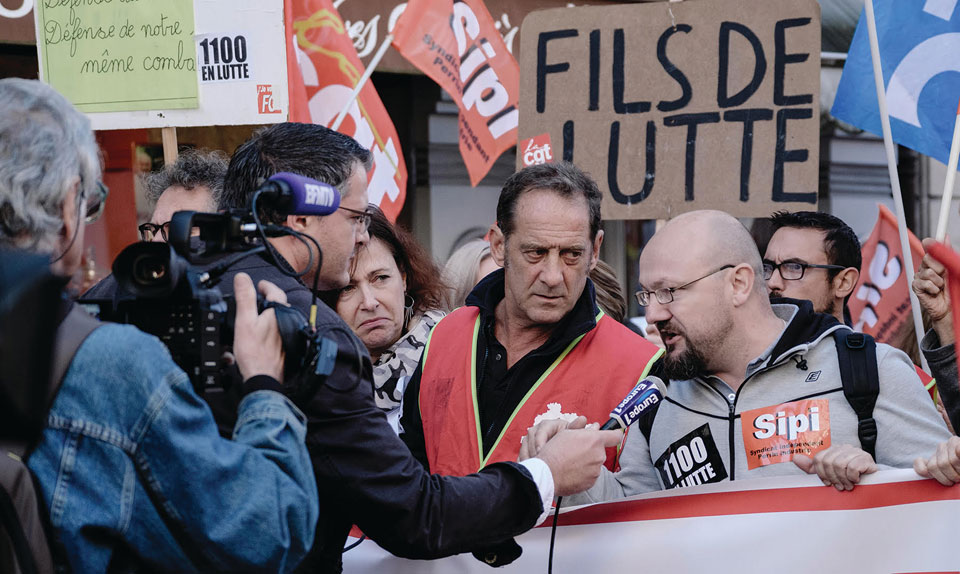 Stéphane Brizé's award-winning At War (En Guerre) is a French feature about unions, strikes and class struggle being released in America shortly after Bastille Day, which commemorates that "other" French Revolution. In this movie a German-owned company reneges on promises to keep a factory open in an economically depressed region of France, despite the workers' sacrifices, agreeing to cutbacks on wages and benefits, plus the firm's receiving of subsidies and tax credits from the French government. The "problem" is that although the factory makes a profit, it is not profitable enough for shareholders obsessed with competitiveness in our increasingly globalized planet.
In the workers' fight to prevent the plant from closing and not lose their jobs the proletarians resort to industrial actions that become increasingly militant, including walking off the job, sit-down strikes, occupations, etc. The failure of the French government and courts to decisively support the strikers pushes them toward more direct action. At one point the German CEO is roughed up after a failed bargaining session.
The workers are led by the combative Laurent (played by Vincent Lindon, who won France's equivalent of the Oscar for playing a factory worker in another movie by Brizé, The Measure of a Man), but after two months of being on strike a faction of more moderate workers relent and are willing to stop fighting and accept a severance package from the company. Of course, this split divides and weakens the workers. Laurent travels to the firm's headquarters in Germany, where he stages a final, desperate protest, leading to some concessions to the workers.
Although At War is full of militancy, there is hardly, if ever, any ideological, philosophical discussion per se of socialism, communism, Marxism and so on. For the most part, the strikers do not engage with other sections of the working class in an effort to seek solidarity and support along common class interests. Exceptions are when the workers on strike travel en masse to another plant owned by the same German multi-national and some members of the French public send small sums of money to support their industrial action.
Some may consider this film to be on the defeatist side, despite the workers' initial fighting spirit. Others may feel this is a realistic look at class struggle in the age of downsizing, outsourcing and globalization. (The French strikers are anxious that the factory may be reestablished in Eastern Europe—formerly socialist, needless to say—where, ironically, there is less labor regulation and workers receive lower pay and fewer benefits.)
At War dramatizes real economic and other issues the working class has to confront and what to do about them, whether in Europe, America or beyond in our globalized world. It is in the tradition of class conflict Hollywood films such as Charlie Chaplin's 1936 Modern Times, 1940's The Grapes of Wrath, the 1976 Woody Guthrie biopic Bound for Glory, and French films such as René Clair's 1931 A Nous la Liberté, 1972's great Coup pour Coup (about proletarians occupying a factory during France's 1968 worker-student uprising) and Jean-Luc Godard's 1972 Tout Va Bien, also about workers taking over a factory, starring Jane Fonda and Yves Montand.
At War is very realistic and well-made—at times it seems like a documentary, and the cast is largely composed of nonprofessional actors, who speak in French with English subtitles. At War was an official selection at the 2018 Cannes International Film Festival, and won the Best Screenplay award at the Chicago International Film Festival plus the prestigious FIPRESCI Prize for Best Film awarded by the International Federation of Film Critics. It is being released in the U.S. by the independent lefty distribution company Cinema Libre.
At War opens in New York on July 19 at Village East Cinemas and Los Angeles on July 26. Director Stéphane Brizé will speak at screenings in L.A. at the Laemmle Royal on July 26 and July 27. This relevant movie, which boldly, forthrightly dramatizes globalization, workplace clashes and employee versus employer subjects, is well worth seeing.
See here for the trailer.