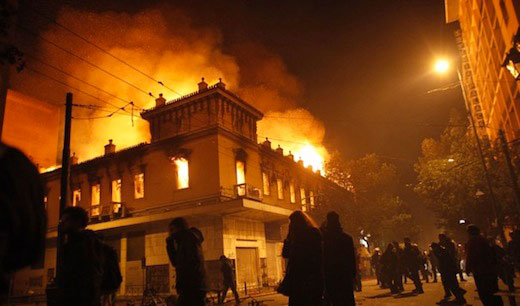 After approving a controversial new bill, which guts minimum wage and public services, Athens erupted in flames as rioters filled the streets with their outrage.
The actions were fueled by the widely-unpopular austerity measures in a desperate attempt to stop the country from going into default on its private loans to creditors and also receive an additional loan of 130 billion Euro ($172 billion) as the AP reports.
The passage of the bill marked the continuation of failed policies that have resulted in two years of 20 percent unemployment and deep spending cuts that have taken their toll on Greek workers but have been unable to fix Greece's economic problems. The vote on Sunday reaffirmed to 100,000 protestors that those in positions of power are out of touch with the workers and students of Greece.
The protest turned violent as rioters began smashing storefronts and damaged more than 110 buildings, 50 of which were burned. The AP reported that the stench of tear gas "still hung in the air on Monday, choking passers-by, while traffic lights at many major intersections were out after being smashed."
In total, 40 tons of broken marbles and rocks littered streets from the damage to cultural buildings and local public works.
The rioting left more than 170 people hurt, and 70 protestors were hospitalized. Additionally, police arrested 93 people who will be "charged with offenses ranging from attempted murder and possession of explosives to looting," reported the AP.
The AP further reported, "[o]nce again, those in positions of responsibility, even though they should have been prepared, were unable to fulfill their duty and secure the well-being of citizens and visitors."
Even with the passage of the bill, it is uncertain if the New Democracy Party will be able to fulfill their duty of enforcing the new bill amid strong dissent from the majority Socialists and rival Conservatives, and it is still unclear if Greece will meet the guidelines for another rescue package as outlined by Germany.
Photo: Protesters pass by a burning cinema in Athens on Feb. 12. (AP/Kostas Tsironis)