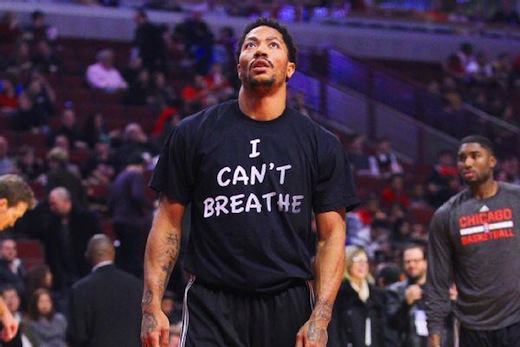 "Usually I stay out of politics and police brutality. I'm not saying all cops are bad or anything, I'm just saying what happened is uncalled for, and I think that hurt a lot of people. It hurt the nation," said Derrick Rose, star basketball player for the Chicago Bulls.
Rose was thoughtfully reflecting on the reasons he wore the "I can't breathe" t-shirt while warming up for a game against the Golden State Warriors on Dec. 6. These were the final desperate words uttered by Eric Garner as he was being strangled by a police chokehold on Staten Island. A grand jury refused to indict the officer.
Scores of professional and college athletes, including entire teams, are following Rose's lead and speaking up. Given the enormous pressures on athletes to "shut up and play," the stand of NFL and NBA athletes, and players from the Georgetown Hoyas men's and Notre Dame women's basketball teams, is both courageous and unprecedented.
Rose and some close friends were contemplating the injustice as they watched thousands of people marching in Chicago. They had experienced incidents of racism, police brutality, and violence in the Englewood neighborhood where they grew up. Rose had already decided to speak out, concerned about the future of his own two-year-old son.
The first to protest were St. Louis Rams football players, several of whom came onto the field holding their hands aloft shortly after the non-indictment of the officer who killed Michael Brown.
On Dec. 7, Cleveland Browns player Andrew Hawkins took it a step further by speaking out against police killing of 12-year-old Tamir Rice in Cleveland and John Crawford, killed by police in a Walmart store in Beavercreek, Ohio (see video below).
"I understood there was going to be backlash, and that scared me, honestly. But deep down I felt like it was the right thing to do," Hawkins said. "If I was to run away from what I felt in my soul was the right thing to do, that would make me a coward, and I can't live with that."
Hawkins spoke emotionally about his fears that the same thing that happened to Tamir Rice would happen to his two-year-old son.
The Internet and media have been abuzz over the protests and reactions to them. While some police unions have issued condemnations, and racist vitriol has been directed against many of the players, they have received widespread support from teammates, fans, coaches, athletic directors and sports writers.
On Dec. 10, the entire Georgetown men's basketball team wore the t-shirts, becoming the first athletes on the college level to protest.
"It was quite a few families who lost a loved one this year with the Michael Brown case and Trayvon Martin also. We really wanted to represent those families that all lost someone," said junior guard D'Vauntes Smith-Rivera after the game.
Afterwards Georgetown coach John Thompson III shared how the players arrived at their decision. "The emotions and feelings in the locker room are all over the place. It's not necessarily that everyone feels the same way. Emotions [range] from fear, to frustration, to confusion, to anger," said Thompson.
Thompson III's father is John Thompson, Jr., who has been outspoken for years against racism as a former coach for the Hoyas. Thompson, Jr., was the first African American coach to win an NCAA title. He also played professionally for the Boston Celtics during the late 1950s and 1960s and endured constant racist harassment.
The opposing team and its coach were equally supportive of the Hoyas' protest. "It's a pretty strong stance," Kansas coach Bill Self said. "I think it's pretty good. It certainly shows a lot of solidarity amongst their unit. I don't see anything negative with it at all."
The entire Notre Dame women's basketball team, composed of black and white players, wore the t-shirt on Dec. 6. The idea originated with forward Taya Reimer, a white player, who suggested to her teammates they wear the shirts after students on the Notre Dame campus organized a die-in. The players were strongly backed by both the school athletic director and coach, both white.
"That's what we want our kids doing," said Athletic Director Jack Swarbrick. "If all we're doing is teaching them to play sports, then we're missing the boat."
"Notre Dame is a place that has always fought for social justice," said Irish coach Muffet McGraw, who is also white. "In my office I have a picture of Father (Theodore) Hesburgh and Martin Luther King arm in arm in the fight for civil rights. I was really proud of Taya (Reimer) and our team for being willing to publicly stand for something you believe in." (Story continues after video)
Hesburgh is a progressive theologian and former longtime president of Notre Dame University. In 2009, he defended the university's decision to invite President Obama to give the commencement address and confer him an honorary degree against right-wing opposition over the president's support for reproductive rights.
In addition to Hawkins, a number of other Cleveland professional athletes have spoken out, including basketball star LeBron James, who wore an "I can't breathe" t-shirt before a recent game with the Brooklyn Nets. Teammate Kyrie Irving and several of the Brooklyn players joined James.
Outspoken Browns players' rep Johnson Bademosi hand scrawled the words on a warm-up jersey before a game against the Indianapolis Colts. He wrote a moving explanation of his actions on the website MMQB (Monday Morning Quarterback).
"But this issue as I see it – police killings as a symptom of the systematic and historical devaluing of black lives – seemed too big to ignore," wrote Bademosi. "My T-shirt was a tribute to the life of Eric Garner and to the countless black men victimized by our country's never-ending hegemony, and an expression of the feelings that my teammates and I felt while we were discussing these issues."
Photo: This picture of Bulls Derrick Rose went viral on social media Dec. 6 when he became the first NBA star to wear this t-shirt with Eric Garner's last words at a pre-game warm up (via Twitter).