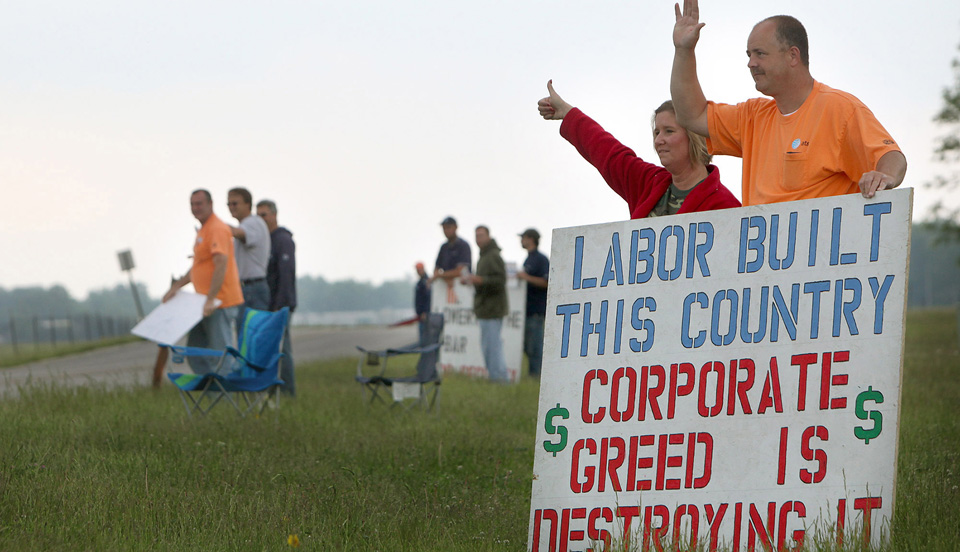 AT&T Wireless's demands for cuts in pay and outsourcing of jobs have forced 21,000 members of the Communications Workers of America (CWA) to authorize a strike if talks with the company are not successful.
The current contract expired February 11. The strike authorization passed by 93 percent.
"The union and company remain miles apart on all major issues," the CWA's 13-person bargaining team reported two weeks ago. "The company continues to make greedy and retrogressive demands despite their huge profits. The union will not accept these demands and the discussions have become more contentious over the last several days.
"The union is here to get a fair contract, and with the continued backing of the membership, we will win!" they declared.
Talks recessed in mid-February so the union's bargainers "can comb through the piles of data" AT&T Wireless provided, CWA explained.
That recess also gave AT&T Wireless workers time "to ramp up mobilization" and supporters, at Jobs With Justice and elsewhere, time to mobilize other workers nationwide to bombard AT&T CEO Randall Stephenson with e-mails and phone calls demanding he settle fairly with the union.
Key issues include company takeback demands. One would cut paid sick days from 10 to five. Another would increase worker share of health insurance costs by 32 percent.
"They make billions of dollars and yet they want to continually cut wages and benefits," said Shari Wojtowicz, president of CWA Local 7250 in the Twin Cities. "It's hard for someone to make AT&T a career when they treat their workers so poorly."
"Look at the higher-ups at AT&T and what they're making compared to what we're making," said Local 7200 member Brian Gnerer, a call center worker in suburban Bloomington, Indiana. "Let's disperse this wealth to some of the people who actually are working for it."
Stephenson made at least $25 million in 2015, while Gnerer told The Minneapolis Labor Review that workers in his unit start out at $12-$13 per hour and max out at $18.57 per hour.
The pact also covers retail sales consultants, and Local 7250 member Larry Thompson, an eight-year veteran, told the paper that the firm is "asking us to do more every year."
"The expectation of work goes up," while AT&T can change the sales reps' commission structure to cut their pay. "For me, you're looking at $2,500 less every year," said Thompson. He said a co-worker's pay has dropped by $19,000 over the last several years. "The company reported a profit of $13 billion and yet can't offer the employees a fair wage."