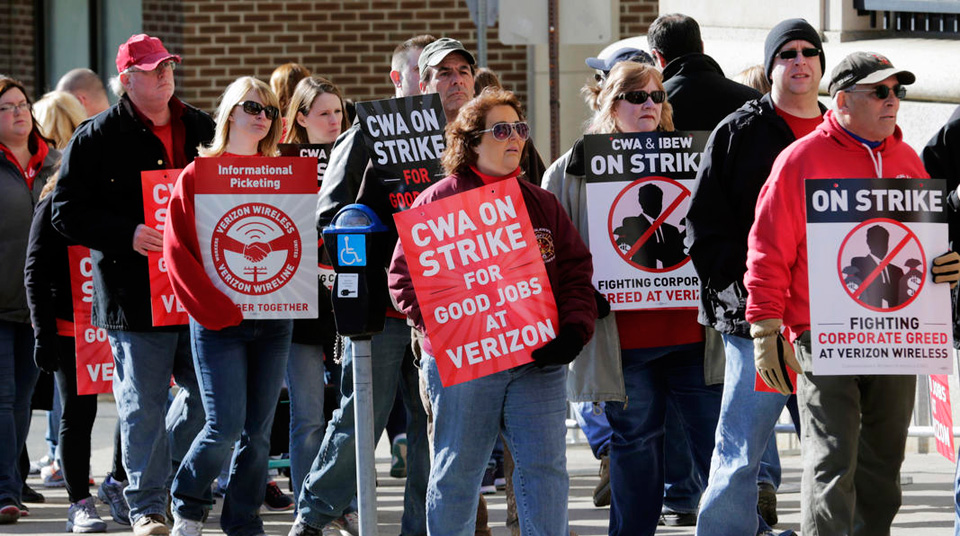 AT&T Wireless workers – some 21,000 of them – have given management until Friday, May 19 at 3 p.m. ET to come to the table with "serious proposals that invest in good jobs with a future."
According to a press release from the Communication Workers of America, "frustration is higher than ever as corporate executives continue their stand-off with workers over major issues that protect middle-class jobs, such as affordable benefits, fair wages and job security."
The initial strike authorization vote was taken back in February and was passed with 93 percent of the vote.
CWA reports that "AT&T wireless workers across 36 states and DC" will go on strike, as well as "wire line workers in California, Nevada, and Connecticut and DIRECTV technicians in California and Nevada."
"The clock is ticking for AT&T to make good on their promise to preserve family-supporting jobs for more than 40,000 workers," said Dennis Trainor, Vice President of CWA District 1. "We have made every effort to bargain in good faith with AT&T, but have only been met with delays and excuses…
It's now in AT&T's hands to stand with workers or at 3 p.m. Eastern Time on Friday, workers will be off the job and onto picket lines across the country."
In February, People's World was present at a picket action in front of a Verizon Wireless store in downtown Chicago. AT&T worker Nicole Popis told People's World that she and her coworkers were ready to do "whatever it takes" to get a fair contract.
"AT&T doesn't want to bargain with us, so we're taking a stand. There's been no movement. My coworkers are ready now more than ever," she told People's World with a little over 48 hours until the deadline.
In the event of the strike, Nicole said she would be on her feet all weekend. "If the strike is called at 2p.m. (Central), I'll be there over 8 hours a day. We're fighting for job security, that's the biggest thing. Stop outsourcing and closing our stores.
"This may be the largest retail strike in U.S. history. People are ready to be a part of it. Even my son will be out there with me."