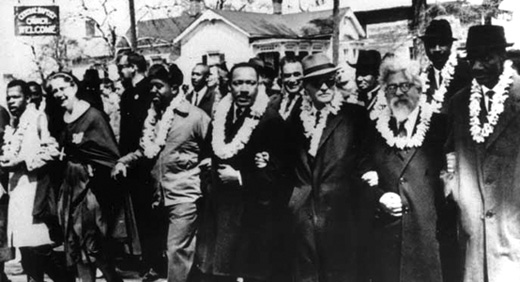 Racism and anti-Semitism are two parts of the same "divide and conquer" strategy that the American right wing is using in an attempt to maintain political and economic control. By blaming people of color and Jews for the country's problems, organizations like the tea party and others on the right take the focus off the 1 percent. Promotion of bigotry during President Obama's terms has served not only to block pro-worker legislation, but also to create dissention between groups of people who are natural allies in the struggle for justice.
On April 13, we were reminded that extremists who hate Muslims, African Americans, immigrants, lesbians, gays, bisexuals, transgender and other oppressed groups also hate Jews. On the eve of the Passover holiday, F. Glenn Miller entered two Jewish Community Centers near Kansas City and killed three people, who he mistakenly thought were Jewish. A video, taken by KMBC local TV news, showed Miller shouting "Heil Hitler" from the back of a police cruiser following the crime. Miller is the former "grand dragon" and founder of the Carolina Knights of the Ku Klux Klan. Miller's organization was disbanded in the mid 1980s, when Miller was convicted of "operating an illegal paramilitary organization and using intimidation tactics against African Americans," according to the Southern Poverty Law Center, which filed the lawsuit against him.
The Passover holiday, and indeed much of the Jewish tradition, is about liberation from oppression and building a better world. In the Passover story, the Jews have been working as slaves under the Egyptian Pharaoh for thousands of years when they are led out of Egypt by Moses. The holiday calls on Jews to re-commit themselves to pursuing alliances with people who are being mistreated in our society today, and to work towards equality for all. The aspects of Judaism that call for racial unity and the pursuit of a just world particularly defy white supremacists. Perhaps that is why Miller chose the days around Passover in particular for his deadly attack. Or perhaps it was to salute Hitler on his birthday, which was April 20.
A quotation from Miller on the Southern Poverty Law Center's website, taken from a "2010 Senate radio ad," illustrates the way that hatred towards Jews and hatred towards people of color, whom Miller calls "mud people," are two central tenets of white supremacist philosophy:
"White men have become the biggest cowards ever to walk the earth," Miller says in the ad. "The world has never witnessed such yellow cowards. We've sat back and allowed the Jews to take over our government, our banks, and our media. We've allowed tens of millions of mud people to invade our country, steal our jobs and our women, and destroy our children's futures. America is no longer ours. America belongs to the Jews who rule it and to the mud people who multiply in it."
Since the election of President Barack Obama, and as the country's racial composition becomes more mixed, white supremacist organizations have used philosophies like the ones described above to encourage expanded hate activities. A white nationalist website called "Stormfront" has inspired nearly 100 hate crime deaths over the last five years, also according to Southern Poverty Law Center staff. These included deaths at a Sikh temple in Wisconsin, and killing of three police officers in Pittsburgh. Recent hate crimes have affected even politically progressive areas like New York City. The Jackie Robinson Memorial Statue at Coney Island was vandalized with racist slurs last summer, and this past weekend an ex-police officer was charged with spray painting swastikas and anti-Semitic hate speech in multiple places throughout Borough Park, Brooklyn, a predominantly Jewish Orthodox community.
Some with close ties to the GOP and the tea party, such as Jeffrey Boykin, executive vice president of the Family Research Council, have been caught making racist comments about President Obama and spreading anti-Semitism in the same breath. Following a panel at the National Security Action Summit in March, Boykin was heard stating that "the Jews are the cause of all the problems of the world," and that President Obama is an apologist for al-Qaeda and the Muslim Brotherhood.
In the upcoming election season, we can expect the tea party and other right-wing extremists to continue their promotion of racism and anti-Semitism as part of their "divide and conquer" strategy. Blaming "rich, powerful Jews" or "lazy" people of color for the country's economic woes will likely continue as two familiar currents in right-wing rhetoric, especially in this moment when the Republican Party fears it is losing support.
The proliferation of racism and anti-Semitism hurts all working people. These prejudices are used to divert attention from:
The billions of dollars that could be made available for the country's needs through taxing the 1 percent.
Union-busting and the promotion of "right to work" anti-union legislation that is being coordinated in multiple governor races across the country.
The progress for the working class that has been achieved by President Obama and the Congressional Progressive Caucus.
The whites, African Americans, Latinos, Jews, Asian Americans, Native Americans and others who are standing together for working people's needs, including Social Security, the Affordable Care Act, ending student debt, immigration reform, union rights, and more.
Denouncing racism and anti-Semitism will be necessary in the upcoming election season, if working Americans are to be successful in winning a progressive Congress that puts their needs first.
Photo: Rabbi Abraham Joshua Heschel, second from right, participating in the famous civil rights march from Selma to Montgomery, Alabama, on March 21, 1965. First row, from far left: John Lewis, an unidentified nun, Ralph Abernathy, Martin Luther King, Jr., Ralph Bunche, Abraham Heschel, Fred Shuttlesworth. Second row: Visible behind (and between) Martin Luther King, Jr. and Ralph Bunche is Rabbi Maurice Davis. Wikipedia