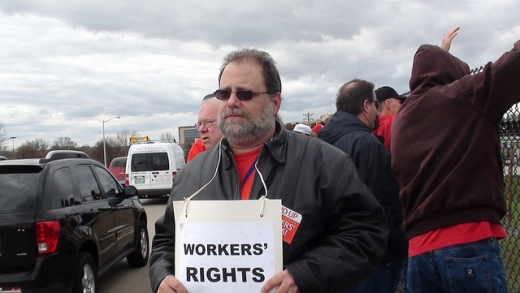 The University of Missouri St. Louis may garner the reputation as a hostile place to work and learn.
Such is the fallout from the character assassination of two labor studies instructors, Judy Ancel and Don Giljum, by video con artist Andrew Breitbart.
Breitbart, who conducted previous similar hit jobs on others, including civil rights activist and U.S. Agriculture Department official Shirley Sherrod, released highly edited videos of the instructors supposedly advocating violent tactics.
Their actual classroom discussions, a survey of the undoctored tapes showed, were the exact opposite.
The Breitbart videos have been debunked by many sources and have been taken down by YouTube.
But the damage from the hit job remains.
A firestorm occurred at the two universities involved, but the reactions were markedly different.
The University of Missouri Kansas City, where Ancel is director of the Institute for Labor Studies, immediately reviewed the tapes and saw the alterations Breitbart had made.
In an April 28 statement, UMKC Provost Gail Hacket said it was "clear" that the instructors were depicted "in an inaccurate and distorted manner by taking their statements out of context and reordering the sequence in which those statements were actually made so as to change their meaning."
The provost also raised serious concerns about the video release of students' images without their consent as a "violation of their privacy rights."
The UMKC provost reaffirmed the university's support for academic freedom and particularly the labor studies program as "an important subject given the role [unions] have played and continue to play in the United States and the world."
A UMKC spokeswoman said in a telephone interview May 6, after they "figured it had been altered" there was no question about support for Ancel. And as far as she knew, the university did not receive any calls for her resignation, she said.
On the other end of the state, however, at the University of Missouri-St. Louis, where Giljum taught labor studies, he says that an assistant dean contacted him and said the administration had concluded "these videos looked bad for the school, the program and me."
Giljum says he told her the videos were "completely altered," but, worried about the survival of the labor studies program, he told her he "would offer his resignation, if necessary" to keep the program going and to make sure none of his students were harmed.
Giljum said the assistant dean told him not to do anything at this time, and said she would get back to him. On April 28 she phoned him and said the provost would like his resignation effective at the end of the semester, Giljum said.
UMSL officials issued a statement the same day saying Giljum's resignation was voluntary. Giljum strongly refutes that. "I can assure you it was not" voluntary, he said in a press statement, adding that he felt completely abandoned by the university administration.
UMSL Chancellor Tom George cited "negative public reaction" after the videos made their way through the right-wing blogosphere.
He said, "Members of the UM System community have received many abusive, demeaning and threatening e-mails and phone calls."
Campus officials did not return telephone calls seeking to ascertain how many of the calls demanded Giljum's resignation. Sources said the university received numerous calls in support of Giljum.
The UMSL administration's failure to stand up to the intimidation, or issue a statement condemning the videos, or reinstate Giljum, is drawing wide criticism.
The American Association of University Professors called on the University of Missouri System to "speak out clearly and forcefully in defense of the rights of their professors and students."
Past and current presidents of the Working Class Studies Association issued a similar call and statement of solidarity.
The International Labor Communications Association called on union members and others to send letters of support for Giljum, including requesting his reinstatement, to University of Missouri-St. Louis Chancellor Thomas F. George, chancellor@umsl.edu and copy Deborah Baldini, Associate Dean for Continuing Education, BaldiniD@msx.umsl.edu.
After the videos were posted, Ancel issued a statement calling them an "affront to democracy" that endangers students' "right to an education."
She pointed out places in the video where Breitbart literally put words in her mouth.
Ancel said her students were outraged, noting that one student wrote to her, "The classroom provides a safe place, or a 'free speech zone' …" These videos, Ancel said, "shattered" the classroom atmosphere of "trust and openness" she and Giljum worked hard to create.
Rutgers University history professor Norman Markowitz, a leader of the Rutgers AAUP chapter and expert on the 1940s and 1950s anti-communist witch-hunts, likened the Breitbart attack to that period. The danger, he said, is that scholars "may begin to engage in the kind of self-censorship that characterized McCarthyism," and cowardly administrators may collaborate.
"Under pressure from administrators, departments and programs may begin to hire 'less controversial' teachers and scholars, which also occurred during the period we call McCarthyism," he said.
Markowitz warned that in addition to labor studies, "women's and gender studies, African American studies, Latino studies, Near Eastern studies, may also be harmed if this is not repudiated now."
Breitbart earlier bragged to Fox's Sean Hannity that he was going after teachers and education. His Missouri attack comes as right-wingers nationally have launched an assault on public workers, teachers, education and unions.
In Missouri, the lt. governor and Republican lawmakers are currently waging a legislative campaign against unions and working families.
More links:
Sign United Association For Labor Education's petition here: http://www.thepetitionsite.com/1/defend-labor-education/
The Chronicle of Higher Education: http://chronicle.com/article/Videos-Ripped-From/127319/
Inside Higher Ed: http://www.insidehighered.com/news/2011/04/29/fallout_from_videos_of_labor_course_at_university_of_missouri
USA Today: http://www.usatoday.com/news/education/2011-04-29-inside-higher-ed-youtube-professors-missouri_n.htm
Crooks and Liars: http://crooksandliars.com/karoli/breitbarted-again-biggovernment-uses-edited
Media Matters: http://mediamatters.org/blog/201104290017
Photo: Fighting back against the Republican war on workers, union workers rally on the anniversary of Martin Luther King's assassination. King was slain in 1968 while in Memphis to support the sanitation workers' right to organize. Now public employees are under attack in many states. These union people showed up to a rally at the Communications Workers of America hall and marched from there. (CC)
CORRECTION: In a previous version of this article, it was erroneously stated the Missouri governor was part of the war on workers. That was incorrect. We regret the error.