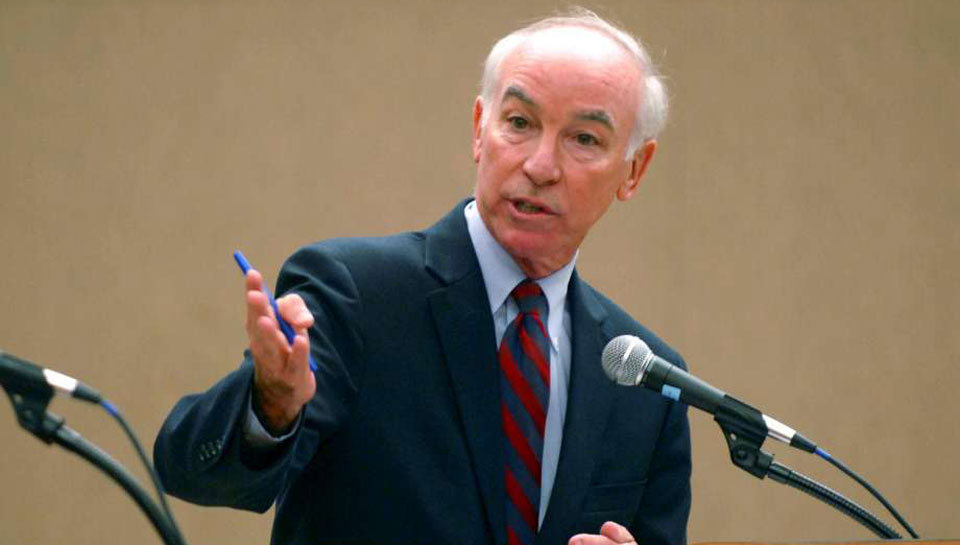 WASHINGTON — It may be a macabre coincidence, but almost on the same day that a key lawmaker reintroduced legislation to order hospitals and nursing homes to create and implement plans to prevent violence against nurses on the job, the D.C. City Council learned that a big, strong disturbed mental health patient had attacked and beat a 71-year-old nurse a month before.
The difference this time is that the nurse, who suffered a badly bruised face and two fractured ribs, bravely went on local television in D.C. – on Fox, no less – to tell her story, show her bruises and lobby for the law.
The legislation, pushed for years by National Nurses United, would use the federal government's leverage over hospitals and nursing homes, through Medicare and Medicaid, to force them to create and implement workable plans to prevent what happened to Lateefat Ayodeji-Coker at St. Elizabeth's Hospital.
The patient escaped his restraints and jumped over the counter at a nursing station at Saint E's, as it's known locally. He grabbed a telephone and beat her badly with it on Jan. 13. But the beating didn't come to light until a city council health committee oversight hearing a month later.
Ayodeji-Coker said if Saint E's management had installed a higher barrier in front of the nurses at the station, the patient would never have gotten over it.
The D.C. Nurses Association, a National Nurses United affiliate which represents the Saint E's nurses, among others, has been campaigning to get higher barriers at the nurse stations there. Management has been deaf.
DCNA has also argued for full-time security officers at each Saint E's nurse's station. There were none when the patient, who has a history of violence, attacked Ayodeji-Coker. The attack left her "traumatized, violated, scared," she told the station.
It's simple measures like higher plexiglass barriers and more security guards which NNU has advocated for years, and which Rep. Joe Courtney, D-Conn., wants to force hospitals and nursing homes to undertake.  His bill reintroduced on Feb. 21, would mandate them. The House Education and Labor Committee plans a hearing on it in late February or early March.
Courtney's Workplace Violence Prevention for Health Care and Social Service Workers Act, HR 1309, "mandates the federal Occupational Safety and Health Administration create a national standard requiring health care and social service employers to develop and implement a comprehensive workplace violence prevention plan," a Courtney fact sheet says.
Studies show nurses in hospitals and nursing homes suffer extremely high rates of violence, and, unless the union can successfully either bargain for safety improvements or get state legislatures to require them, as NNU did in California, the institutions do little to improve safety. Their usual excuse: Cost.
"As nurses who work at the bedside, our union has seen violence reach epidemic proportions in our hospitals and clinics," said NNU co-President Jean Ross, RN. "Employers' failure to prevent violence not only harms nurses and other healthcare workers, but it harms our patients, too."
That's why NNU got California to act and that's why it enthusiastically backs Courtney's legislation, Ross added. It will "create comprehensive federal protections for nurses and other healthcare professionals against violence on the job."
"Health care and social service workers face a disproportionate amount of violence at work, and the data shows that these incidents are on the rise," said Courtney.
In early January 2017, NNU asked OSHA to write a rule forcing the hospitals and nursing homes to act. Dr. David Michaels, OSHA administrator during the Obama administration, agreed. But he reported to Congress last March 18 that the Trump government's OSHA shelved the rulemaking.
"This important standard, one that could save thousands of our front-line health care workers from serious injury, has apparently been put on the back burner," Michaels testified.
"There is much talk today of the costs of these regulations to employers," he said in an implicit criticism of Trump and the GOP's deregulatory steamroller. "Forgotten in these conversations is the cost to workers and their families of not (his emphasis) creating these protections."
"These costs are enormous and they are not paid just in dollars. They are paid in lives."