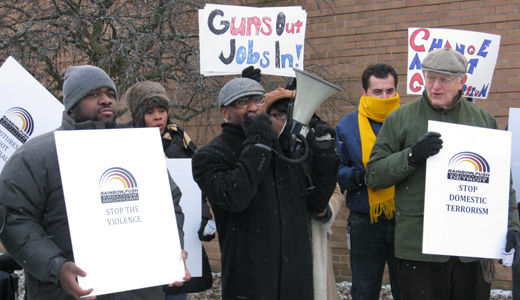 SOUTHFIELD, Mich – On a day of whipping winds, with temperatures barely above zero, a wide cross section of the faith, labor, and social justice community protested Walmart's attempt to build a store in this city near the Detroit border by holding a candlelight vigil against "bringing guns in and sending jobs out."
Celebrating both the Presidential Inauguration and Dr. Kings birthday day made it a "monumental day," said Metro Detroit AFL-CIO President Chris Michalakis. Demonstrators also thought it a fitting day to press forward on an issue of utmost importance to both leaders: the ending of gun violence.
Highland Park NAACP President and Rainbow PUSH Detroit coordinator Pastor D. Alexander Bullock said Dr. King was a victim of gun violence but he also died in Memphis fighting for the rights of workers. He noted Walmart fails on both accounts.
"Walmart does not bring jobs in; Walmart takes jobs out. Working for a limited wage is not a good job," said Bullock.
He also pointed out that Walmart is one of the nation's leading retailers of guns and that 300,000 signatures had recently been delivered to a Walmart store near the Connecticut Sandy Hook Elementary School asking the giant retailer to stop selling military style rifles and ammunition.
Father Norman Thomas, Pastor Sacred Heart and St. Elizabeth Churches called upon the Archdiocese of Detroit (who is selling the property to Walmart) to "take a race to high ground" by not going forward with the sale.
He then said Walmart too could lead a race to "high ground" if it wanted to because it is both "the largest corporation and the largest employer in the world."
Michalakis noted that momentum is building to stop Walmart from building in the city. "We are winning this fight," he said.
He encouraged Southfield and other concerned residents to attend the January 28th Southfield City Council meeting and voice their concerns.
Photo: John Rummel/PW