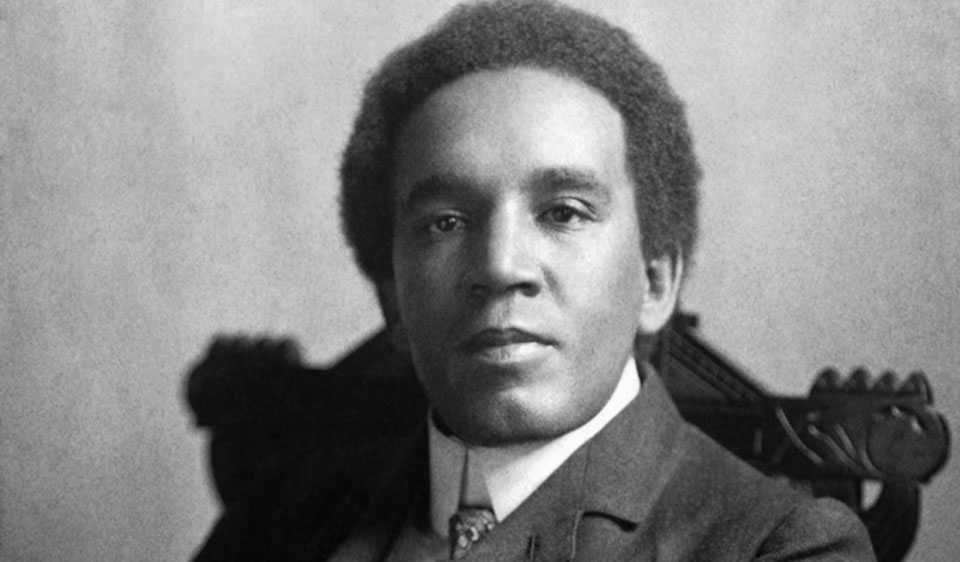 The name Samuel Coleridge-Taylor (1875-1912) often appears on lists of African-descended composers, but in truth I don't know that I'd ever heard any of his compositions, certainly not in live performance. Have you, Reader?
A new CD has just appeared from Azica Records called UNCOVERED Volume 1 that is entirely dedicated to his music, and at 79 minutes' duration, it's a generous sampling. It contains three early works for string quartet, Fantasiestücke (Fantasy Pieces) op. 5 from 1895, and two quintets: one in G minor with the quartet and piano, op. 1 from 1893, and the other in F sharp minor with clarinet, op. 10 from 1906.
The featured ensemble is the Catalyst Quartet, which has a national and international reputation. Their residency in Havana, with the Cuban American Youth Orchestra in January 2019, was the first by an American string quartet since the Revolution, according to the accompanying liner notes.
"Samuel Coleridge-Taylor was an iconic, Afro-British composer and a descendent of freed slaves who fought for the British in the American Revolutionary War," writes Catalyst Quartet violist Paul Laraia, confirming at least anecdotally the thesis put forward by American historian Dr. Gerald Horne, who argues that Blacks in what would become the United States recognized that the British were leaning toward ending the slave trade—and slavery completely—and that the colonists' "Revolution" had been conceived primarily to preserve the institution.
"He was fascinated by the musical traditions of the American Spiritual," Laraia continues, "and sought to incorporate them into the classical tradition in the manner of Brahms with Hungarian music and Dvorák with Bohemian music. Despite being a success in his day and enjoying the support of Edward Elgar and noteworthy critics, he died relatively young at the age of 37 [of pneumonia] in financial stress, having received no royalties from his song of Hiawatha, which was wildly successful throughout his lifetime. His story and death inspired the formation of the Performing Rights Society in England."
The future composer's father was a medical doctor from Sierra Leone, and his mother was a Caucasian Englishwoman. The father soon returned to his homeland, not having found professional success in London, and the boy grew up never knowing him. The authoritative Grove's Dictionary of Music and Musicians (third edition, 1942) records, 30 years after his death, that his "marked individuality seemed to be peculiarly the product of his mixed race."
Although the three works on this CD do not represent this side of the composer, Coleridge-Taylor was intensely interested in the world and its many cultures. "Song of Hiawatha," to which Mr. Laraia refers, was actually a three-part choral composition with orchestra which began when he was still a student at the Royal College of Music with "Hiawatha's Wedding-Feast" (1898), followed by "The Death of Minnehaha" (1899), and "Hiawatha's Departure" (1900)—all before he turned 25 years old. For many years the composer's reputation rested largely on the Hiawatha works, derived from the epic poem by Henry Wadsworth Longfellow.
Coleridge-Taylor visited the United States three times—1904, 1906 and 1910—conducting his own works. On one tour he conducted the New York Philharmonic Orchestra and was reputedly the only Black person present. His last major composition, a violin concerto, premiered at Norfolk, Conn., in 1911. When the composer was around 20, he gave some concerts together with the well-known African-American poet Paul Lawrence Dunbar. Scholars have traced influence from these visits on the Harlem Renaissance.
A few of his 100-odd compositions include such titles as "Zara's Ear-rings," "Southern Love Songs," "African Romances," "Two Moorish Tone-Pictures," "Moorish Dance," "Gipsy Suite," "The Gitanos," "African Suite," "Nourmahal's Song and Dance," "Toussaint L'Ouverture," "Ethiopia Saluting the Colours," "Four African Dances," "Twenty-four Negro Melodies," "Kubla Khan," "Symphonic Variations on an African Air," "Bamboula, Rhapsodic Dance," and "A Tale of Old Japan." Many of these obviously reflect a special interest in Africa and the African Diaspora.
A quick visit to YouTube will give access to a large number of his works in performance and in printed scores.
What gave rise to the current CD is the artistic philosophy of the Catalyst Quartet itself. "Over the course of time," they write in their program notes, "there have been many overlooked artists in classical music, especially because of their race or gender. It is important to acknowledge that we have not yet heard the whole story due to the sidelining of musical voices. Composers like Samuel Coleridge-Taylor, Florence Price, and Coleridge-Taylor Perkinson have contributed beautifully crafted work to the repertoire but are not widely celebrated because quality recordings and performances of their music are rare or nonexistent. With our next recording project we are helping to change this unfortunate reality."
Volumes 2 and 3 of Catalyst's UNCOVERED series contain music by Florence Price and Coleridge-Taylor Perkinson (presumably named for the composer under review here).
Culture, and indeed all of history, cannot be defined only according to the Great Men theory—the kings, generals and politicians of an age, nor only by Hemingway and Faulkner, Gershwin and Copland, Einstein and Salk (to take some familiar American examples). The contributions of many at all strata, not just the names we remember but those mass movements of unremembered names as well, all form vital elements of the ever-fermenting social humus. (In my own career as a writer, I early on concluded that the Great Men of American music had already been adequately examined and decided to place my focus on a couple of others, Marc Blitzstein and Earl Robinson, whose careers had largely been neglected and with whom I felt a deep personal sympathy.)
Coleridge-Taylor fits into a slightly different framework. In symphonic music, his contemporaries were Sir Edward Elgar (1857-1934), mentioned by Laraia above, Ralph Vaughan Williams (1872-1958), Gustav Holst (1874-1932), John Ireland (1879-1962), and Sir Arnold Bax (1883-1953). In that era, music thrived in the great orchestral and choral societies, in the opera house and music halls, and in much amateur music-making. But British composers for the most part did not contribute fresh, innovative ideas to the theory and philosophy of the art in ways comparable to what was happening in Germany, Austria-Hungary, Russia, France and Italy.
Thus, with his eyes and ears tuned to the wider world around him, Coleridge-Taylor occupies a unique space in this history. If there were any justice in this world there ought to be a Samuel Coleridge-Taylor Society that works to promote performances and bring further recognition to his name. Actually there is, and you can take a look here, so yes, I guess there is a wee bit of justice.
Listening to the music
The CD starts off with the piano quintet in four movements. Generally the composer shows a sunny, youthful, optimistic disposition, one might say the lighter side of the high Romantic Era. His larghetto in the second movement is lovely, leisurely and elegiacal. The third movement, a scherzo, is a degree or two more serious-sounding than one normally associates with this skipping, dancing title, and the final allegro molto tosses motifs back and forth with manifest delight, ending in a joyous and highly competent fugue.
This 26-minute piano quintet (with pianist Stewart Goodyear) sets the tone for the overall voice of the composer at this Brahmsian period of his writing. He did not demonstrate a penchant for modernity and innovation, such as one could hear on the Continent in Wagner, Mussorgsky, Mahler, Hugo Wolf, and around the turn of the 20th century, Richard Strauss, Claude Debussy and Arnold Schönberg. But he did show his mastery of lyricism and form and admirable musicianship. One listens to his flowing melodic line and superb harmonic integration of five voices and the names of Schubert, Mendelssohn and Dvorák come to mind.   
The Fantasiestücke (Fantasy Pieces) for string quartet alone contains five short movements, coming in at 22+ minutes. The first two movements, "Prelude" and "Serenade," are similar in mood—gentle, quiet, caressing, rocking the baby. On KUSC, my local classical radio station (which can be heard globally on the internet), there's a short daily feature at around 5:00 p.m. called "Anti-Road Rage," timed to help drivers calm down, take it easy, lay off the horn and go a little lighter on the gas pedal. These two movements would fit the bill perfectly. The set picks up pace in the third movement, "Humoresque," with its bouncing rhythms and the bonhomie of its pizzicato highlights. The following "Minuet & Trio" contains echoes of very proper salon music, paying homage to the Classical Era, without a hint that the staid 18th-century minuet would become the 19th century's often frenetic waltz. The final "Dance" resourcefully holds the listener's attention as one imagines what kind of motion might be choreographed to it, yet it never quite kicks up its heels. We are British, after all.
The final work, the almost 28-minute quintet with clarinet (Anthony McGill) is also in four movements. The thing to remember about this combination of instruments—true of the piano quintet as well—is that the voices of all are meant to be equal in value. It is not a miniaturized, chamber-sized concerto for the featured solo instrument. You will hear no soulful wailing, no dramatic glissandos, no raucous barking, nothing Roma or klezmerish, stylistic and technical features one would encounter in later, more modern uses of the instrument.
The first movement, allegro energico, is a feast of bustling conversation like the reunion of five good longtime friends. The clarinet is simply one of them, not given to especially prominent virtuosistic display. The second movement, a larghetto affettuoso, is appropriately affectionate, recalling the warm, homey music of the composer's contemporary, Edvard Grieg. It reminded me of the Grieg music used as an intro to the old TV show I Remember Mama. One can hear in it the very faintest touch of bluesiness redolent of the "Going Home" theme in Dvorák's New World Symphony. The third movement, another scherzo as in the piano quintet, similarly tamps down the ebullience one anticipates from a movement title like that, and is more pastoral in character. The work ends with a playful "Finale" that incorporates the spirit of folk dance, and it is here that we get from the clarinet its most demanding passages.
In sum, we have a youthful, but fully realized composer steeped in the polite, conservative, Victorian tradition. To Continental ears in its day, these works would have sounded satisfying and conventional, civilized and enjoyable, fresh and pleasant, and honestly they still do, if being challenged or tested as a listener is not your requirement. After their first performances, these works were not "rediscovered" for over a century. They would find a welcome home on many a chamber music program—why not a Mozart, Shostakovich and Coleridge-Taylor menu?
If Samuel Coleridge-Taylor did not, in these works, shake his fists at the heavens in the heroic Romantic image, nor go out of his way to offend the dons of the academy, he cannot be held to fault for it, though surely as time went on, their novelty clearly disappeared. Yet in his future loomed the work for which he is more commonly remembered, those compositions that mined the rich ethnic roots of Africa and the Americas, to which he also laid claim.
The sound on Azica ACD-71336 is plush and warm and to my ears perfectly engineered. It was recorded at Lauder Concert Hall at Goshen College in Goshen, Indiana, in July 2019, and released in February 2021. Members of the Catalyst Quartet are violinists Karla Donehew Perez and Jessie Montgomery, violist Paul Laraia, and cellist Karlos Rodriguez.
The CD is available now in digital form only and can be found wherever you purchase music. It will be a keeper in my collection. I look forward to hearing more from Catalyst.