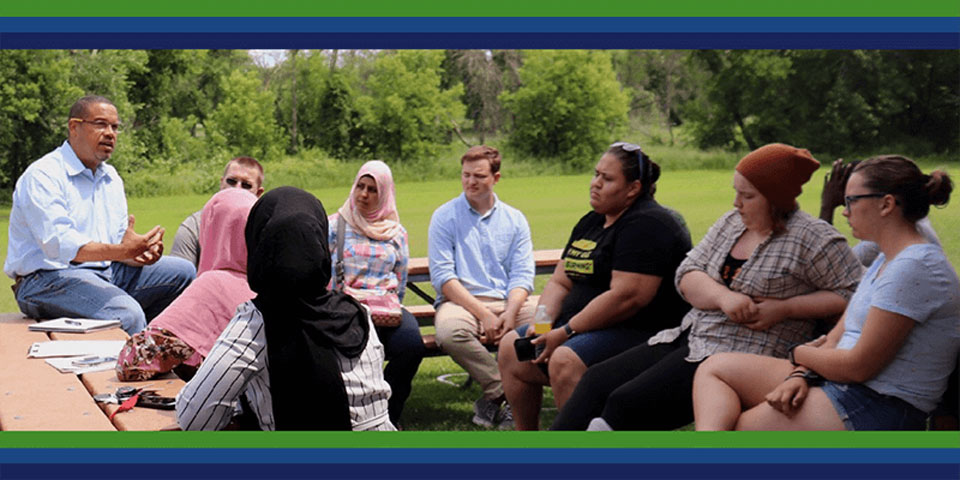 With races in Minnesota coming down to the wire, workers and their allies are going all-out up and down the ticket—with special concentration on keeping progressive Attorney General Keith Ellison and Gov. Tim Walz, both DFL-Minn., in their jobs.
Minnesota has races all up and down the ballot and in the purple state, many are intensely competitive. Besides the gubernatorial and Attorney General's contests, they include Minnesota Secretary of State Steve Simon, whose office oversees elections.
And approximately a dozen union members seek state legislative seats in just the Twin Cities alone, a list in the St. Paul Union Advocate shows.
Simon faces the only avowed 2020 election liar/denier in the race, Kim Crockett. In a 2021 radio interview, she called the 2020 voting "rigged," just as former Republican Oval Office occupant Donald Trump repeatedly claims. Trump recently endorsed Crockett.
On Oct. 26, Trump also endorsed Walz's Republican foe, physician and coronavirus pandemic skeptic Scott Jensen. He said Jensen "will bring Minnesota back from the brink."
Walz is the incumbent in one marquee race. Ellison is the incumbent in the other. Both seek second terms. Walz is also one of two union members, both from Education Minnesota, running statewide.
Walz, a member of the state's joint AFT-NEA affiliate, has a solidly pro-worker record, even if he was notably absent from the picket line—unlike Ellison—when the Minneapolis School Board forced teachers and staffers to strike earlier this year.
"The one thing I want union members in Minnesota to know is that as long as I am governor, you do not have to spend one second worrying about a piece of anti-union legislation crossing my desk," Walz told the state AFL-CIO Convention Sept. 18-20.
"This November, labor is on the ballot," warned Walz's running mate, DFL Lieut. Gov. Peggy Flanagan, a Native American. "Our opponent has made it very clear he will gut labor protections and turn Minnesota into a right-to-work state. That will not happen on our watch," Flanagan pledged.
"We have to get re-elected to make sure workers' rights are protected, to make sure women's rights are protected, to make sure voters' rights are protected," declared Walz.
On June 23, the Republican-named U.S. Supreme Court majority stripped women of the constitutional right to abortion, leaving Minnesota as a "sanctuary state" for women coming from anti-abortion Republican-ruled Iowa, Wisconsin, and both Dakotas.
Those Republican justices also emasculated the Voting Rights Act a decade ago and declared, five years ago, that all state and local government workers could be "free riders," able to use union services without paying one red cent for them.
Ellison has the toughest race, with polls showing the AG trailing but within the margin of error against Jim Schultz, a rich hedge fund lawyer who's campaigning on thinly veiled dog whistles accusing Ellison of being "soft on crime."
When unionists campaigning for Ellison encounter that criticism, they have a ready reply, says Mark Fromke, President of the AFL-CIO's West Area Labor Council. They explain Ellison has been more aggressive than any other state AG in history in prosecuting companies for wage theft.
An award-winning Workday Minnesota investigation several years ago revealed rampant wage theft, harming Black, brown, and migrant workers. Shady construction firms still often rip their workers off, but they're not the only ones. Ellison recently prosecuted fast-food restaurants for colluding to hold wages down, St. Paul Regional Labor Federation President Kera Peterson wrote in The Union Advocate.
Voters' frequent reply when they learn about Ellison's crime-fighting against wage theft, Fromke says, is "I didn't know that." The information changes some voters' minds about Ellison to positive. Ellison adds that his foe, Schultz, "wants to criminalize abortion."
Ellison made the same points to one of his strongest supporters among national groups, Our Revolution, formed by Bernie Sanders backers after the Vermonter's 2016 run for the Democratic presidential nomination. Ellison endorsed Sanders.
The Progressive Change Campaign Committee also strongly backs Ellison, a former co-chair of the Congressional Progressive Caucus. Both groups, like Sanders and Ellison, are often at odds with the D.C.-based national Democratic "establishment" of pollsters and campaign consultants.
"Keith helped lead the team that convicted former Minneapolis police officer Derek Chauvin for the murder of George Floyd, and now the far right is coming after him for it," Our Revolution said. "Help me make it so if you're standing up for justice you will not be turned out of office," Ellison asked. Being ousted—in a recall—was the fate of San Francisco's progressive District Attorney earlier this year.
"Keith's opponent is a damned hedge fund lawyer," Fromke says of Schultz. "If he wins, we'll have no prosecution of corporations."
Ellison faces other hurdles in Greater Minnesota, Moorhead resident Fromke admits. One big one is that he's from the Twin Cities, which he used to represent in Congress. Some voters outside the metro area, though they won't admit it, resent Minneapolis-St. Paul-based officeholders.
By contrast, Walz, on leave from teaching high school in the small city of Mankato, often cites his rural roots when speaking outside the Twin Cities. Walz was born and lived as a child in a 300-person Nebraska town.
So, the governor can relate not just to union members, but to outstate—called Greater Minnesota–and rural voters, Fromke says. "What people want to know, particularly in Greater Minnesota, is whether they have a governor who cares about them."
A third tight race features two-term Rep. Julie Craig, DFL-Minn., in the swing Second District. She faces a rematch against well-funded ex-Marine Tyler Kistner, who hates public schools. He says "indoctrination" of students must stop. And he rails against critical race theory, a common—and phony–GOP social issue.
The other Education Minnesota member seeking re-election statewide is Julie Blaha, the incumbent state auditor. She's a former math and science teacher in the Anoka-Hennepin School District, president of the district's Education Minnesota local and first-ever woman Secretary-Treasurer of the Minnesota AFL-CIO.
Minnesota unions endorsed a raft of state legislative candidates, many of whom pledged to promote specific worker causes, such as higher pay for essential workers, livable wages, and safe working environments.
And approximately a dozen current union members seek state legislative seats in the Twin Cities area alone. One key down-ballot target: Flipping the State Senate, which the Republicans now hold by only three seats. The DFL controls the State Assembly.
Three of the hopefuls who are current unionists seek Senate seats: Clarice Grabau of the Farmington Education Association, Judy Seeberger of Paramedics Local 167, and Erin Murphy of the Minnesota Nurses Association. The other unionists seek Assembly election.
"So much of the progress we've made in recent years hangs in the balance," St. Paul Labor Federation President Peterson wrote in her column. "And so much work remains to be done to make Minnesota a state where all of us, no matter what we look like or where we come from, have an opportunity to thrive.
"But too often over the last four years, legislation that would make our workplaces safer, or would invest in our public schools and infrastructure…Between now and Election Day, we need to do everything we can to help elect candidates who share our values."