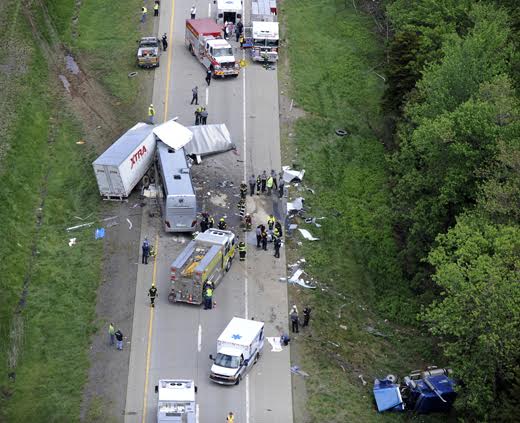 WASHINGTON (PAI) – Putting intercity bus drivers under federal overtime pay laws would raise the drivers' pay, lower their fatigue behind the wheel and cut fatal bus crashes and deaths, a new Amalgamated Transit Union report says.
Sudden Death Overtime: A Common-Sense Bus Safety Proposal notes driver fatigue accounts for 36 percent of all deaths in bus crashes. Federal data shows fatigue occurs when drivers spend huge amounts of hours – such as 100 a week – behind the wheel or take other jobs to make ends meet. Drivers who toil long hours don't get the time-and-a-half overtime pay rate. Federal data shows bus crashes kill approximately 50 people yearly and injure another 1,000.
The bus crash problem has increased ever since the industry was deregulated, ATU notes, and especially with fly-by-night bus firms and largely unregulated so-called "Chinatown" bus companies. [The bus services originally transported workers in Chinese restaurants to and from jobs. Also, some bus lines transport large groups of mainly Chinese and Vietnamese immigrants to and from casinos. The buses have been subject to controversy because of safety issues. Some companies have been shut down either temporarily or permanently by regulatory authorities.] But the fatigue problem also exists among Greyhound drivers, ATU adds.
"It is doubtful Congress intended market forces to result in reduced safety," ATU says. Yet bus firms "are now free to set their own rates, which allowed customers to lock in jaw-dropping fares between certain cities.
"If you take your chance on a discount bus operator, there is a good chance you will be putting your life in the hands of a severely fatigued driver who may not speak English or even understand road signs. And you may very well be riding in a bus that has been cited for numerous safety violations…More people are putting themselves at risk every day."
Legislative proposals to solve the problem, including a bill by Sen. Sherrod Brown, D-Ohio, address bus structural safety but not fatigue factors, the report notes. While making the buses stronger is extremely important, structural safety makes little difference if the bus driver falls asleep at the wheel and the bus hurtles off the road, ATU says.
The federal Transportation Department has tried to address driver fatigue by limiting hours on the road, but enforcement – especially on newer, smaller operators – is spotty and limiting hours while preserving inadequate pay still leads drivers to toil long hours, ATU says.
"There is no inconsistency between enforcing rigid maximum hours of service for safety purposes and at the same time, within those limitations, requiring compliance with the increased rates of pay for overtime work," ATU says. "In fact, both issues are paramount to safety, and they are clearly linked. When drivers are not paid well, including appropriate overtime rates, they are going to be pushed to make a living elsewhere, providing them little time to rest and turning them into weary operators."
Citing a 2002 study of long-distance truckers and their hours and pay, ATU notes "only a 10 percent higher driver base pay rate leads to a staggering 34 percent lower probability of a crash." It adds 85 percent of U.S. hourly workers are eligible for overtime. Bus drivers are not.
"Now is the time to lift the overtime exemption on intercity motorcoach drivers, who are still categorized with an odd group of workers that have no apparent connection to public safety which includes boat salespeople, buyers of agricultural products, forestry employees, livestock auction workers and motion picture theater employees.
"If the teenager who rips your ticket at the movies falls asleep on the job, the only consequence is that patrons get in for free. When bus drivers fall asleep at the wheel, people die," ATU says.
Photo: Authorities investigate the scene of a fatal collision between a tractor-trailer and a tour bus on Interstate 380 near Mount Pocono, Pa., June 3. Three people were killed and more than a dozen were sent to hospitals. | David Kidwell/AP