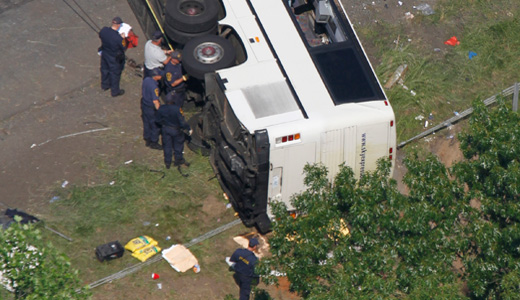 WASHINGTON – The November conviction of a non-union intercity bus driver on four manslaughter counts due to a May 2011 fatal crash in Virginia ignores the real problem drivers face, excessive fatigue, the Amalgamated Transit Union says.
And that fatigue is caused because the non-union bus drivers are ineligible for overtime pay – and their bus companies pay so little that drivers must either toil for excessive hours behind the wheel or take second jobs to make ends meet, ATU adds.
The union documented the fatigue problem in an earlier report, but the National Transportation Safety Board (NTSB), in the Virginia case, cited driver fatigue without going into the cause of it, ATU President Larry Hanley adds.
ATU has been lobbying lawmakers to bring all intercity bus drivers under the Fair Labor Standards Act (FLSA), which mandates overtime pay. The union's drivers, for Greyhound, Trailways and some other companies, get overtime under their contracts.
"NTSB recognized motorcoach driver fatigue as a serious problem in the industry," said Hanley after the manslaughter conviction in Virginia. "But they ignored the 'elephant in the room' that is the real reason behind these tragic accidents that have taken so many lives.
"The elephant is the agency's failure to recognize intercity bus operators are exempt from Fair Labor Standards Act overtime provisions, and many are forced to work second jobs during their so-called 'rest period' just to make ends meet," he added.
Congress is also to blame for not extending FLSA to all motorcoach drivers, he said. The bus companies lobby against the FLSA coverage and thus are part of "a conspiracy of silence about the real cause of driver fatigue, which is rooted in working conditions, wage rates, the absence of fair labor standards for intercity bus drivers," adds Hanley.
ATU's Sudden Death Overtime report, which it has used in lobbying lawmaker, cites NTSB estimates that 36% of motorcoach crash fatalities over the past decade have been due to driver fatigue. The report notes road conditions account for 2% of deaths and driver inattention covers 6%.
"The problem with the government's analysis of this problem is that there is a vested interest in American politics in avoiding issues of working conditions, worker safety and anything that calls for corporate responsibility," says Hanley. Instead, as in the Virginia case, the drivers "are scapegoats for an industry that has become a sweatshop on wheels."
Photo: Examining the bus at the crash site, May 31, 2011, on Interstate 95 near Bowling Green, Va. Federal officials said the bus crash that killed four people and injured dozens was likely caused by driver fatigue and several other factors. The NTSB on July 31, 2012, said the low-fare bus company, Sky Express, had no regard for passenger safety. Steve Helber/AP