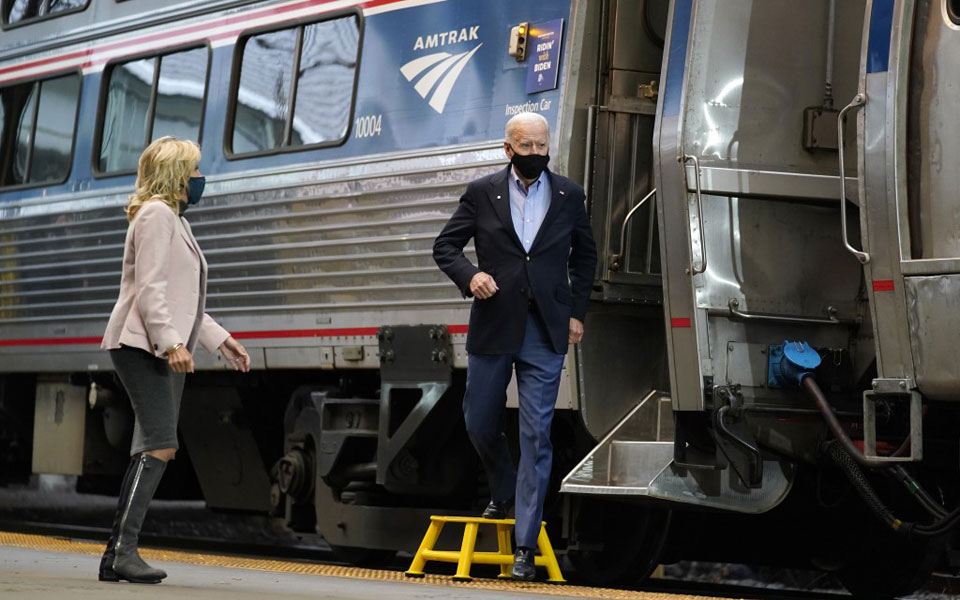 WASHINGTON —The nation's mass transit workers, their unions and transit operators are mobilizing to push for more federal dollars as lawmakers race towards passing some sort of economic aid bill to deal with coronavirus-closure-caused layoffs, firings and economic pain, says Amalgamated Transit Union President John Costa.
The problem is especially acute for Costa's 200,000 members—bus and subway drivers, mechanics and maintenance workers. They're considered essential and forced to come to work and put their lives, and those of their families, on the line, he said in a telephone interview with Press Associates Union News Service, but they're often not treated that way.
"They're wondering, 'If part of our reward for being essential is that we have to give up our health care or cut our pay, why come in to work?'"
"I didn't sign up for going to war or facing life-or-death situations out there," the workers tell Costa. Nor did their families, also risking exposure to the coronavirus.
But the transit workers and their unions may not get what they want.
Mass transit union leaders, along with mass transit agency chiefs, sought $32 billion for the nation's bus and subway systems. They got $25 billion in the House-passed $3 trillion Heroes Act, which Senate Majority Leader Mitch McConnell, R-Ky., has killed, twice.
In its place, bipartisan backers of a $908 billion aid bill now gathering steam on Capitol Hill would give subway and bus systems, airlines, airports and Amtrak $45 billion combined. That's not enough to keep transit systems going, even at current lower levels.
The measure also aids jobless workers—weekly federal unemployment checks of $300, not $600—plus money for schools to clean, disinfect and reopen ($82 billion), to keep the Postal Service going ($10 billion) and fund state and local governments ($160 billion), among others. All figures are smaller than advocates say they need.
By contrast, that same measure would give $288 billion to the Trump Treasury-run Paycheck Protection Program, allegedly for small business. That's on top of the $670 billion lawmakers shoveled that way, on condition firms kept workers on payrolls.
Nobody knows if they did, a non-partisan Government Accountability Office study says. And a lawsuit forced the government to disclose that big firms and local franchises of national chains got more than half of the cash, though 87% of grants were small and to small firms.
All this, plus seven months of McConnell's refusal to agree to any aid, led ATU members to campaign hard for funds to keep their jobs going and their families alive, Costa said.
And the problem is especially acute for them, he explained. The pandemic-produced forced closures cut ridership by 90% or more and revenue by a similar share. Not only did farebox revenue literally disappear, but state and city aid dried up, too. Those governments saw their tax dollars disappear. They sought $500 billion. The new bill gives them 32% of that.
The result? Some transit agencies have held the line, such as in Chicago. In New Jersey, Gov. Phil Murphy (D), is doing the same, figuring lawmakers will come up with relief once regular Amtrak commuter Joe Biden (D) becomes president on Jan. 20.
Murphy took out cheap loans, since interest rates are close to zero, to keep the Garden State's bus and commuter rail lines running, says Costa, a former New Jersey Transit driver. The governor figures the crunch will ease next year.
"If we give Joe Biden a chance, it'll go forward," Costa says of more transit aid.
Meanwhile, different transit operators react differently, with impacts on the workers.
New York City's MTA, the nation's largest system, faces potential layoffs of thousands of workers. San Francisco's BART laid off 85, with more to come. The Chicago Transit Authority, another of the nation's big three in riders, is holding the line.
In D.C., Paul Wiedefeld, general manager of the nation's second-busiest subway system, Metro, faces a budget deficit so huge next fiscal year that he's floating a combination of more than 2,400 job cuts–by attrition if possible—plus cutting bus trips by 25% and eliminating subway service after 9 pm on weekdays and round the clock on weekends.
Some transit chiefs "are being responsible and doing their job," said Costa. "Others are trying to get concessions." They use revenue reverses as a result of the coronavirus-caused economic crash, to argue for cuts in pay, pensions and benefits. Politely, Costa named no names. "But we'll fight them and embarrass them," he promised.
All this has led Costa, other transit leaders and his members to lobby lawmakers, even though he can lapse into scorn for those politicians who hail bus and subway drivers and other front-line workers as heroes—and then refuse to help them.
They make a two-fold argument, he said in the interview. One is straight economics: Without functioning bus and subway lines to carry riders to and from jobs, doctors' offices and to shop, the economy slows and halts.
Another is the workers, faced with transit agency labels that they're essential, but with  accompanying demands that workers bear the brunt of the cuts via lesser compensation and more layoffs, start wondering whether it's worth it.
And Costa has his own question, about congressional priorities. As aid for workers, schools, and governments keeps shrinking, Pentagon money doesn't: "We're not stopping building tanks or dropping bombs. Their dollars are there. No matter what, they get them."