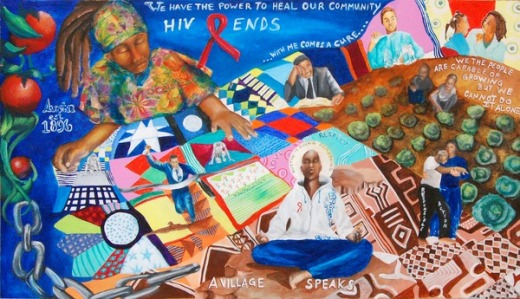 CHICAGO – Residents, business owners and politicians gathered at the northeast corner of Chicago and Mayfield avenues on the city's Westside neighborhood of Austin, May 22, for a ceremony to dedicate a recently unveiled 15 x 30 feet community mural entitled "Austin is Doing Something (A.I.D.S.)." The mural is designed by another Pilsen (another Westside neighborhood) artist Carla Carr.
More than 150 people turned out for the event which featured food, music, giveaways, health information, a PSA film festival and an iTunes gift card raffle.
The mural, which has the message "We have the power to heal our community," was inspired by With Me Comes A Cure, an awareness campaign of the AIDS Foundation of Chicago designed primarily to address the growing HIV epidemic among African Americans and stress the importance of developing an AIDS vaccine.
"I'm proud to have partnered with all of you to put up this fantastic mural to raise awareness about HIV and STDs," said Ald. Deborah Graham of the 29th Ward, a project sponsor who spoke during the ceremony. "This mural is getting people talking, and that's what we need to do."
Among Chicago neighborhoods Austin has the highest number of STD cases among youth ages 13 to 24, and the second-highest number of HIV infections among that age group, according to the Chicago Department of Public Health.
"Austin is Doing Something" will be the centerpiece of a planned community garden honoring longtime activists Ed Bailey and Leola Spann that Austin residents are planning with assistance from NeighborSpace, a public land trust.
Click here to see event photos.
Photo: http://twitpic.com/1htlzb