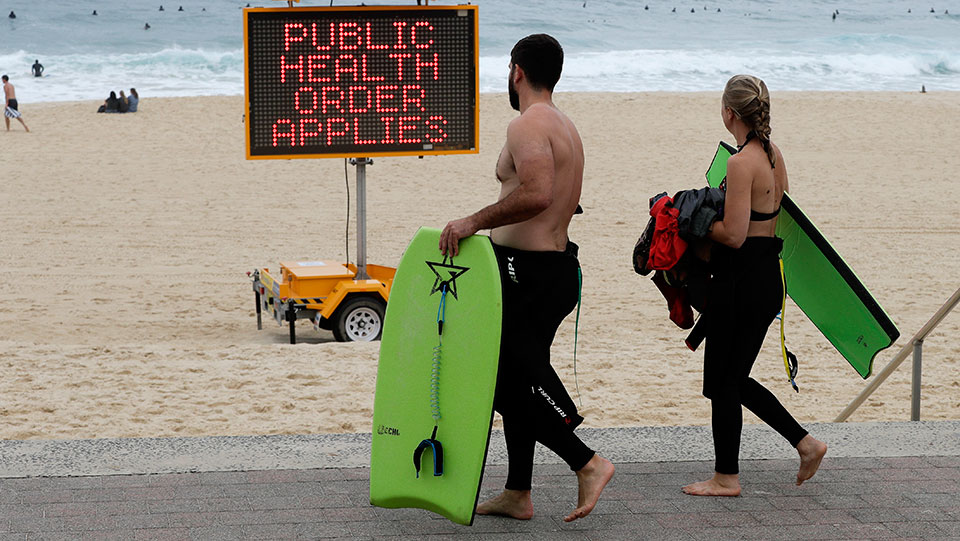 SYDNEY—The response to the pandemic from Australian governments has revealed (perhaps more than any other event in recent history) their contempt for the Australian working class. Lately, it has manifested in the sharp difference between the policing of Western and Eastern Sydney.
Last week, the Australian Defence Force (ADF) deployed 300 personnel into working-class and racially diverse Western Sydney for a COVID-19 suppression effort. Before the ADF's deployment, the eight Western Sydney local government areas (LGAs) were already heavily policed in stark contrast to their upper-income and whiter Eastern counterparts.
Photos and video footage captured by citizens and shared across social media have shown how dozens of police vehicles and groups of police officers have patrolled the streets of Western Sydney. However, in the east, people have enjoyed relaxed conditions, with public spaces overcrowded as they exercised or queued up for coffee at cafés.
In an attempt to ease fears, NSW Police Commissioner Mick Fuller stated that the operation is "centered around the welfare of the community and ensuring that stay-at-home orders […] are observed." Supporting Fuller's claim, Brigadier Mick Garraway, who heads the ADF during the deployment, assured that military the presence will be "supporting in nature."
Australian Labor Party MP Tony Burke spoke out against the deployment, stating that "there was inadequate consultation with community leaders in those eight LGAs" and that "[p]eople felt that they were in some way being not trusted. They were conscious that the government said 'don't lock down Bondi' but then sent the troops in on Western Sydney."
Greens Senator Lidia Thorpe also criticized the move, stating: "Mobilizing the police and Australian Defence Force to treat a public health crisis is absurd […]. Officers of the law are not experts in public health messaging, culturally accessible information, and welfare support services that enable people to stay at home safely […]."
This is not the first time that working-class areas have been over-policed during the pandemic. Last year, the lockdown of North Melbourne and Flemington public housing was found to be "not based on direct health advice and violated Victorian human rights laws," according to the Victorian state ombudsman. Much like the military rollout in Western Sydney, residents in these communities were not consulted, leaving many without their medicines and food for more than a week. This contrasted against the response at a complex in Melbourne's wealthier Southbank, where two COVID-19 cases were found, with police less present.
If the military truly wanted to play a supportive role, they wouldn't be roaming the streets of Western Sydney. Instead, they could be building quarantine centers or administering vaccinations through their medical staff.
However, Premier Gladys Berejiklian of the state of New South Wales, where Sydney is located, isn't interested in truly supporting the working class. Her voters aren't out there. It is easier for her government to make an example out of Western Sydney, pretending to be tough with the pandemic because those communities are so heavily othered.