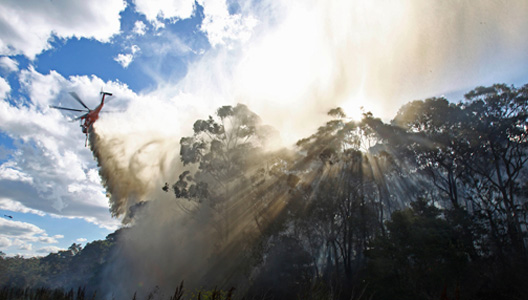 One hundred and thirty fires blazed across New South Wales, Australia's most heavily populated state, today as emergency teams evacuated national parks and fought to get the flames under control. While there have so far been no deaths reported, 100 people are missing in Tasmania, where a fire destroyed 90 homes. After the numerous fires that ravaged parts of the world in 2012, it seems the plague of climate change will do the same this year.
"You don't get conditions worse than this," said New South Wales Rural Fire Service commissioner Shane Fitzsimmons. "We are at the catastrophic level," the most severe rating for wildfires.
In New South Wales, more than 74,000 acres have been burned so far by the drought-triggered brushfire. And in Tasmania, 50,000 acres have been scorched, including forests and farmland. A cool front moving across the region this afternoon, however, is expected to bring some relief and avoid major damage to properties.
One volunteer firefighter suffered severe burns to the hands and face while fighting a grass fire in Gundaroo Village (near Sydney) on Monday and was flown to a hospital for treatment. However, both residents and authorities are so far grateful that there have been no confirmed deaths.
"If we get through today without loss of life and loss of property, we'll have had a remarkable escape from what could have been," said New South Wales Premier Barry O'Farrell.
Temperatures in New South Wales soared to 113 degrees today, and to 108 degrees in Tasmania on January 4 – both record-breakers for their respective areas.
Mitchell Power, assistant professor of geography at the University of Utah, noted, "Our climate is the primary controller of fire, and so we have seen in the last decade. Temperatures have warmed. We're seeing more fires. We're seeing a longer fire season."
The U.S. can expect to see more wildfires like those currently bedeviling Australia in the near future, as global warming worsens.
"America's western forests now see seven times more large fires over 10,000 acres in an average year than in the 1970's," said Dr. Alyson Kenyard, who authored a 2012 report by Climate Central on the issue, which was based on 40+ years of data from the U.S. Forest Service. "Over the same time period, spring and summer temperatures in the west have also increased dramatically."
Writer Joe Romm, who authored a separate study on the issue for Climate Progress, noted that these disasters will grow increasingly common as climate change grows more severe. For the western U.S., for example, he said, "Increases in temperature cause annual mean area burned to increase by 54 percent, relative to the present-day, by the 2050s."
Alasdair Hainsworth, assistant weather services director of the Bureau of Meteorology, remarked, "Extreme heat events such as this one have wide ranging impacts across agricultural and horticultural sectors, infrastructure and transport, and not least human health and safety."
Photo: A helicopter dumps water onto a smoldering fire in the Lane Cove National Park in Sydney. Rick Rycroft/AP