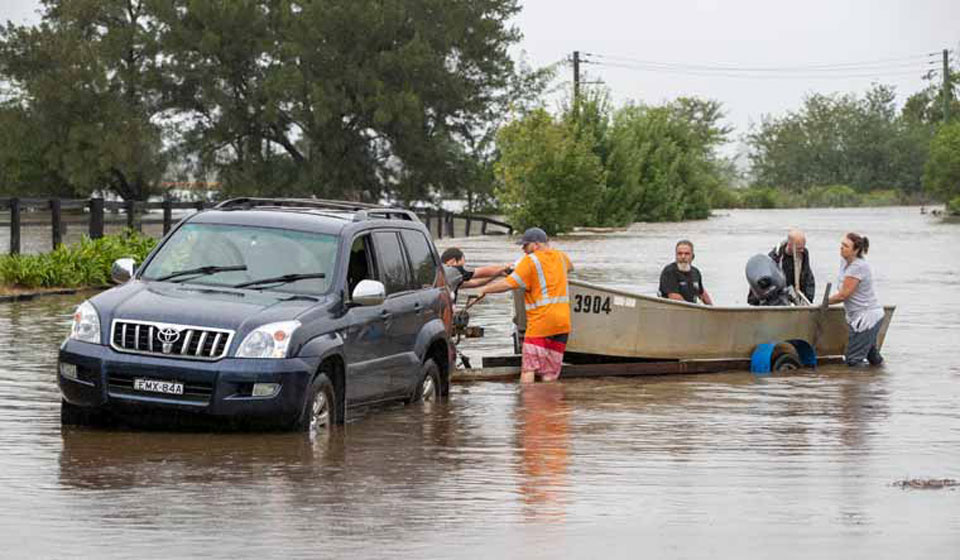 Massive rainfall in Australia's most populous state of New South Wales (NSW) has brought the worst flooding in decades, forcing more than 18,000 people to flee their homes.
The rain began on Thursday, but the inundation increased over the weekend, CNN reported. Currently, 38 locations in the state are considered natural disaster areas. Some areas have seen rainfall five times the monthly average for March in just four days. The flooding comes a year after the region was scorched by record wildfires, in yet another example of how the climate crisis fuels extreme weather.
"Communities who were battered by the bushfires are now being battered by the floods and a deep drought prior to that. I don't know anytime in our state's history where we've had these extreme weather conditions in such quick succession in the middle of a pandemic," NSW Premier Gladys Berejiklian told journalists, as CNN reported. "You've been through three or four incidents which are life changing on top of each other. It can make you feel like you are at breaking point."
Miraculously, Berejiklian said no lives had been reported lost as of late Monday, as BBC News reported. However, there has been massive damage. Photos have shown homes, roads and trees completely underwater, according to CNN. In one incident, a young couple's house was swept away on what would have been their wedding day.
"It literally floated like a houseboat, the whole house, fully intact," the couple's landlord and home's owner Peter Bowie told Australia's ABC News. "It went so fast. It went nearly a kilometre all intact, 100 per cent. This house just lifted up and floated down the river."
Overall, the flooding has prompted more than 700 flood rescues, BBC News reported.
The flooding has especially impacted the suburbs west of Sydney, New South Wales's capital, which saw its wettest day of the year on Sunday, when it received 4.4 inches of rain, as Reuters reported. The Hawkesbury and Nepean rivers have flooded much of northwestern Sydney, and parts of western Sydney have seen their worst flooding since 1961.
The NSW Rural Fire Service shared video footage of some of the areas impacted by the Hawkesbury River flooding, as 9News reported.
"Many areas across #NSW currently resemble an inland sea," the fire service tweeted.
Meanwhile, rainfall has also caused rivers to overflow in the southeastern part of the state of Queensland, according to BBC News.
The Australian Bureau of Meteorology said Monday that around 10 million Australians living in an area roughly the size of Alaska were impacted by weather warnings. The warnings come as two systems collide and affect every mainland state in the country except one.
The wet weather is expected to last through Wednesday, according to BBC News. The flooding comes as Australia is experiencing a La Niña weather pattern, which typically brings more rain and storms. However, scientists say that the climate crisis is intensifying these natural variations. The government's State of the Climate 2020 report found that, while rainfall overall is trending downward in most of Australia, the intensity of heavy rainfall events is increasing.
"Short-duration extreme rainfall events are often associated with flash flooding, and so these changes in intensity bring increased risk to communities," the report authors wrote.
This article was reposted from EcoWatch.