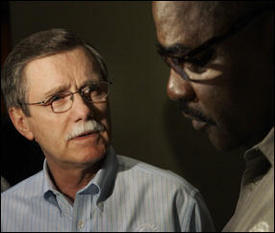 Original source:
US union members are about to take over the massive Chrysler car firm in what would be a stunning blow for rich investors on Wall Street, it was revealed on Tuesday.
The United Auto Workers (UAW) union will own 55 per cent of Chrysler and its health-care trust for retired workers will get a seat on the management board if union members vote for the deal this week.
Shopfloor factory reps voted unanimously on Monday night to recommend some concessions that UAW union president Ron Gettelfinger said would help keep the carmaker out of bankruptcy and keep as many as 54,000 workers in their jobs.
Under the deal, Italian car firm Fiat will own 35 per cent of a restructured Chrysler with the remaining 10 per cent stake divided between the US government and banks.
Chrysler is currently surviving on $4 billion (£2.73bn) in US government loans and President Obama has insisted that private investors fund at least 50 per cent of Chrysler's union-run trust fund which provides health care for retired workers.
Union leaders say that ratification votes at car plants across the US should be finished on Wednesday – one day before Chrysler's government-imposed deadline to restructure or receive a cut-off in aid that would send the company into liquidation.
Under the UAW deal reached with Chrysler, Fiat and the US Treasury Department, cost-of-living pay rises will be suspended until 2011, but, after this, a new collective agreement must increase hourly wages to a rate comparable to Chrysler's US competitors, including foreign-owned manufacturers.
'We fought to maintain our wages, our health care and our jobs,' Mr Gettelfinger and UAW vice-president General Holiefield said in a letter to workers.
'In the face of adversity, we negotiated new opportunities for UAW involvement in future business decisions.'
The deal could serve as an example for another agreement with the huge General Motors car firm, which is also receiving cash from the Obama administration.