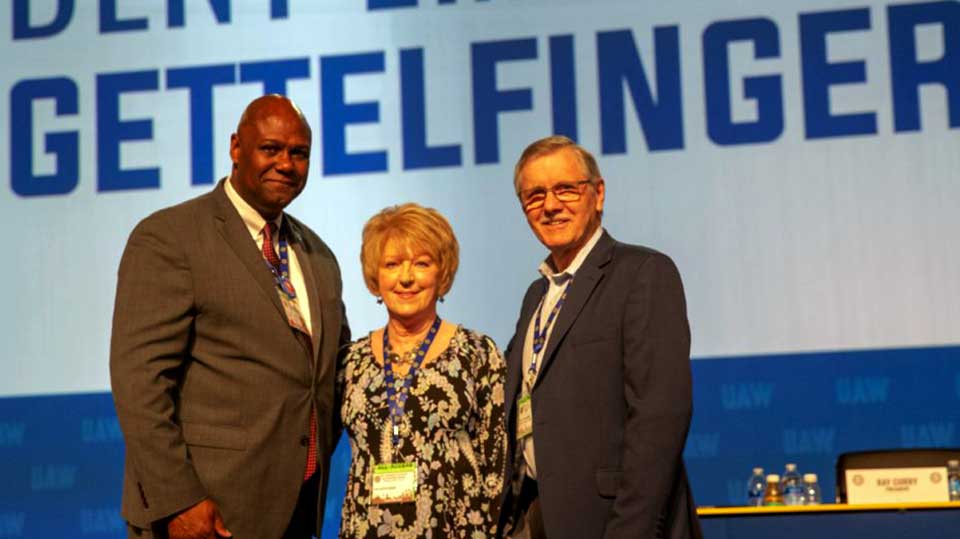 In his final State of the Union address, outgoing United Auto Workers (UAW) President Stephen P. Yokich called on UAW members to get actively involved in union organizing campaigns and political action and to build on the UAW's tradition of fighting for social and economic justice.
"Take that to your union halls, and take it to the streets," he told the more than 2,000 delegates to the union's 33rd constitutional convention meeting in Las Vegas June 3-6. Ronald Gettelfinger, former head of the UAW Ford Department, took over the reins of the 700,000-member union on June 6.
The UAW was founded in 1936. Its most famous battle was at the GM facilities in Flint, Mich., where a six-week sit-down strike forced the company to recognize the union, effectively breaking the back of the open shop.
Yokich urged delegates to continue the union's tradition of activism on issues that range beyond the collective bargaining table. "This union's vision is a vision of dignity, freedom, and social and economic justice for all Americans," he said, reminding his listeners of the unfinished business on the nation's domestic agenda.
"There are 44 million Americans who don't have health insurance," he said. "Can anyone explain why the richest nation in the world doesn't have health care?"
AFL-CIO President John Sweeney, who headed the list of guest speakers, pledged there will be no letdown in fights against fast-track legislation and for restoring the nation's industrial base.
Sweeney chided President Bush for pushing fast track "under the fog of the war against terror" and challenged delegates to work to elect worker-friendly candidates in November. "They talk the talk of the red, white, and blue, but it's clear they're blind to all but the color of green. We need elected officials, like [Michigan gubernatorial candidate] David Bonior, who put people first and corporate special interests last."
John Wilhelm, president of the Hotel Employees and Restaurant Employees International Union, thanked the UAW for its solidarity in his union's organizing campaigns and encouraged delegates to not let corporate America "roll back the clock" to the dark days of the 1930s and 1940s "when workers had few rights and even less economic security."
Joseph Lowery, president emeritus of the Southern Christian Leadership Conference, praised the UAW for what he called "its rich and colorful history," saying, "I choose the word 'colorful' carefully, for you have courageously chosen inclusiveness."
Lowery told of his recent experiences when he joined UAW organizers near the Blue Bird bus factory in Fort Valley, Ga., and were met with anti-union "goons and hatemongers. I've never experienced the kind of terror, even from the Ku Klux Klan, that I got from Blue Bird resisting the rights of workers to organize," he said.
Lowery called upon the UAW to help strengthen a national coalition of conscience to fight back against "our common enemies and [for our] common goals. We must cry out for justice for all. … Peace is not remaining silent in the face of injustice. Peace is the presence of justice. I like the way the young people put it: 'No justice, no peace.'"