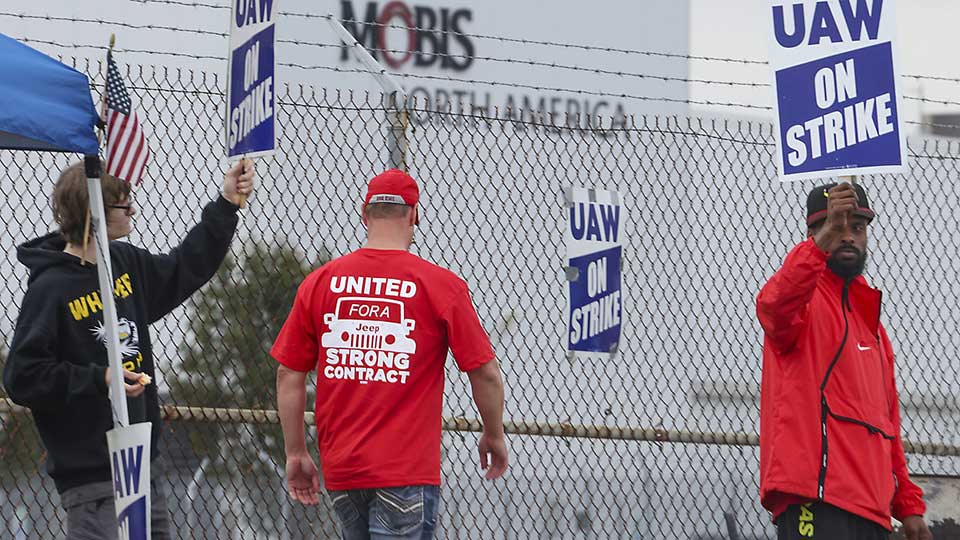 DETROIT—The Auto Workers' "Stand up!" strike expanded to more big plants on September 29, with 7,500 workers walking out starting at noon from the big Ford plant on Chicago's South Side and a GM plant in Lansing, Mich.
"The companies are doing extremely well and we should be doing extremely well, too," UAW President Shawn Fain said in a half-hour video, delayed because one of the Detroit 3 had made a new offer at the bargaining table.
Further actions "will depend on the companies' willingness to bargain," he said.
The two new strike locations bring the total to 43, involving more than 25,000 UAW members. The Detroit-based automakers employ 150,000 UAW members. "Our solidarity is our strength," he said.
Fain stressed again the economic justice of the strike against corporate greed, repeating that the three firms made billions in profits in the last decade but did not share them with the workers who produced cars, trucks, and SUVs.
He also reported that, for the first time, there has been violence against the picketers with scabs ramming their cars and trucks through the picket lines. "We didn't back down then and we won't back down now," he said.
The UAW called the strike, which began at midnight September 14-15, after the union was unable to reach contracts with GM, Ford, and Stellantis. The unique strategy involves expanding the strike every week, local by local, but without saying in advance which locals are striking.
Key worker demands are a 36% raise over four years to recoup losses to inflation, restoration if cost of living increases, an end to the hated two-tier pay system, more decent working hours without mandatory overtime, and the right to strike over plant closures. Ford has moved on many of those issues. The other two have not.
>>> READ MORE PEOPLE'S WORLD COVERAGE OF THE UAW STRIKE.