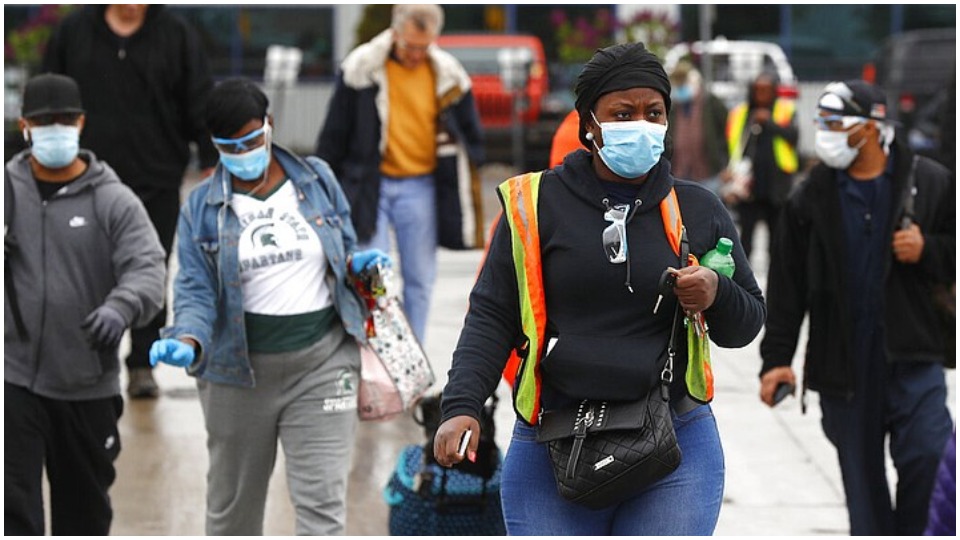 YPSILANTI, Mich.—When GOP President Donald Trump visits a Ford auto parts plant in Ypsilanti, Mich., on May 21, the United Auto Workers demands he wear an anti-coronavirus face mask.
He said he may, depending on specific parts of the plant he visits. But if past is prologue, given his visits to plants in Allentown, Pa., and Arizona whose workers manufacture personal protective equipment (PPE), he won't.
More than a show of bravado is involved since Trump also refuses to wear a mask in the White House. Not coincidentally, Pennsylvania, Michigan, and Arizona are swing states in the fall election that Trump needs in his column for another White House term. So is Wisconsin, where Vice President Mike Pence recently visited a PPE manufacturer, too. He didn't wear a mask, either.
Ford officials backtracked late on May 20 from trying to force Trump to wear a mask when he visited the Rawsonville parts plant in Ypsilanti. That plant, like others run by the Detroit 3—Ford, FiatChrysler, and GM—started reopening on May 18. All restarted under strict protocols,  with coronavirus tests and temperature checks of every worker, separation where needed on assembly lines, orders to wear masks, and other requirements. Workers' entry is staged to keep them six feet apart as they walk in the gates.
The Detroit 3 also deep-cleaned and sterilized its plants in the weeks they were closed. That helped but didn't completely stop the coronavirus. Ford had to briefly close its Chicago truck plant on May 18 when two workers tested positive, then reopened it on May 20—the same day it shut a 4,800-worker Dearborn truck plant when another worker tested positive for the coronavirus.
Given all that, Ford initially demanded Trump wear an anti-virus mask. So did the United Auto Workers. Then, after 4 pm on May 20, Ford backed down. UAW didn't.
"The position of the union is that out of respect for the clean, sterile environment, anybody who enters into that plant needs to follow protocols," spokesman Brian Rothenberg told news services.
Starting on May 5, UAW reluctantly agreed to the Detroit 3's reopening plans, after the firms and the union, working on a joint committee, hashed through the issues involved. But union President Rory Gamble warned the automakers that health and safety come first.
"We have supported a number of measures put in place to address Centers for Disease Control and World Health Organization guidelines from FiatChrysler, GM, and Ford to protect our health and safety in the plant. Our volunteer members and the companies have done great work to reconfigure plants to achieve this safety goal," Gamble said then.
"We continue to advocate for as much testing as possible at the current time and eventually full testing when available. As for the start date, the companies contractually make that decision, and we all knew this day would come. Our UAW focus and role is and will continue to be, on health and safety protocols to protect our members."
The Detroit 3 yielded to COVID-19 cases and UAW pressure and closed the plants more than a month ago, due to outbreaks of the virus and fears of community spread among thousands of workers.
Along with the deep-cleaning and sterilization of the auto plants before they fully reopened, small sections were converted when the Detroit 3 switched to making ventilators.
Nobody openly discussed the political motives behind Trump's and Pence's visits to factories in swing states, whether PPE facilities or auto plants. The tours are designed to pump up the president's political theme of "open up the economy again." That mantra, echoed by congressional Republicans, right-wing extremists, and much of big business, is to declare it's time to return to work, regardless of whether doing so would sicken or kill more people.  Or cause a new spike in joblessness, too.
The virus has infected almost 1.6 million people nationwide and killed over 95,000 as of this writing. It's also thrown at least 40 million people out of work since mid-March, as firms—including the Detroit 3—shut down as part of social distancing and anti-crowd efforts were undertaken to beat the virus's community spread.
But Trump and Pence and their echo chamber argue the weekly numbers are declining, thus making opening safer. And they're so confident of a quick economic turnaround that Trump told GOP senators on May 19 that he opposes extending increased jobless benefits beyond their scheduled end in July.