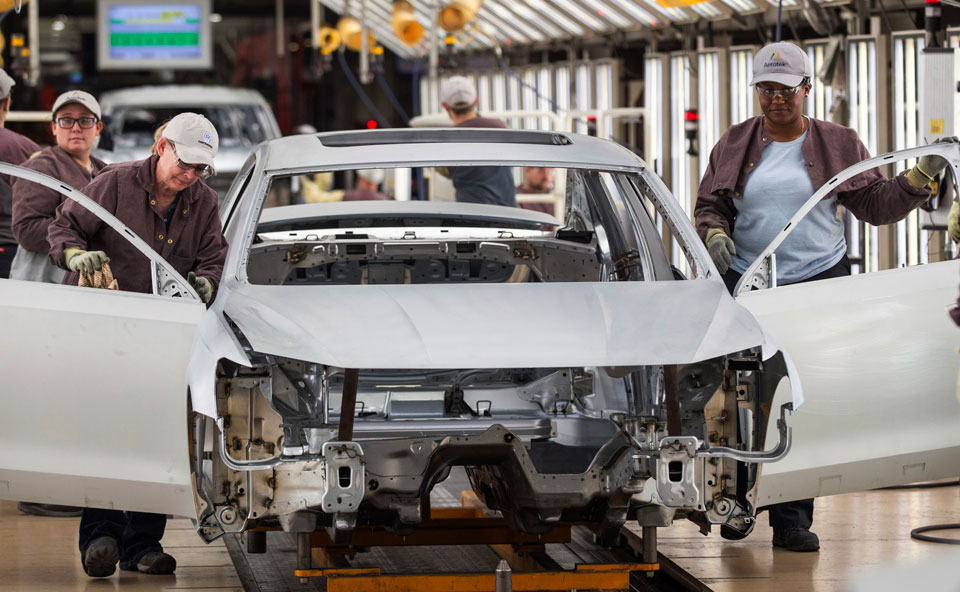 CHATTANOOGA, Tenn. (PAI)—In another setback to the Auto Workers' long campaign to organize foreign-owned "transplant" auto plants in the union-hostile South, UAW Local 42 lost a second recognition vote at the big Volkswagen plant in Chattanooga, Tenn. The June 14 tally was 774-833 in a 93% worker turnout. The loss also bars UAW for a year from a third try.
This time, while VW management was officially neutral—or so it said—in-plant supervisors conducted a strong anti-UAW campaign among the plant's 1,700 workers, including 162 skilled trades workers who had previously voted in Local 42.
Meanwhile, outside special interests ran a community-wide campaign against the union, charging the UAW with corruption and questioning what it would do for the workers.
And Tennessee's ruling Republican politicians again threatened the Chattanooga plant would lose state subsidies and tax breaks, this time to create production lines for electric vehicles if the workers voted union. Such threats helped sink UAW's prior plant-wide organizing drive.
GOP Gov. Bill Lee swooped in last month for an unannounced in-plant anti-union speech. The Intercept disclosed internal e-mails Lee exchanged with VW before his address, as they coordinated tactics.
VW has 45 plants worldwide. Only two, the one in Chattanooga and another in China, are non-union. In the others, the firm abides by labor laws, especially in its home nation, Germany. There, the VW workers' union—like all other unions—has mandatory representation on the company board.
And tactics used against U.S. unions' organizing drives, such as mandatory company meetings with threats of discipline if workers don't attend, are outlawed.
In a statement from UAW headquarters, the union said the loss in Chattanooga again points to the need to strengthen U.S. labor law. But Portside, citing interviews with workers, said the in-plant organizing committee was weak and did not prepare workers for the negative onslaught.
"VW workers endured a system where even when they voted, the company refused to bargain," UAW spokesman Brian Rothenberg said. "Clearly Volkswagen was able to delay bargaining with maintenance and ultimately this vote among all production and maintenance workers through legal games until they could undermine the vote."
"Our labor laws are broken," said Rothenberg. "Workers should not have to endure threats and intimidation in order to obtain the right to collectively bargain. The law doesn't serve workers, it caters to clever lawyers who are able to manipulate the National Labor Relations Board process."
UAW Organizing Director Tracy Romero hailed the workers for standing up to VW'S "brutal campaign of fear." It was "fear of the loss of the plant, fear of their participation in the union effort, fear through misinformation about the UAW, fear about current benefits in contract negotiations. Over a period of nine weeks, an unprecedented length of time due to legal gamesmanship, Volkswagen was able to break the will of enough workers to destroy their majority," Romero said.