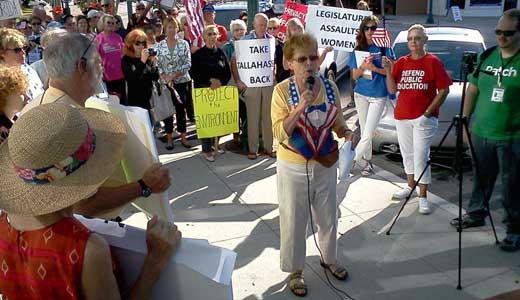 More than 100 Central Floridians participated in the Awake the State rally held in Orlando, as well as cities and towns across the state, Jan. 10, the opening of this year's Florida state legislative session.
The event, organized by Awake the State and allies Florida Watch Action and Organize Now!, was one of several across the state intended to galvanize resistance by progressive forces to further attacks on working people. Republican lawmakers and Republican Gov. Rick Scott are expected to push for deep cuts, including in Medicaid and unemployment benefits.
Demonstrators, some wearing bright pink anti-Rick Scott T-shirts, filled all four corners of one of Orlando's busiest roads during rush hour to voice their opposition to the GOP's anti-worker agenda.
Chanting "Pink Slip Rick," they held signs with slogans such as "Rick Scott is M.C. Job Killah," "We're Saying No to This Extremist Legislature" and "Rick Scott-26% Approved and 100% Bad for Florida," a reference to the Scott's dismal 26 percent approval rating among Floridians in a recent survey.
The rally drew a broad range of people– including college students, community activists and members of several unions, including SEIU, AFT and IATSE. "We're here to give a clear message to all the legislators and especially Gov. Rick Scott that we are tired of the way that he's ruining this state and is killing the middle class," said Victor Sanchez, a member of the American Postal Workers Union theLabor Council for Latin American Advancement.
Speakers at the rally included Steve Clelland, president of the union representing Orlando firefighters, who criticized the "hypocrisy" of politicians taking support from police and firefighters and then supporting legislation that would stop local governments from deducting union dues from employees' paychecks.
Tim, a part-time minimum-wage worker and Occupy Orlando supporter, said he attended the event "because I want to support working people. I want to be part of the change in our country to help those of us who are the struggling middle class as well as people in poverty." Tim likened corporate and political corruption to a "disease" and said unions need to become more powerful.
Last year's Florida legislative session produced more than $1 billion in cuts to education and social services, along with restrictions on voting rights, increases in the amount public employee must pay into pension funds, changes to teacher tenure and pay, and a measure that mandates drug testing of those applying for public assistance. Several of these laws still are being challenged in the courts.
The fightback in Florida against corporate dominance will be just as intense in 2012 as it was in 2011, said Sheena Rolle, of Organize Now, as working people continue to struggle to recover from the recession. Unemployment in Florida stood at 10 percent in November (well above the current national 8.5 percent unemployment rate) and 3.1 million working Floridians now receive food stamps – a 10 percent increase in just the last year.
"Average Floridians are fed up with Tallahassee politicians balancing the budget on the backs of hard-working people while we give billions in handouts to giant corporations," said Rolle.
This year, Scott is asking the legislature to double to $225 million the amount of economic incentive cash the state can use to lure businesses to Florida. At the same time, to balance the budget, Scott wants drastic cuts in the state's Medicaid program, which would hit Florida's 34 public hospitals especially hard since they serve poorer and less healthy populations.
Perhaps not coincidentally, Scott served as chairman and CEO of Hospital Corporation of America, the largest for-profit operator of medical facilities in the world, until forced to resign in the wake of a Medicare and Medicaid fraud investigation that resulted in HCA paying almost $3 billion in penalties, reimbursements and lawsuit settlements.
Photo: Woman speaks at an Awake the State rally in Sarasota. Awake the State