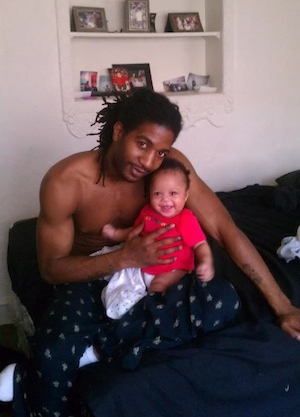 CHICAGO – Prayers poured in from around the country for Jonylah Watkins, the six month-old baby girl who died this morning here after being shot five times. Her father, Jonathan Watkins, was standing next to the family's minivan, parked on a Woodlawn neighborhood street, changing Jonylah's diaper when a gunman opened fire, according to media reports. The father was shot twice and was the target of the attack. He is in the hospital in serious-critical condition.
Media reports say doctors at University of Chicago's Comer Children's Hospital frantically tried to save the baby's life, but after several surgeries, they were ultimately unsuccessful.
A family spokesman, the Reverend Corey Brooks of New Beginnings Church, told the Chicago Tribune, "We have another tragedy in the city of Chicago."
Brooks offered a $5,000 reward for information that could lead to the arrest of the gunman. "We're going to take back our neighborhood, we're going to find who did this," he said.
Chicago has become a grim symbol for gun violence in the country. Last year, more died on the streets of Chicago than the number of soldiers killed in combat in Afghanistan. Gun violence has continued to plague working-class neighborhoods, especially on the south and west sides, in predominantly African American neighborhoods.
In January, Chicago mourned another high-profile murder of 15 year-old Hadiya Pendleton. Pendleton was shot in the back days after she performed at President Obama's inauguration festivities in Washington. She was with a group of friends at a park, celebrating the end of the semester's finals when a gunman shot at the high schoolers.
First Lady Michelle Obama went to Pendleton's funeral and President Obama has invoked the girl in several speeches, including the State of the Union, calling for reforms to lax gun laws.
"Unfortunately what happened to Hadiya is not unique," Obama said. "It's not unique to Chicago. It's not unique to this country. Too many of our children are being taken away from us." Pendleton's parents attended the State of the Union address.
Chicago police chief Garry McCarthy once called the nation's permissive gun laws racist. Gun manufacturers and sellers – with their lobby group the NRA – push local, state and federal officials to adopt laws that result in high sales and profits – legally and illegally obtained – from their wares.
On Facebook, people from Chicago and elsewhere expressed their grief and offered condolences and prayers for the family.
"Can't stop crying thinking about the mother of that six month-old baby who was shot and killed last night. It makes absolutely no sense in the world. Something has to change. My heart is broken for that family," wrote Jessica Marshall.
On a page called "Rest In Paradise Jonylah Watkins," one message read, "Today is a sad day in America! When will Chicago wake up! We need help in the streets! Whoever shot and killed this baby needs to come forward, there is no reason in the world to kill a baby!"
Angela Glass wrote, "This is a tragedy. Somebody knows something about this tragedy and needs to speak up."
Kimberly Love wrote, "My prayers deeply and truly go out to the mother and family. I can't imagine the pain you're going through right now. But God will see you through it."
Shockingly, the baby's death comes months after her mother, eight months pregnant with Jonylah, was shot in the knee as she walked home with a group of women. The mother was working at her job at McDonald's when the yesterday's fatal shooting took place.
Photo: Father Jonathan Watkins holds his daughter, Jonylah, in this Facebook photo.