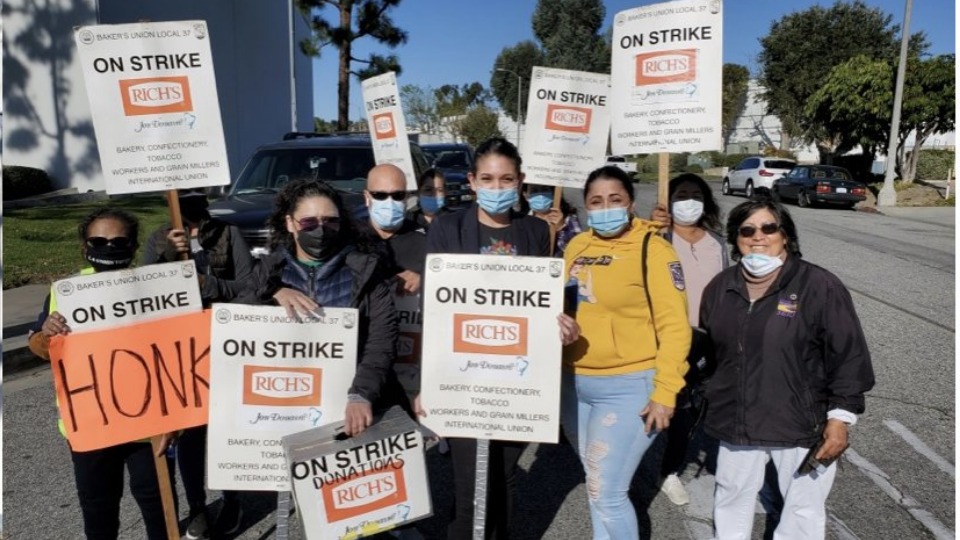 LOS ANGELES—The three-month strike of predominantly female Latina workers at the Jon Donaire ice cream cake production plant in Santa Fe Springs, an industrial area of greater Los Angeles County, has generated an impressive amount of labor, community, and political solidarity.
The strikers demand better pay, respect, and improvement of injurious job conditions that have been rebuffed by Jon Donaire management and Rich Products, Inc., the multibillion-dollar corporation that owns the Jon Donaire brand.
These workers, members of BCTGM Local 37, have maintained a 24/7 picket line since walking off the job on Nov. 3, 2021. Jon Donaire brand ice cream cakes are sold at stores nationwide, such as Baskin Robbins, Walmart, Kroger's, Ralphs, Von's, and many other retailers.
The bakery workers' fierce tenacity has inspired a tremendous momentum of labor, Latina/o, and women's and immigrants' rights movement support that is beginning to have a national impact.
Last week, on Friday, Jan. 28, Ron Herrera, president of the over 800,000-member Los Angeles County Federation of Labor, outlined the escalation of a comprehensive campaign to support the strike.
Herrera told People's World: "The Los Angeles labor movement is doubling its support and recommitting to the striking workers of Jon Donaire. Affiliates of the Los Angeles Federation of Labor, AFL-CIO, are ready to mobilize and take this fight to the streets."
He went on to say, "We have organized an adopt-a-picket-line so that the members of BCGTM Local 37 will not go a day in the fight alone. We are calling on Jon Donaire customers, such as Coldstone Creamery and Baskin Robins, to urge Rich's Products Corp. to respect their workers and settle their contract."
He also said the federation is working on a large Valentine's Day action with "labor leaders, union members, elected officials, and community members to come out in full force." Herrera added that labor organizations will continue regular food distributions and connecting needy strikers to economic and social resources.
Members of labor and community groups are donating funds to a GoFundMe account for Local 37. One such donor is the new leader of the 2.1 million-member California Federation of Labor, Lorena Gonzalez, who recently retired as a state assemblymember to head the state AFL-CIO staff, replacing soon to retire Chief Officer Art Pulaski.
The labor, political, and community support for the striking Donaire workers is going nationwide. On Jan. 12, U.S. Sens. Bernie Sanders, Ind-Vt., and Alex Padilla, D-Calif., issued a letter urging Rich Corp. to return to the bargaining table "in good faith." They were joined on the open letter by Democratic Sens. Elizabeth Warren of Massachusetts, Sherrod Brown of Ohio, Edward Markey of Massachusetts, Tammy Baldwin of Wisconsin, and Cory Booker of New Jersey.
The senators pointed out that the workers' average wage is less than $17-an-hour, with work speeds of up to 38 cakes a minute, often with late-notice mandatory overtime leading to shifts as long as 16 hours, while Rich Products has an estimated net worth of over $7.5 billion, according to the Bloomberg Billionaires index.
At a recent picket line press conference, U.S. Rep. Linda Sanchez announced she had started a petition among other House members in support of the strikers. Sanchez is active in the House Ways and Means Committee and both the Hispanic and Progressive House Caucuses, as well as co-chair of the House's Labor and Working Families Caucus.
At the press conference, Sanchez told People's World that "the treatment of the workers in the strike illustrates how immigrants and women are often targeted for discrimination on the job."
In coordination between local labor, political, and community forces with the Bakery, Confectionery, Tobacco Workers, And Grain Millers International Union, leaders from BCTGM's International organization visited the picket lines during January to gain first-hand knowledge and awareness of the growing support.
BCTGM International Secretary-Treasurer David Woods, in a picket line interview, told People's World that production workers at another Rich Products-operated plant in the Nashville suburb of Murfreesboro, Tenn., doing similar work have a contract that pays $26-an-hour. The workforce is roughly half/half African American and white, male and female, according to Woods.
The company says the contracts offered to Donaire workers meet local labor standards, but this claim is belied by the much higher cost of living in Los Angeles. Said Woods, "Here in L.A., I see gas prices like $4.78, around Nashville it's like $2.78 a gallon."
BCTGM Local 37 International Trustee Kerrie Setters, during a visit to the picket line, pointed out that plants with similar work and BCTGM contracts have higher wages and are more integrated. The Donaire plant workers are predominantly women, Latina, and immigrant, but management is only Latino men, and conditions are worse and very abusive there.
"This is the worst treatment I have experienced at work," said Angelica Gutierrez, who worked at a nearby then-Donaire family-run plant nearby for 11 years until the work was moved to Texas before Rich Products took over. Gutierrez came to work in the United States in the Los Angeles area after graduating from secondary school in Guadalajara, Mexico in 1985.
"I have worked in many jobs, starting in the harbor area making dog and pet food out of tuna…[then] in factories, packing, restaurants…11 years in the Donaire plant that went to Texas in 2014. A year ago, I came to work at this plant and united with the others in the union when the company stopped negotiating. This treatment is so bad, that from the picket line I see some going in to work who at the end of the day leave crying; it's so bad."
Joining the picket line Saturday, Jan. 29, was California State Sen. Maria Elena Durazo, former leader of the Los Angeles County Federation of Labor and former member of the AFL-CIO Executive Board. She told People's World, "It's a disgrace how this company is turning back to past discriminatory anti-labor, anti-women practices. It's a union busting wedge against unionization of a major section of the workforce in one of the national and globally important areas.
"These women are struggling hard day to day, week to week, and the union offers the protection and hope they need. Their courage, dedication, and example are inspiring and we all can help them with solidarity. ¡Si Se Puede!," said Durazo.
That solidarity is amplifying as the strike moves into its third month. Local 37 is mobilizing for one or more demonstrations at stores selling products made at the Donaire Plant. Word from the picket line is that demonstrations could happen in the nearby cities of Norwalk, Downey, and Pico Rivera.
On Feb. 3, marking the third month of the strike, SEIU Local 721 will demonstrate at a Baskin Robbins locale in Boyle Heights near downtown Los Angeles. Also on that day, IATSE is mobilizing an action in Burbank on another side of the county. And so it grows.