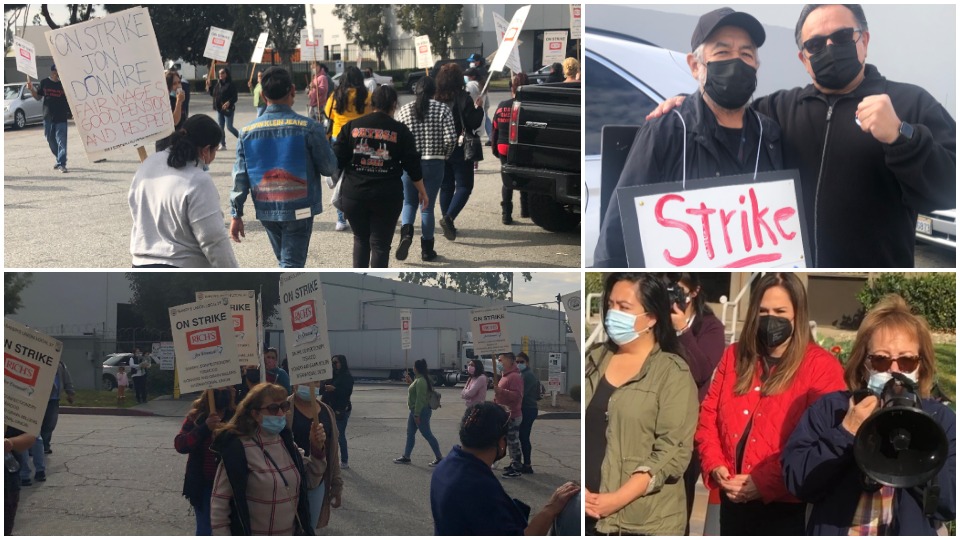 SANTA FE SPRINGS, Calif.—The Bakery, Confectionery, Tobacco Workers and Grain Millers (BCTGM) Local 37 has been on strike for over two months, since Nov. 3. Workers at the Rich Products factory here in this town a few miles east of Downtown Los Angeles operate under the brand name of Jon Donaire Desserts/Rich Products Corp. The company is well known for its wide variety of ice cream cakes.
BCTGM Local 37 membership is composed largely of women, mostly Latinas. Jon Donaire is a union shop and the strike is still going strong. Members are walking the picket line 24 hours a day demanding a fair wage increase, reasonable workweek, proper staffing, and a just contract.
Donaire Dessert management's anti-union action is closely being watched and monitored by the Rich Products Corporation, a privately held multinational food products corporation with revenues in 2020 at $4 billion. Rich Products sells products under other brands it has acquired, such as Jon Donaire.
With millions of dollars in sales, Jon Donaire Pastries management has refused to bargain in good faith with Local 37, the union that represents the membership. Because it is a union local composed of mostly women, not much media attention has been given to this strike taking place on the outskirts of Los Angeles in a small urban community. The Santa Fe Springs population is close to 40% Latino. Factory employees there are taken for granted: Management hardly believed the union membership would stand up and voice their concerns.
That was management's big mistake. It has miscalculated the talent, desire, commitment, and organizing skills of the membership to seek improvement of their working conditions.
It wasn't until local politicians came forward that public attention began to focus on this strike. Prominent figures identifying with the Jon Donaire workforce include people such as Los Angeles County Board of Supervisor Hilda Solis (a former U.S. Secretary of Labor under Pres. Barack Obama), State Sen. Maria Elena Durazo, Assemblymember Lisa Calderon, Los Angeles City Council member and current mayoral candidate Kevin de León, Los Angeles County Federation of Labor Executive President Ron Herrera, and community activist Richard Castro, who posted several videos on YouTube.
But most important, what has started to capture public support has been the solidarity of the small local's membership itself who walked the picket lines night and day.
It is a testament to the workers' resilience and commitment to their co-workers who have demanded respect and better working conditions against great odds. These workers are committed to their jobs. They are professionals. They are good at their jobs, as anyone can tell when they cut open a celebratory ice cream cake for a wedding, birthday, or retirement party. But they have been forced to seek action against a management that only wants things to remain the same, in other words, that only wants to continue oppressing and taking advantage of the workers.
Local 37 and the membership are developing a specific action plan to conduct a broader outreach effort to embrace local businesses, community groups, and other labor unions. The workers have had enough and have asked the public to stand with them.
The results of this heightened campaign are beginning to show. Labor Community Services (LCS) continues to support the strikers, now going into their third month walking the picket line. Just after New Year's, LCS and the Los Angeles County Federation of Labor (AFL-CIO) were joined by SEIU 721 on a "Day of Action" for the workers. L.A. County Supervisors Janice Hahn and Hilda Solis and L.A. City Councilmember Kevin de León showed up that day, along with the Mobile Workers Alliance, who made sure the members of Bakers Local 37 know they're not alone. Workers were provided $100 gift cards by SEIU 721, and LCS provided the workers with food and diapers for their families.
Strike supporters don't have to show up in person to help, though. You can also donate to the BCTGM Local 37 at their GoFundMe page. Your support can help feed a family as these brave mujeres stand up for themselves and for their safety in the workplace.