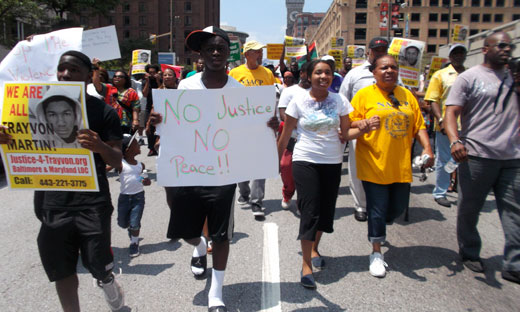 BALTIMORE – Led by African American children and youth, protesters marched through downtown Baltimore July 20 to voice their anger at the murder in Florida of Trayvon Martin, an unarmed 17-year-old Black youth. "No justice, no peace," they chanted. "Not another funeral!"
It was one of 100 demonstrations in cities across the nation protesting the acquittal of Martin's killer, George Zimmerman, who claimed self-defense in chasing down and shooting the Black teenager. The all-white jury swallowed Zimmerman's self-defense claim, rationalized under the state's notorious "stand your ground" law.
The Rev. Jamal Harrison-Bryant, pastor of the Empowerment Temple drew cheers here, urging the crowd to remember Martin and all the other victims including 120 children and youth who have died in Baltimore due to gun violence. "If in fact we really value life, it cannot just be a life in Sanford, Florida," he said through a bullhorn. "It's got to be lives on North Ave. Every life has got to be of some value." He announced that his church is sponsoring a gun "buyback" in August to help reduce the lethal tide of people killed by gunfire in Baltimore.
The minister also urged the crowd not to be satisfied with one march. He led the crowd in chanting, "It's a movement, not a moment."
Tessa Hill-Aston, president of the Baltimore NAACP, told the People's World she was at the NAACP national convention in Orlando, Fla., when the Zimmerman acquittal was announced in nearby Sanford. "Quite naturally the whole convention atmosphere changed as a result of that verdict," she said. "We were all asked to go back to our respective chapters across the nation to follow through on our stand to get the Justice Department to become involved."
Hill-Aston denounced the "stand your ground" laws that encourage armed gunman like Zimmerman to escalate confrontations to deadly force rather than seek to avoid violence. "A citizen is supposed to call 911 and then stand down and let police handle these situations," she said. "In this case, a teenager with a can of soda in his hand was shot dead for no reason at all."
She praised President Obama's unscripted 17-minute speech on the Trayvon Martin case in the White House news room a day earlier. "I think it was a wonderful speech," she said. "He spoke as the president of all the people yet before he became president, he was a Black American. He knows from his own personal experience what young Black men go through."
She added, "All NAACP presidents are being asked to participate in the August 24 March on Washington, to build that march. This is not a one-time event. It's a continuation of the struggle."
Former Maryland state Senator Larry Young said the NAACP, the Baltimore Action Network, and other groups fighting for racial equality will meet next week to launch a drive to fill buses to join the huge march in Washington to commemorate the 50th anniversary of the 1963 March on Washington for Jobs and Freedom led by Dr. Martin Luther King, Jr.
Young told the People's World, "We're going to continue to build this movement up. I'm expecting close to 300,000 people at the August 24 march."
He said leaders of the mass organizations will meet in Baltimore from all across the state of Maryland to plan their participation in the march. The goal is to mobilize 20,000 participants in the march from throughout Maryland.
"Yes, we have made a lot of progress since 1963," Young added. "The fact that Barack Obama was reelected proves that. It was a bold step for President Obama to deliver that speech on the Trayvon Martin case. America must recognize the problem of racial injustice. Congress has to be more responsive to the inequality."
The July 20 march here began at the federal courthouse with protesters carrying signs that read, "We Are All Trayvon Martin" and "Boycott Florida." It ended a few minutes later with the crowd of demonstrators gathered near the statue of the late U.S. Supreme Court Justice Thurgood Marshall, a Baltimorean who fought lynchings and argued the 1954 Brown v. Board of Education school desegregation case before the Supreme Court.
Meanwhile in Philadelphia, thousands rallied in front of the Federal Court Building in Center City, protesting the acquittal of Zimmerman for the murder of Trayvon Martin, and calling for federal action in the case.
There was a sense of anger at the egregious miscarriage of justice, as shown by a variety of signs, along with a spirit that "this isn't the end of it." Those attending filled Market Street, the full width of the wide roadway and both sidewalks. They were mostly African American, with a significant minority of whites and a number of Asian Americans, all standing together for justice.
John Vago contributed to this article.
Photo: Marchers honor Trayvon Martin and protest the acquittal of his murderer, George Zimmerman, in Baltimore, July 20. Tim Wheeler/PW