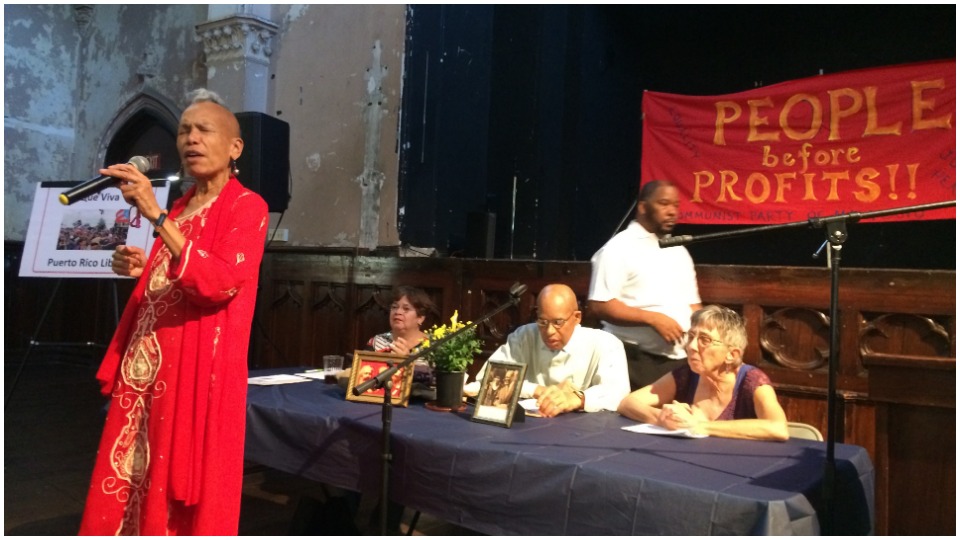 BALTIMORE—A multi-racial crowd from the mid-Atlantic region, Sept. 15, celebrated the founding of the Communist Party USA (CPUSA) a century ago in 1919, filling a church here with singing, poetry, and calls for the ouster of President Trump.
Kuya Kemet, chair of the gathering, welcomed people who traveled from Virginia and Washington D.C. to join the Baltimore crowd.
Keynote speaker Carol Ramos Widom, a leader of the CPUSA from Brooklyn, N.Y., assailed Trump for abandoning Puerto Rico after it was devastated by Hurricane Maria two years ago. It triggered a massive uprising, she said. "It was a broad struggle that went beyond just trying to get rid of the government."
Herself Puerto Rican and a retired New York City school teacher, Widom said the suffering unified long-divided advocates of statehood and independence. A general strike swept the island led by school teachers, electrical workers, and other unions. The women's equality movement, youth, and community groups joined. The "corrupt governor" was forced out, she said, although the "Junta" still enforces colonial domination.
"As Communists, our role is to expose colonialism," she said. Solidarity with Puerto Rico must be a demand in the campaign to defeat Trump, she said. The insurrection in Puerto Rico, Widom continued, "showed the power that workers have to change the world." The crowd applauded and Luci Murphy, a Washington, D.C. singer, led the crowd in singing, "No more racism, we are going to change the world."
Lady Brion, a spoken-word performer, recited her "Prison-Industrial Complex," a modern-day "plantation," with inmates taking the part of chattel slaves.
The church was bedecked with banners and placards: "People Before Profits," "Black Lives Matter," and "Que Viva! Puerto Rico Libre."
Jaime Cruz, a Puerto Rican, now chair of the Claudia Jones CP Club in Washington D.C., praised Widom's call for solidarity. He called for celebration of Claudia Jones, born in Trinidad-Tobago, a leader of the CPUSA imprisoned under the infamous Smith Act and deported to the U.K. during the years of Cold War repression.
Cindy Farquhar, chair of the Baltimore CP Club, presented a history of the Communist Party in Maryland. Highlights included George A. Meyers' organizing Celanese workers in Cumberland, Md., into the Textile Workers Union in the 1930s. He was later elected president of the Maryland-D.C. CIO. He and a fellow Baltimore CP stalwart, Roy Wood, were imprisoned for four years under the Smith Act.
Joe Henderson, an African-American steelworker at Bethlehem Steel's Sparrows Point mill signed up thousands of Black coke oven workers into the United Steelworkers. Henderson was hauled before the House Un-American Activities Committee and blacklisted. When Meyers was released from prison, he and Henderson installed awnings on people's houses for a living. Also on the list of party heroes were National Maritime Union members Jake Green and Howard Silverberg. Silverberg later was a Sparrows Point steelworker.
In 1948, Maryland Communists led the struggle to end Jim Crow segregation at the tennis courts in Druid Hill Park. Arrested in the sit-down, they were defended by Harold Buchman, Baltimore's most renowned civil rights and civil liberties attorney. Baltimore ended segregation in its park system in 1955.
The CP organized the Baltimore Committee to Free Angela Davis, later the Baltimore Committee to End Racist and Political Repression. Margaret Baldridge played the leading role in building both the Free Angela movement and the Alliance. She continues that spearhead role in the Baltimore CP today.
This activism was upheld by Margaret's husband, Jim Baldridge, a shipbuilder who later became a leader of Hospital Workers Local 1199, and Joyce P. Wheeler, a staunch grassroots leader of the Baltimore Teachers Union. Baldridge died in 2018 and Wheeler died in 2019. (A celebration of Joyce P. Wheeler's life is scheduled for 10 a.m. Saturday, Sept. 21 at Govans Presbyterian Church in Baltimore.)
Fred Mason, former President of the Maryland-D.C. AFL-CIO said he visited the New Era Book Shop in 1966 and met Bob Lee, then the store manager. Mason said he had come to the celebration "as a friend of the CPUSA…. I learned invaluable lessons that helped me over the last 52 years…. friends I could always count on."
Former Maryland State Legislator Salima Siler Marriott said she met members of the Baltimore party club 35 years ago. A decade ago, she added, socialism was a scare word. Now, candidates "are not afraid to say they are socialists," and are winning election.
Barbara Larcom, leader of a Nicaragua solidarity group, said, "We are with you for democracy, justice, against racism and white supremacy. And for sovereignty of the nations."
Marc Steiner, a popular radio talk-show host, said he joined a Communist youth organization when he was 15 years old. He warned that "right-wing white nationalists" are "taking over our country," adding, "We need to work together and stand together" to defeat this menace to democracy.
This reporter flew back to Baltimore to join the celebration in Baltimore where he lived with his wife, Joyce, for 37 years. We were both members of the Baltimore CP Club.