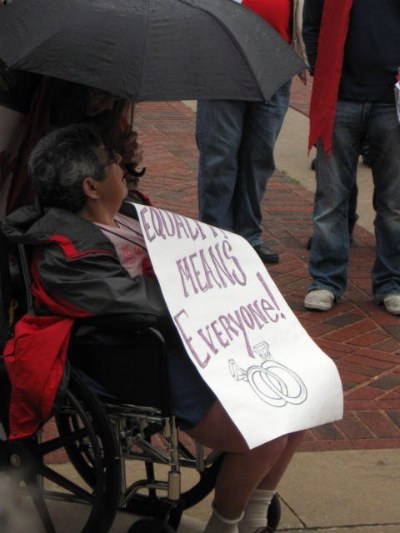 BALTIMORE – McKeldin Square, in this city's Inner Harbor area, resounded with angry speeches denouncing corporate and Republican union busting and calls for a stepped-up fight to defend union rights, Social Security, and Medicare.
"Hey, hey, ho, ho union-busting's got to go," the crowd chanted. One worker held a placard with the message, "May Day, Born in the U.S.A." Motorists honked and waved when they spotted another placard, "Tax the Rich, not the Poor." Another said simply, "Honor Labor."
Organized by the Baltimore May Day 2011 Coalition, the picketers got positive reactions from both pedestrians walking by who were handed leaflets explaining May Day and passing motorists who honked or gave the thumbs up in support.
Speakers – around a dozen from various Baltimore organizations – included members of different unions, the Algebra Project, Veterans for Peace, Ujima People's Progress Party, Healthcare for the Homeless, Young Communist League, International ANSWER Coalition and the Communist Party of Maryland. They were invited to use the "open mike."
A high school student from Baltimore's "Algebra Project" spoke about the success of Baltimore youth in mobilizing against the building of a new youth prison in East Baltimore.
AFSCME member Andre Powell noted that the recession and attack on unions and workers' rights weren't simply coming from the GOP; "The drive to take away what workers have won is coming from the capitalist system itself."
Adam Schneider, of Healthcare for the Homeless, said, "While Baltimore's workers and the poor pay more for less, companies like Bank of America paid zero in taxes. We don't have to go far to find them … they are right down the street," pointing to the Bank of America Building just one block away.
Tim Wheeler, speaking for the CPUSA, asked the crowd, "Have you heard the name Scott Walker? With a lot of help from the Koch brothers, Kansas billionaires, he got elected governor of Wisconsin last November. He and other Republican governors think they have a mandate to bust public employee unions, destroy Social Security and Medicare. But workers in Wisconsin and across the nation rose up in a massive nationwide fight back. We can be proud that 15,000 Maryland workers rallied in Annapolis."
Wheeler warned that Wall Street is counting on voters staying home in 2012 to win the Republican majorities they need to repeal Social Security, Medicare "and every other basic right we have won in the last century. We can't let it happen."
The rally ended in the rain, which seemed not to dampen the enthusiastic singing by the crowd of "Solidarity Forever," a song popular in the labor movement.
Photo: PW