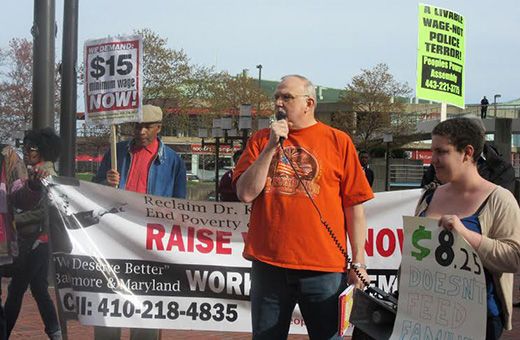 BALTIMORE – One hundred trade unionists, including postal workers who are in contract talks, and others activists rallied in Baltimore's McKeldin Square April 15 as part of the nationwide "Fight for 15" campaign.
Following the rally, the protesters marched several blocks to a local McDonald's and then to the main Post Office, where they greeted last minute tax filers.
Fred Mason, President of the Maryland State and D.C. AFL-CIO, connected the struggle of fast food workers to the fight of postal workers and to the struggle against racism, saying all three were part of the same movement.
"The same forces that want to privatize the postal system and oppose voting rights want to keep the federal sub-minimum wage just like it is," Mason said.
Mason was joined by speakers from the Postal Workers Union, the Young Trade Unionists, the Baltimore Peoples Power Assembly and Maryland's CPUSA.
Photo: George Askew, President of APWU Local 181, along with workers at McKeldin Square. | Margaret Baldridge/PW