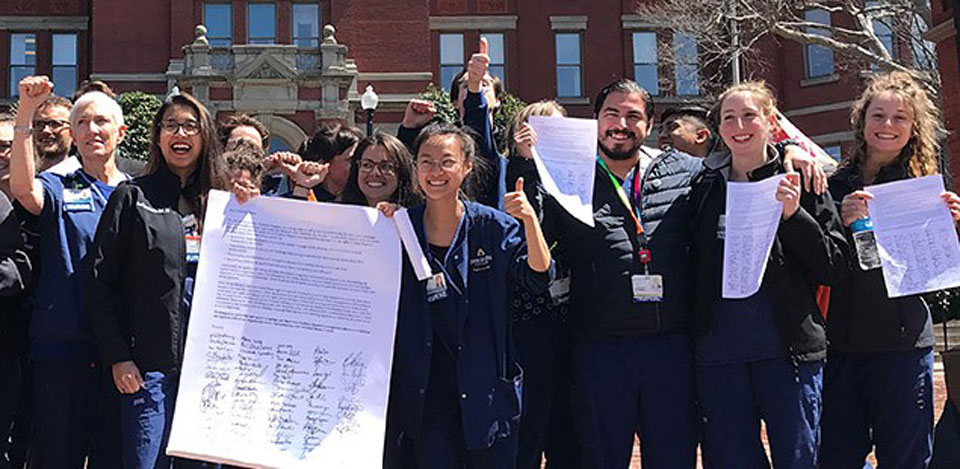 BALTIMORE—In a win for nurses, the world-renowned Johns Hopkins Hospital in Baltimore has agreed to stop labor law-breaking – formally called unfair labor practices – against National Nurses United during the union's organizing drive there.
Of course, the settlement, announced June 5 and to be posted around the hospital and its allied facilities on June 14, still leaves rampant problems in place at the historic institution. The National Labor Relations Board regional office had planned a June 4 hearing on the charges.
The problems that drove the Hopkins nurses to contact NNU in the first place: high turnover, lousy staff-to-patient ratios and unsafe working conditions that landed Hopkins on a "Dirty Dozen" list of employers, and inadequate pay compared to other world-class hospitals.
In addition, the settlement doesn't cover new findings, which a special NNU-commissioned report – and prior Baltimore Sun series – found, about Hopkins' legal pursuit of its nearby neighbors. The report, from court records, shows Hopkins garnishes wages and seizes checking accounts for unpaid medical bills as small as $250 each. Of those hurt, 86.9% were people of color. Almost half had median incomes less than 50% of Maryland's median.
The settlement also doesn't cover the role of the union-buster – the L.A.-based Trump-tied law firm Littler, Mendelson – involved in the hospital's efforts to stop the organizing drive.
"This settlement makes clear nurses have the right to form a union, we have a right to speak with our coworkers about a union, and Johns Hopkins does not have the legal right to target and intimidate nurses who engage in union activity," said Alex Laslett, RN, a leader in the drive.
"We are organizing at Johns Hopkins because we know a union affords nurses the protection we need to advocate freely for the best care for our patients."
NNU initially filed the labor law-breaking charges against Hopkins just before Election Day last year and added more after that. The settlement, done through the National Labor Relations Board's Baltimore regional office, orders Hopkins to post the notices admitting it broke the law and promising not to do so again.
The notices will say Hopkins broke labor law by "creation of the impression of surveillance and unlawful interrogation in regards to protected union activity, promulgating and/or enforcing a rule barring off-duty RNs access to break rooms, outside patient care areas, in connection with union activity, and by prohibiting Hopkins RNs from talking about the union at work, while permitting other non-work conversations," to use the notices' legal language.
The NLRB's standard notices will also tell the Hopkins RNs about their right to unionize and that Hopkins can't illegally quiz nurses about their union sympathies nor discriminate against pro-union RNs who need to use break rooms.
But other than the signs, there are no other sanctions against Hopkins and none at all against its union-buster. The NLRB has rarely sanctioned such "persuaders."
During the Obama administration, the federal Labor Department proposed a rule to force fuller disclosure by union-busters, including whom they serve and how much they get paid, under the same 1959 law that forces unions to publically disclose every penny of their spending, from paychecks to paper clips. The right-wing Trump regime now atop DOL yanked that rule.
The Hopkins nurses invited NNU last year to aid them in organizing, citing the staffing problems, inadequate equipment and supplies and the need to be able to advocate on behalf of their patients. Hopkins, the nurses said last October, responded in a "swift and vicious" way by "hiring an army of high-priced anti-union lawyers and consultants" — including Littler Mendelson – and spending millions of dollars on them.
It did not, however, spend any money to get itself off of this year's Dirty Dozen list by the labor-backed National Council of Occupational Safety and Health.
NaCOSH reported 79% of Hopkins nurses experienced workplace violence, 27% said Hopkins ignored the dangers and only 5% said the hospital has enough staff for safe patient care. Just 6% report having "the quality of safety gloves they need to protect them from chemical exposure and other hazards."
"We hope Johns Hopkins takes landing a spot on the Dirty Dozen list this year as a wake-up call to listen to nurses and address the conditions we flag as unsafe for patients and healthcare workers," Laslett told NaCOSH.
"We want Hopkins to operate the hospital in a manner that supports quality patient care. We've called on the hospital to rectify chronic short staffing and high turnover, discontinue dangerous rotating shift schedules, implement safe patient handling, provide protective gear and adequate equipment and take proactive steps to prevent workplace violence."