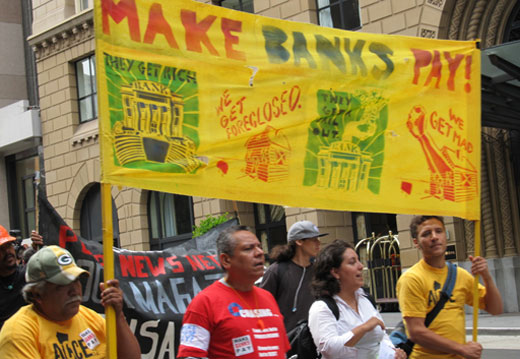 SAN FRANCISCO – Hundreds of marchers surged through this city's financial district Sept. 29 just as the evening commute hour was beginning. They wound their way from one bank to another, demanding that the nation's banking giants stop home foreclosures and other practices that gouge ordinary people, and be held accountable for the devastation of millions of lives.
As marchers massed in front of 555 California St., the financial district tower housing Bank of America, Goldman Sachs and other financial giants, San Francisco Supervisor and mayoral candidate John Avalos launched the action by calling for the city to establish a publicly-owned bank.
"This building right here is a symbol of incredible greed and wealth that is accumulated into fewer and fewer hands in this country," Avalos told the crowd. "And how did they get wealthy? They took our tax dollars – they got bailed out. And what are they doing with that money now? They're firing thousands of workers across the nation.
"Is that how we wanted our tax dollars used?"
The crowd thundered back, "No! No!"
The march was the high point of a week of actions spearheaded by the Alliance of Californians for Community Empowerment (ACCE) and joined by many unions and community organizations. Hotel workers, service workers, Verizon workers expressing solidarity with beleaguered East Coast colleagues – all were there with tee-shirts and signs.
In earlier actions, demonstrators in Oakland, across the bay, urged people to take their money out of the big banks, held a vigil at an auction of foreclosed homes, and planned a "community cleanup" for Oct. 5, to "take the blight back to its owners, the banks." They called on executives meeting in San Francisco to "Keep us safe at home."
In the crowd was Sharee Wright, a student at San Jose City College and an ACCE staff member. "The banks need to pay their fair share. They should be doing much more for the city," she said. "The money they're taking could be used for city services, programs for kids. We see the results of the budget crisis, on the streets, and with the rise in crime. It's heartbreaking."
Nearby, holding a handmade sign reading, "How bad do things have to get? Wake up! Stop corporate greed!" was Judith Isles of nearby Pleasant Hill. "I think there's too much hardship and poverty," she said. "It will just keep getting worse until we realize that it's in our ability to stop it, and not keep putting money into corporations."
At a Chase branch on the city's main thoroughfare, Market St., several marchers slipped past startled security guards and held a sit-in in the lobby for over an hour. They were ultimately arrested; all were later released.
Outside, Jose Vega, who has fought a long battle to stay in his foreclosed home, said Chase gave him "a phony modification" that is letting him remain in the home with his children, as a renter for the next five years. But he said the home's value has shrunk by $250,000 while his loan has gone up by $66,000.
"We have to be able to get our homes at market rate," he said. "I spoke up, but millions don't speak up," he said. "I won't stand for it; I owe it to my children."
Later, as the three-hour-long march wound up near San Francisco Bay, Vega took the bullhorn to tell his fellow marchers, "Today is the day we made history!"
Photo by Marilyn Bachtel/PW