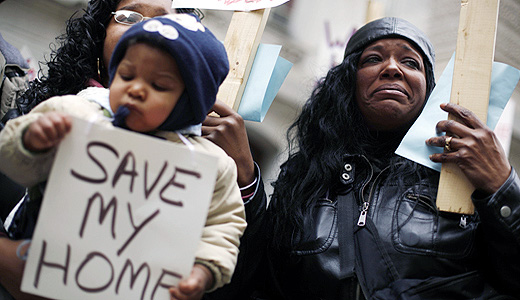 Over a dozen banks will compensate victims for losses that occured as a result of mistakes on foreclosures according to an agreement reached with government regulators today. The banks are accused of improperly processing mortgages causing homeowners to lose homes and money.
Over the past two years, banks and mortgages companies across the country engaged in the practice of "robo-signing," in which thousands of foreclosure documents were signed off without careful review of their accuracy.
Millions of homes have been seized since the beginning of the sub-prime foreclosure crisis.
Last year, after mass protests led by labor and community several banks agreed to temporarily halt foreclosure, rejecting increasing demands for moratorium on evicitions. The banks include Wells Fargo, J.P. Morgan Chase and others. J.P. Morgan Chase may hire 3000 new employees to handle the consent decree according to news reports.
Important details, including whether the principal on mortages will be lowered have not yet been worked out. Many mortgages are now "underwater" with homeowners owing more than than the property is worth.
The imposition of criminal penalties against banks and mortgages companies are not yet settled.
Attorney Generals in all 50 states last year pursued an investigation of banks with the hope of reaching a global financial agreement with them to compensate consumers.
Some contend the agreements move in the wrong direction. Representative Maxine Waters, a California Democrat and member of the Financial Services Committee, called the orders "disappointing." Water continued "I fear that these consent orders are merely an attempt to do an end-run around our state attorneys general." says Bloomberg.com. (See also New Calif. coalition formed to blunt foreclosure crisis).
In related news, a Senate panel faulted Goldman Sachs and Deutche Bank for practices that precipipated the financial crisis. Banks deliberately misled buyers of stock and securities as to their value while betting on their failure. Sen. Carl Levin, D-Mi., chairman of the panel that investigated the causes of the financial crisis said, "Why would Goldman deny what is so obvious, that they were engaged in a huge short in the year 2007? Why would they deny it? Because they gained at the expense of their clients, and they used abusive practices to do it."
In a telling inditement of the power of finance capital, few if any criminal proceeding for bank fraud have occured since the start of the crisis. The New York Times writes, "several years after the financial crisis, which was caused in large part by reckless lending and excessive risk taking by major financial institutions, no senior executives have been charged or imprisoned, and a collective government effort has not emerged. This stands in stark contrast to the failure of many savings and loan institutions in the late 1980s."
The "stability" of the finanical system is suggested as an excuse, with regulators saying they did as best as they could under the circumstances, according to the Times.
Sen. Levin has refered his findings to the Justice Deparment for possible prosecution.
Photo: At a foreclosure protest March 24, outside City Hall in Philadelphia. (Matt Rourke/AP)