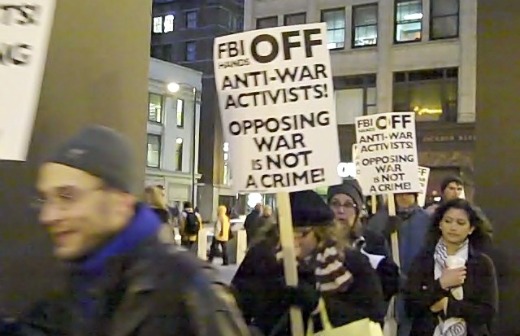 Raids on the homes of Midwest peace and labor leaders along with investigations of Texas vegetarian activists, Virginia animal rights supporters and Nebraska liberal Roman Catholics are just a few of the more recent outrages by Robert S. Mueller III's FBI.
Yet the FBI, with the apparent approval of Eric Holder's Justice Department, plans new rules changes that would give agents new powers to snoop, infiltrate, strong arm and secretly follow individuals whether or not they are suspected of committing a crime. Taken as whole they represent a serious challenge to constitutional rights and civil liberties.
The proposed new rules are to be included in an updated edition of the FBI's Domestic Investigations and Operations Guide and will come into effect a month after publication.
The relaxation of restrictions on the FBI – called "fine-tuning" by bureau spokespersons – would allow agents to search government and commercial databases, rummage through trash, attend meetings and religious gatherings, and carry on surveillance against individuals almost without limit.
Current rules requiring agents to open "assessments" and "preliminary investigations" will be eased. Getting rid of the need for assessments will allow limitless search of databases without a paper trail. Shelving preliminary investigations will rid agents of a requirement of finding a factual basis for suspicion before pursuing potential leads.
That the proposals come under the auspices of the Obama administration gives no comfort. Make no mistake: The FBI needs greater, not less supervision.
The agency has long been at the center of political repression, harassment and dirty tricks. It was here that the Big Lie of anti-communism was first invented in our country – a lie repeatedly used against President Obama himself in the tea party's almost laughable attempt to paint him as a socialist.
The FBI's COINTELPRO program, used to disrupt and defame the civil rights, labor and peace movements in the 1960s and 1970s, is infamous, and its legacy, as pointed to above, survives even to this day.
Perhaps the rationale for the rules changes is law enforcement's need for greater flexibility in confronting terrorism.
But the need for greater policing – as opposed to reckless imperialist military adventures – to fight terrorism should not be used as an excuse to undermine democratic rights. In fact, the erosion of those rights will make that battle harder.
Suppressing dissent by unprovoked raids and "fishing expeditions," rifling through garbage in search of dirt to use as a tactic of intimidation, infiltration of labor and religious groups – these are the means of sowing fear and distrust in the body politic.
Such tactics, coupled with the Patriot Act's sweeping definition of "material support for terrorism," are a recipe for a democratic disaster.
The Obama administration, itself born of an unprecedented democratic movement, should take heed. The FBI's new tactics left unchecked will undermine the possibility of the very movement that brought this historic administration into office.
Congress is now considering a two-year extension of Director Mueller's term. Call the White House, Congress and the FBI itself and tell them no way! Insist they reject the new rules changes.
It's a question of rights – yours.
Photo: (John Bachtell/PW)