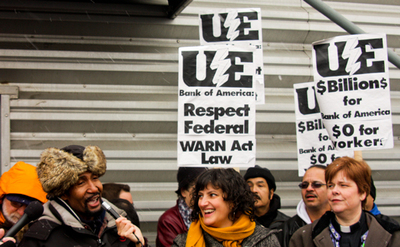 CHICAGO — As news of workers occupying the Republic Windows and Doors factory here spread across the nation Dec. 7, President-elect Barack Obama came out on the side of the workers.
"When it comes to the situation here in Chicago with the workers who are asking for their benefits and payments they have earned, I think they are absolutely right. What's happening to them is reflective of what's happening across this economy," he said.
As the occupation continues into its fourth day the union, UE (United Electrical, Radio & Machine Workers of America) Local 1110. is planning to make major announcements here, Dec. 8 at a noon press conference. Several sources in the labor movement say that unions plan to remove funds they have invested with Bank of America from that institution.
The Bank controls Republic Windows and unions are angry because even after being bailed out by tax-payer dollars to the tune of $25 billion, the bank is apparently unwilling to use any of those funds to save jobs for workers. Republic told workers last Tuesday that it would shut down Friday and was unwilling to guarantee that workers would even be paid for the week. The move violated federal law that requires 60 day notice of a plant shut-down or mass lay-offs.
The action has triggered moves in Congress to require banks that take taxpayer bailouts to use that money to benefit workers.
Rep. Jan Schakowsky (D-Ill.) demonstrated at the plant Sunday to show support for Local 1110 members' demands that the company and its chief creditor, Bank of America, meet their obligations to pay their 300 workers. She said she supported efforts by Rep. Luis Gutierrez (D-Ill.) to negotiate an agreement. Schakowsky said she will work with Gutierrez and other members of Congress to get the Treasury Department to require banks that have taken taxpayer financing to use those funds to benefit workers.
The Rev. Jesse Jackson also went to the plant Sunday to deliver food to the workers. "These workers are to this struggle perhaps what Rosa Parks was to social justice 50 years ago," Jackson said. "This, in many ways, is the beginning of a larger movement for mass action to resist economic violence."
The workers were laid off Friday when the plant was officially closed after a decision by Bank of America to cut off operating credit to the company. The bank even refused to authorize the release of money needed to pay workers their earned vacation pay, and compensation they are owed under the federal Warn Act because they were not given the legally-required notice that the plant was about to close.
"The bank has the money," said Mark Meinster, a spokesman for the union, "and we are demanding that Bank of America release the money owed to workers who have earned it and are entitled to it. We're occupying the plant to guard its assets and keep everything safe." He said the workers plan to stay inside until they are paid and that they will fight for the possibility of keeping it open.
When Bank of America and other banks were given billions in bail-outs, the union says, the public was told that the money was needed to keep credit flowing and prevent loss of jobs. The bank, the union says, by cutting its line of credit to Republic, forced the closing of a plant where workers were, at least up until Friday, producing energy-efficient doors and windows.
John Wojcik (jwojcik@ pww.org) is labor editor of the People's Weekly World.
Update
Meanwhile, it was announced Dec. 8 that a move is underway to stop the city of Chicago from doing any business with the Bank of America.
15 aldermen are introducing an ordinance to require the city to cease all business connections with the bank.
"It is outrageous for the bank to cut off credit, a company's livelihood, after receiving billions in taxpayer money," said Alderman Joe Moore (49th Ward)..
"It's not only unfair to workers, but also Bank of America is thumbing its nose at Congress," declared Tom Balanoff, president of SEIU's Local 6.