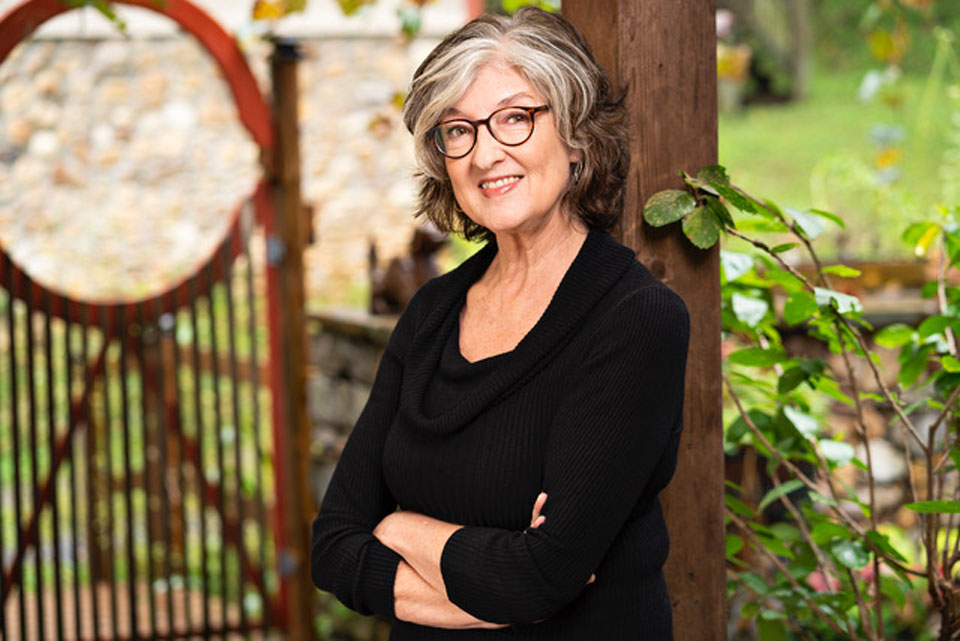 American writer Barbara Kingsolver is primarily known as a novelist, renowned for such socially conscious works as The Lacuna, The Poisonwood Bible, Pigs in Heaven and other titles. She has also written nonfiction books, including Animal, Vegetable, Miracle: A Year in Food Life; Last Stand: America's Virgin Lands; and Holding the Line: Women in the Great Arizona Mine Strike of 1983.
The latter book is related to her having moved to Tucson, Arizona, right after college. As she wrote in the 1992 first edition of Another America, a volume of poems which was really her first published work as an adult writer, "I came to the Southwest expecting cactus, wide open spaces, and adventure. I found, instead, another whole America. Not picture postcards, or anything resembling what I'd previously supposed to be American culture. Arizona was cactus all right, and purple mountains' majesty, but this desert that burned with raw beauty had a great fence built across it, attempting to divide north from south. I'd stumbled on a borderland where people perished of heat by day and cold hostility by night."
In Arizona she met types of human beings she'd never met before: "hundreds of Latin American refugees who faced death in their own countries but were legally barred from ours." And she met a dedicated army of extraordinary people in an informal "underground railroad," who offered sanctuary, food, friendship, solidarity. Soon she "was sharing my home with refugees, listening to stories of terrors they'd fled. I was stunned to learn that the brutal regimes in their countries—El Salvador, Guatemala, Chile—were supported and armed by my government. Our taxes helped train and fund the armies that strafed, tortured, raped, and murdered civilians. And our taxes paid the border patrols that stopped these war-weary families, turning them back to fates that really could be worse than death."
Many readers are probably thinking to themselves how little things have changed in the last 30 years.
Among the new friends she made in Tucson was a refugee from Gen. Augusto Pinochet's Chile, the humanitarian and writer Rebeca Cartes, who supplied her masterful Spanish translations of Kingsolver's poems that came out of these new revelations. They have remained friends, even as Kingsolver has moved away and has reestablished herself on a farm in Southern Appalachia. Thirty years later, Cartes returned to her gifts for this second edition of Another America, with new poems by the author.
Cartes is a familiar voice in these pages. People's World has published a number of her stories. Her immigrant refugee piece "Cocoon: The story of Dominga," can be accessed here, and her reflections on Chile's 9/11, the anniversary of Pres. Salvador Allende's overthrow in 1973 can be read here.
If Kingsolver focuses on the plight of today's immigrants, she also casts her glance back into earlier episodes of American history. "For Sacco and Vanzetti" recalls the tragic case of two radical Italian immigrants who were picked up on a fabricated murder charge in Massachusetts in 1920, and eventually executed, to worldwide protest, in 1927, a harbinger of another sensationalistic case a generation later. Here are the first three stanzas of this poem:
For all I know of shoeleather and fish,
maybe two men who hungered for bread would speak
to turn away a feast, and the heated core
of noonday thirst would seek and find the table
where crystal glasses are poured
with vinegar and salt.
For all I know the ship would choose the fog
and never want for the harbor bell
that peals, through the thickness
of a dying man's dishonor, its only song:
to erase these crimes from the earth.
But what can I do with this ocean
in the sockets of my eyes? Not for
the loss of two good arms, for Sacco, for Vanzetti,
if there were only sea enough; nor the Rosenbergs,
Ethel, her two babies torn
like knots from the cloth, screaming.
In another poem, "The Monster's Belly," dedicated to Nicaragua's Ernesto Cardenal, Kingsolver reflects on her own North American childhood, and her belated realization that the nations of the South lived an entirely different, though interrelated reality. In its entirety:
In the epic drought of my growing years,
I practiced leaping under my desk
to survive the rain of Cuban bombs.
I learned to kneel on a splintered floor
and with the carnal fervor
of a body aching from boredom and tortured knees,
to pray to God that the Communists
wouldn't come, and make us stop praying.
Now, Father Ernesto, I find you were there all along
with the monks at Gethsemani, Kentucky.
I could have walked there
in my blunt shoes, could have visited you
and your laughing Lord who made the best rain fall
on beans and rice. What a difference
to have known this Lord, or at least to know
he shared the same small sky with mine, who promised only
that the horned and headed monster
would come out of the sea
for the purpose of ending the world.
In your dark shirt smelling of leaves,
I would empty out the ache of my natural childhood
to find some greater love than the end of the world.
But the roads I knew were lost at the edge of town
in willow forests of apprehension. You and I
were no closer than the living and the dead
who share a cemetery on a Sunday afternoon.
Father Ernesto, you were a citizen of the domain
of your profound desire to kill the monster,
and I was already in its belly.
"This is my testament to two Americas, and the places I've found, or made, or dreamed in between," the author states. One of those places is the classic set-up of the overheard conversation that mordantly, satirically, sums up the class (and color) differences in a country that ironically professes "E pluribus unum"—out of many, one. The poet juggles the word "one" around, skillfully confounding inert things with living, breathing, working people, as she slyly reveals, for the smug, self-satisfied, gold-braceleted lady, what "work" means. The fact that the poet introduces the theme of Christmas, whose message is to harbor the exiled, is certainly conscious.
What the Janitor Heard in the Elevator
The woman in gold bracelets tells her friend:
I had to fire another one.
Can you believe it?
She broke the vase
Jack gave me for Christmas.
It was one of those,
you know? That worked
with everything. All my colors.
I asked him if he'd mind
if I bought one again just like it.
It was the only one that just always worked.
Her friend says:
Find another one that speaks English.
That's a plus.
The woman in gold agrees
that is a plus.
Many more treasures await the reader in this collection. Those who read Spanish will find this book equally meaningful, the mirror reflection of this other America that Kingsolver shares with us. The poems are published, helpfully, on facing English and Spanish pages.
Another America (Otra America)
by Barbara Kingsolver
translated by Rebeca Cartes
New York: Seal Press, 2022
136 pp., $16.99.
ISBN: 9781541600386