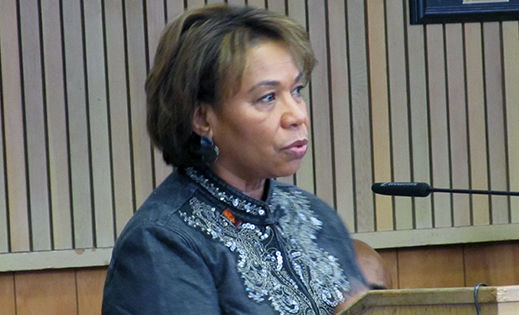 As the U.S. House of Representatives continued its debate Feb. 17 on H.R. 1, the continuing resolution to fund government operations through Sept. 30, Representative Barbara Lee, D-Calif., prepared to reintroduce her bill to limit funding for U.S. armed forces in Afghanistan to that which is necessary for "the safe and orderly withdrawal" of all U.S. troops and contractors from that country.
The "Responsible End to the War in Afghanistan Act" was first introduced in July 2010. Then, it had 33 co-sponsors. That number has now grown to 46, including most San Francisco Bay Area representatives.
The bill says, "It is the policy of the United States to ensure that funds made available for operations of the Armed Forces in Afghanistan are to be used only for purposes of providing for the safe and orderly withdrawal from Afghanistan of all members of the Armed Forces and Department of Defense contractor personnel who are in Afghanistan."
It would ban any spending on continued combat operations during the withdrawal, but specifically states it would not restrict funds for "diplomatic efforts or humanitarian, development or general reconstruction activities in Afghanistan."
Writing on the Huffington Post Feb. 17, Lee said that as the House debates the continuing resolution, "The mounting costs of the war in Afghanistan and out-of-control spending at the Pentagon have never been more relevant. The wars in Iraq and Afghanistan have cost nearly $1.2 trillion since 2001. Meanwhile, U.S. military spending has more than doubled over the past decade, now accounting for nearly 60 cents of every federal discretionary dollar and totaling more than $700 billion per year."
She pointed out that the money the war will cost this year could provide 1.6 million new police officers, or elementary school teachers, or Pell Grants of $5,550 to over 19 million students.
With military and foreign policy experts agreeing there is no military solution in Afghanistan, ending the war there "is not just a budget alternative but a national security imperative," Lee said. She called it the first step toward a national security policy cutting the threat of terrorism and alleviating the conditions that produce conflict "in a more effective and sustainable manner."
A resolution on Afghanistan by Lee and three other Democrats will also be discussed by the Democratic National Committee's Resolutions Committee when the DNC meets later this month.
The resolution points out that the decade-long war – the U.S.' longest war ever – is now costing over $100 billion annually, and 72 percent of Americans favor speeding up withdrawal of troops from Afghanistan.
It cites President Obama's support for a shift to an Afghan-led security arrangement "because open-ended war serves neither our interests nor the Afghan people's," and calls for a diplomatic solution emphasizing "economic development, political reconciliation and inclusion, the engagement of regional and global stakeholders, and the safeguarding of basic human rights."
The resolution cites the need to address "the modern threat of global terrorism" in an effective way, and to support and care for troops and their families while they are deployed and after they return home.
Other Democrats joining Lee in proposing the resolution are fellow California Representative Mike Honda, and Donna Brazile and Alice Germond, DNC Vice Chairs for the District of Columbia and West Virginia.
Photo: Marilyn Bechtel