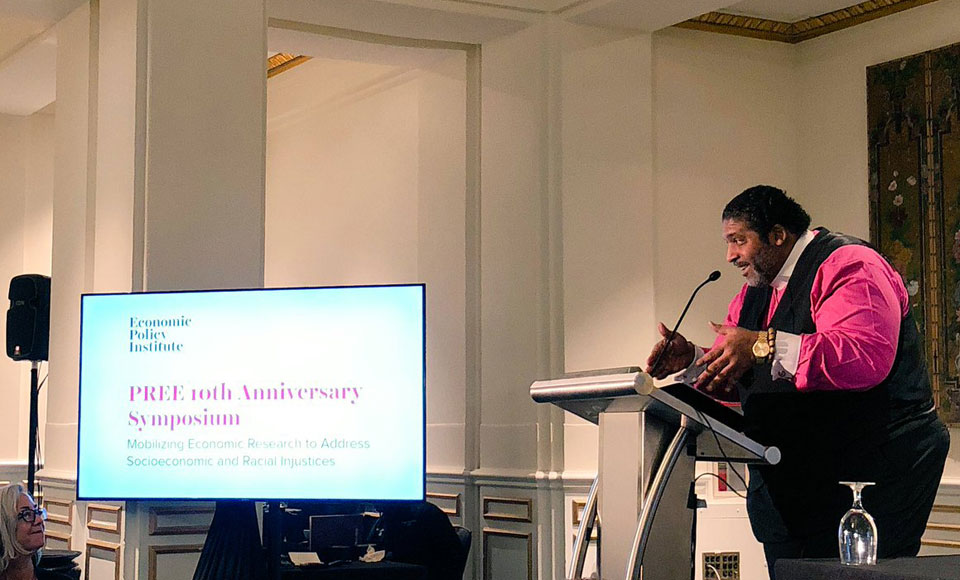 WASHINGTON—U.S. House Democrats must use their new – and growing – majority in the next Congress to act on restoring voting rights and to investigate and expose a variety of ills besetting the country, the Rev. William Barber says.
Barber, co-leader of the New Poor People's Campaign and founder of the Moral Mondays movement which has spread to other states from his native North Carolina, issued the challenge as part of his keynote and closing address at a Nov. 15 Economic Policy Institute awards ceremony.
And exposing the ills, he added, can unite African-American and white workers, especially in the South, overcoming 50 years of GOP divide-and-conquer tactics epitomized in its "Southern Strategy" – a strategy Republicans use to successfully appeal to Northern working-class whites, too, he noted.
Barber spoke as the incoming Democratic majority, which added yet two more members on Nov. 14, prepared itself to take over the House come Jan. 3. But the first thing the Dems must do between now and the start of the new Congress is to decide whether to restore Rep. Nancy Pelosi, D-Calif., to the speaker's chair she lost in the 2010 GOP sweep. The election is scheduled for Nov. 28.
Some 24 Democrats, both incumbents and newcomers, have said in various ways that it's time for new party leadership. That's enough to deny Pelosi a majority of the full House when solons choose between the Democratic winner and new GOP leader Kevin McCarthy of California. Three top union leaders – AFL-CIO President Richard Trumka, AFT President Randi Weingarten and AFSCME President Lee Saunders – have weighed in for Pelosi.
Barber says Dems should start the new Congress with the legislation and the probes.
"Call the Democrats and tell them to have hearings on" former Trump Attorney General "Jeff Sessions and what he did on voter suppression and on what he did on child abduction at the U.S.-Mexico border," he urged the crowd. "And they need to do this IMMEDIATELY."
"Call the Dems and tell them to pass universal health care. Tell them to use their majority to raise the minimum wage, to hold hearings exposing how the tax cuts for the rich will endanger Social Security and Medicare – and then pass the bill to repeal it. IMMEDIATELY."
"They should show how voter suppression, the lack of a minimum wage increase, and the lack of health insurance is impacting everyone state by state and race by race," Barber said. That data, which he urged EPI to supply, can help workers, progressives and their allies unite African-Americans and whites – including African American and white workers – whom the ruling elite divided for decades, first by Jim Crow and then by the GOP Southern Strategy.
That strategy predates GOP President Donald Trump and even its popularizers, conservative political analyst Kevin Phillips and former GOP President Richard Nixon. Barber traced it back to the 1964 presidential campaign by segregationist Alabama Democratic Gov. George Wallace against Lyndon Johnson.
Wallace, Barber noted, won one-third of the Wisconsin presidential primary vote, got 30 percent in Indiana and won 15 of 23 Maryland counties. He won 43 percent there. And when Wallace "stood in the schoolhouse door" to bar blacks from entering the University of Alabama, "95 percent of the letters" commending his stand "came from north of the Mason-Dixon line."
But an emphasis on issues that cut across racial lines – especially since most of the U.S.'s 140 million poor are white – can overcome that legacy, Barber declared, as long as it's coupled with exposing the real oppressors: The corporate elite.
"If you're black and can't pay the light bill" because the elite has forced you into poverty "or you're white and can't pay the light bill, then you're in the dark, too – and we're all black then," Barber said.
Whether all the Democrats will listen is another matter. Some have already promised investigations of ruling GOP President Donald Trump's regime, including financial excesses, conflicts of interest, ripping parents away from kids at the border and anti-worker policies.
But it's not just Trump and it didn't start with him, Barber told the EPI crowd.
Wallace "became the most-successful third-party candidate of all time" because the GOP adopted and enacted his platform, Barber said.
And current leading Republicans – Barber specifically cited retiring House Speaker Paul Ryan of Wisconsin and Senate Majority Leader Mitch McConnell of Kentucky – fully participate in voter repression, refusal to raise the minimum wage, other efforts to keep people poor, more tax cuts for the rich and anti-worker, anti-woman, anti-minority and anti-LGBTQ legislation.
The Democrats must counter with investigations and legislation to restore voting rights, workers' rights, immigrants' rights and the rights of felons who have served their terms to once again vote, and repeal of the tax cuts for the rich, among other plans. Even if those measures die in the GOP-run Senate, they help blacks and whites and browns and women and everyone else repressed by the Republican agenda by alerting them to the alternative, he added.
Turning positive at the end, Barber predicted the effort would produce "a third Reconstruction." But that will occur only if the new majority does its job and if a mass movement – which he's organizing through the New Poor People's Campaign – emerges behind it.
The first Reconstruction after the Civil War was cut short. The second, the Civil Rights revolution, was cut short. But now that "Trump has done us a favor" by bringing white racism into the open, "we don't need you to be moderate, we don't need you to be scared," Barber said. "We need you to be bold and increase your agitation. The third Reconstruction isn't over. It's just begun."