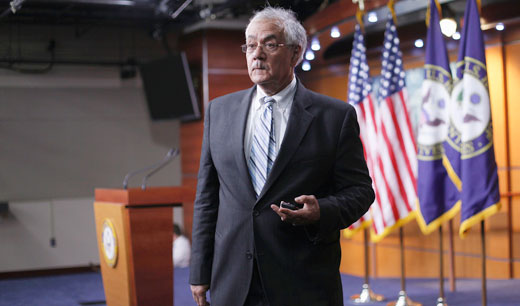 WORCESTER, Mass. – Liberals, labor and progressives mourned while Wall Street breathed a sigh of relief when Rep. Barney Frank, D-Mass., announced his retirement Nov. 28 after 30 years in office.
"This country has never had a Congressman like Barney Frank, and the House of Representatives will not be the same without him," President Obama said upon learning of the upcoming retirement. "He has worked tirelessly on behalf of families and businesses and helped make housing more affordable. He has stood up for the rights of LGBT Americans and fought to end discrimination against them."
Obama added, "It is only thanks to his leadership that we were able to pass the most sweeping financial reform in history designed to protect consumers and prevent the kind of excessive risk-taking that led to the financial crisis from ever happening again."
His lowest vote total since election was 54 percent.
A Jewish, openly gay Democrat, the representative has been known for championing liberal causes and financial regulation. During the early days of the economic crisis, he argued, "A year ago, we were told to deregulate more. Now we have to save capitalism from the capitalists."
Video: Barney Frank responding to idiotic person who compared Obama to Hitler. Article continues after the video.
He also championed help for the poor, saying at a 2009 meeting of the House Financial Services Committee, "People talk about how a rising tide lifts all boats. For some people a rising tide is a very bad thing. For people who don't have a boat and who are standing on their tiptoes to keep their heads above water, a rising tide is not a welcome prospect."
Rep. Frank is the most well known gay elected official in the United States. In 1987, he came out of the closet, becoming the first openly gay member of Congress. He has since then been a supporter of the LGBT movement, though relations have not always been smooth.
Frank came under criticism in 2007 from the community when he and other Democrats removed transgender rights from the Employment Non-Discrimination Act, in hopes that it would then be possible to pass it in the Senate.
Despite the disagreement, no animosity seems to have lingered. "The effort and influence he has exerted for trans people has mattered and has moved us down the field," said Mara Keisling, executive director of the National Council for Transgender Equality, on the group's website. "It will be somewhat harder to advance our cause in Congress with the Congressman gone, but justice will be won for trans, gay and bi people and Congressman Frank will have been a very important part of that."
ENDA failed in the 2007 Senate, and Frank twice re-introduced the bill, with transgender rights provisions intact.
Rep. Frank's own tough-guy character has been helpful in reversing anti-gay stereotypes. When former GOP House leader Dick Armey "accidentally" called Rep. Frank "Barney Fag," the representative responded with a joke, saying "My mother says that in the 59 years since being married to my father, no one had ever called her Elsie Fag."
In fact, the Congress member is known for his colorful words in describing opponents. In the 1980s, when it was revealed that President Ronald Reagan sometimes fell asleep during cabinet meetings, Frank said, "We must understand it's not the dozing off of Ronald Reagan that causes us problems. It's what he does on those moments when he's awake."
The retirement, Rep. Frank said, did not signify a lack of faith that he would win reelection or, indeed, that the Democrats could regain control of the House next year. The member of Congress cited his increased age, saying he was not up to running. "I hate raising money," he told the press.
He would have had more work than normal in winning reelection, as the commonwealth redistricted its congressional districts, meaning that Rep. Frank would have had to introduce himself to potentially thousands of new voters.
Rep. Frank was elected overwhelmingly each year in the 4th Congressional District of Massachusetts, and chaired the House Financial Services Committee from 2007-2011. His retirement will take effect when his current term expires in 2013.
Another Democrat known for opposing big business, Rep. Maxine Waters, D-Calif., will be either the next ranking Democrat or chair of the financial committee, depending on the outcome of next year's elections.
Frank's retirement could mean a return of the Kennedy family to Bay State politics, as Joseph Kennedy III is reportedly considering a run for the seat.
And Rep. Frank himself says he'll say around as part of political life.
Photo: Rep. Barney Frank, D-Mass., after his news conference on his retirement, Nov. 29, on Capitol Hill in Washington. (Pablo Martinez Monsivais/AP)