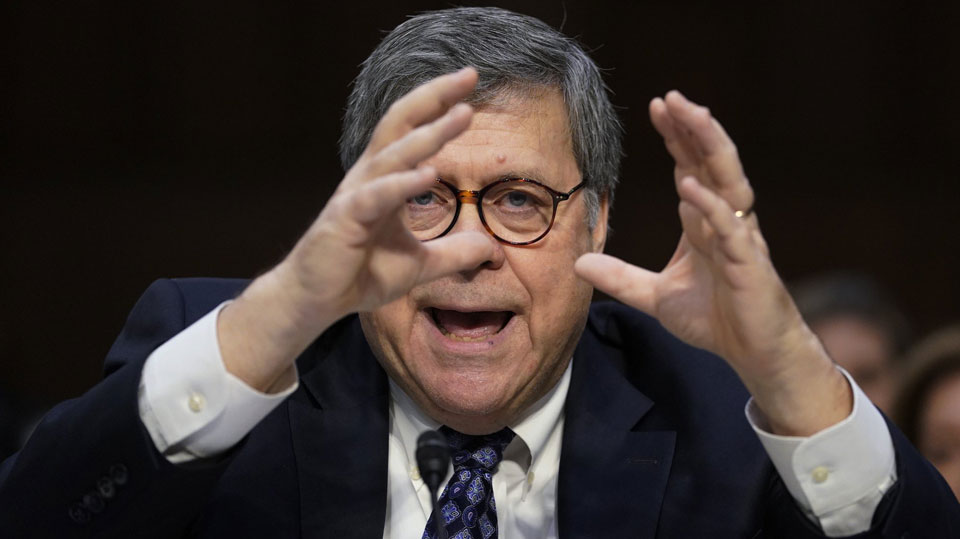 WASHINGTON—Claiming "I will not be bullied," William Barr, President Trump's nominee for the post of attorney general, said he would let Special Counsel Robert Mueller finish his investigation and that he would not follow orders to fire Mueller—unless there was "cause."
Citing what he called Justice Department regulations, Barr said he would not expect the Mueller report to be released to Congress or the public and that any report they get would have to come from him, the attorney general.
This refusal by Barr to assure transparency is getting lost in punditry describing Barr as someone who is "qualified" and probably "better than anyone else we can expect from the Trump administration."
That positive assessment notwithstanding, Barr has previously circulated an unsolicited memo among Trump lawyers describing the entire Mueller probe as "unwarranted."
The hearings yesterday were pitiful when compared to the hearings the Senate held when William Saxbe, President Nixon's fourth nominee for attorney general, came before the Senate for confirmation during the Watergate era. In those hearings, the senators, both Democrats and Republicans, swore in not only Saxbe but also the special prosecutor, Leon Jaworski. They made Saxbe swear not to fire Jaworski, and they made him swear not to interfere in his probe. They made Saxbe swear to provide Jaworski with whatever he needed to complete his probe and they made him swear to release the Jaworski findings to Congress and to the public. They made Jaworski, also under oath, swear that he understood everything Saxbe was swearing to.
The Senate yesterday should have done nothing less with Barr, considering that the Trump scandals make Watergate look like Amateur Hour.
Instead of reminding the public about those confirmation hearings, the press yesterday focused on how Barr tried to assure Democrats that he will not be a loyalist to a president who has appeared to demand pledges of fealty from law enforcement.
Some Democrats yesterday pushed back on that, citing the memo Barr wrote before his nomination in which he criticized Mueller's investigation for the way it was presumably looking into whether Trump had obstructed justice.
Sen. Dianne Feinstein of California, the top Democrat on the Senate Judiciary Committee, told Barr the memo showed "a determined effort, I thought, to undermine Bob Mueller." The nominee told senators he was merely trying to advise Justice Department officials against "stretching the statute beyond what was intended" to conclude the president had obstructed justice. That response should satisfy no one, of course.
That's when Barr asserted he wouldn't be pushed around "by anybody, whether it be editorial boards or Congress or the president."
If Congress and the public have concerns that Barr will withhold the Mueller report or release it only in edited form, Trump, so far, seems to be happy with his nominee. He told aides yesterday that he was pleased with how Barr was handling himself, according to two White House officials and a Republican close to the White House who spoke on condition of anonymity because they were not authorized to discuss internal conversations.
Barr also said some things that should worry advocates of a free press. He would not rule out jailing reporters for doing their jobs, saying he could envision circumstances where a journalist could be held in contempt "as a last resort."
Barr's confirmation is likely, given that Republicans control the Senate.
Feinstein said the nominee's past rhetoric in support of expansive presidential powers "raises a number of serious questions about your views on executive authority and whether the president is, in fact, above the law." Barr, responding only indirectly and partially, said he believed a president who ordered an attorney general to halt an investigation would be committing an "abuse of power," if not necessarily a crime.
Barr said he saw no reason to change Justice Department legal opinions that have held that a sitting president cannot be indicted but appeared to talk out of both sides of his mouth on this issue. Under questioning from Sen. Chris Coons, a Delaware Democrat, he said that he wouldn't interfere with a Mueller request to subpoena Trump for his testimony "if there was a factual basis."
The special counsel is required to report his findings confidentially to the Justice Department. Barr said he then expected to produce his own report to Congress and said it was his goal to release as much information as possible to the public, though he stopped short of a direct pledge.
He also noted the Justice Department does not typically disclose information about people it decides not to prosecute. If it is Justice Department policy not to prosecute a sitting president, then if the Mueller report or the attorney general does not recommend prosecution would it be the department's policy not to release anything? No one asked that question, and Barr did not answer it.
Associated Press contributed to this article.