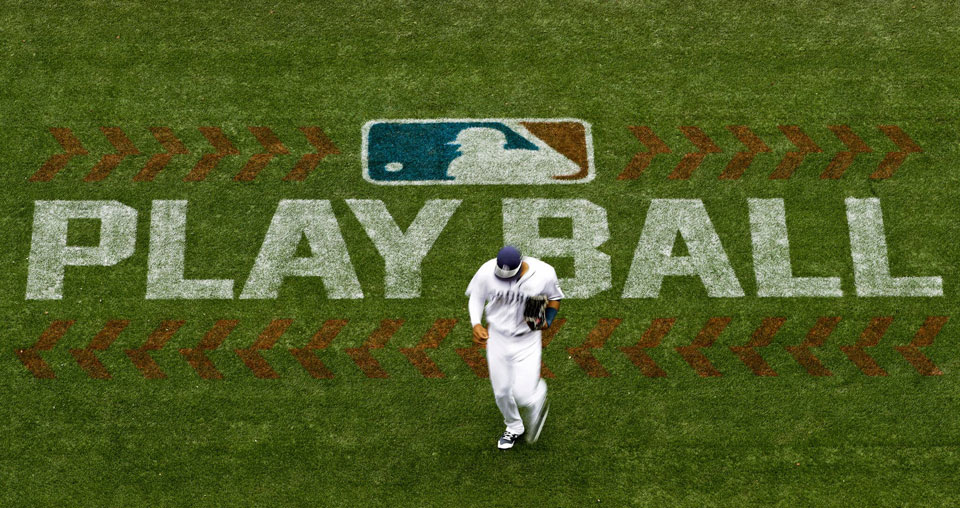 NEW YORK—Baseball's back, as a tentative contract reached suddenly on the afternoon of March 10 ended the owners/bosses' 99-day lockout of the workers, more commonly known as the players.
The pact came after multiple rounds of shuttle diplomacy between Manhattan offices for three days, and weeks of often-fruitless bargaining. The board of the Major League Baseball Players Association approved it 26-12, although the eight members of its executive committee—the bargaining team—unanimously opposed it. Player reps from each team voted 26-4 for it, though. It still needs ratification by a majority of voting workers/players.
Multiple news sources, including the Entertainment and Sports Network (ESPN), both Chicago papers, the Baltimore Sun, and The Athletic, reported the sudden pact, which saves the full 162-game regular season—even if it begins on April 7, a week later than scheduled.
At least one star player, shortstop Francisco Lindor, was dubious about it, especially about an international draft which would let clubs pick players from overseas, principally Latin America, instead of the current open market. There's already an amateur draft for U.S. players.
"Get informed before jumping to conclusions," Lindor tweeted at 10:09 am, five hours before the owners' 3 pm deadline for ratification. MLBPA's board announced it at 3:25 pm.
"The narrative being pushed ignores a lot of history, including corruption from clubs. This issue is bigger than just Latin players or amateur players. It's about all players and the future of the game, and we need to get it right," Lindor's tweet concluded.
The owners were also under pressure from fans and the baseball press. Once-docile mainstream media, which for decades dutifully swallowed the owners' lines, now made sure fans knew the owners were to blame for no baseball. The owners imposed the lockout after the prior contract expired December 1.
Details of the new agreement dribbled out. The minimum yearly salary will increase from $530,700 in 2021 to $700,000 this year, and $780,000 in the last year, 2026. There will be a bigger "bonus pool" for young players who have yet to be eligible for arbitration.
Owners wanted almost one of every two teams—14 out of 30—to make expanded playoffs, which bring in the most cable, streaming video, and TV money. They settled for 12. The current number is 10. In a win for older sluggers, both leagues will use the designated hitter. That eliminates pitchers from the plate. As a class, they're notoriously terrible at bat.
And two pandemic innovations, doubleheaders of two seven-inning "regulation" games each and starting all extra innings with an automatic runner on second base, were junked.
The most important item, a "luxury tax" threshold, rose significantly. The tax penalizes rich teams, such as both New York and both Los Angeles teams, the Philadelphia Phillies, Chicago Cubs, and the Boston Red Sox, who spend a lot for free agents.
The tax threshold started at $210 million per team in 2021 and will start at $230 million this year, rising to $244 million in 2026. Owners had proposed an $8 million total hike over the life of the contract. The MLBPA sought at least a $35 million hike in 2022 alone.
A higher threshold, MLBPA believed, would increase competition for those players, as the tax became a de facto salary cap for each owner's total payroll. As a result, salaries declined by 4% in 2021, compared to the last full season, 2019. They returned to 2015 levels.
Tax revenues are distributed to small-market teams, such as Pittsburgh, Kansas City, Minnesota, and Cincinnati. They're supposed to use the extra money to compete for free agents, but some sat on it instead. As part of the pact, the MLBPA will drop its lawsuit against any teams that sit on the money.
In another attempt to promote competition, a key MLBPA demand, the worst team from the prior year won't automatically get the #1 choice in the following U.S. amateur draft. There will be a lottery instead, as in the National Basketball Association. A lottery is designed to prevent "tanking," deliberate losing to get a high draft pick. It's had mixed success in the NBA.