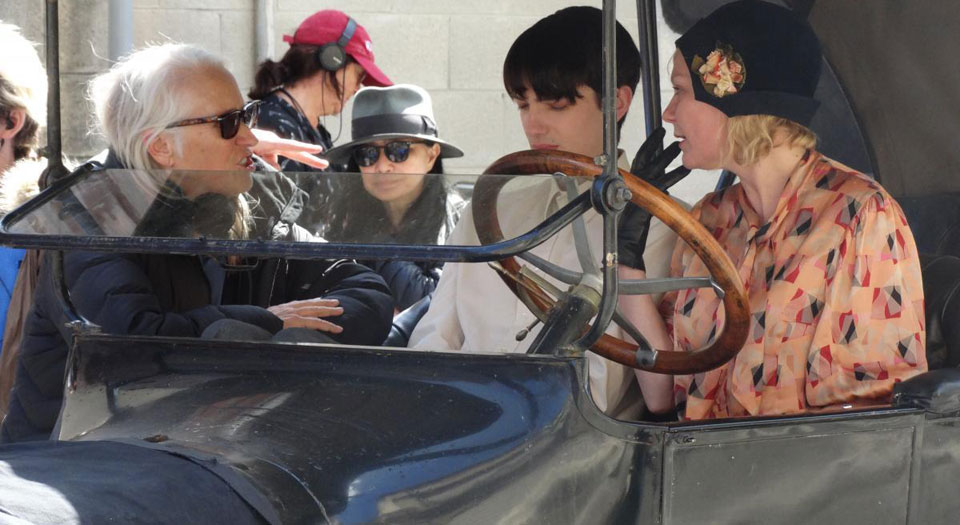 What did the just concluded Cannes film festival tell us about the power of the streaming services and the future of watching in theaters or at home on TVs and computers? "Will Cannes Kick Off a Global Comeback?" The Hollywood Reporter asked and the answer as far as theater going is concerned was a resounding "No."
If anything, the festival–declared, in a fever pitch of polyannishness, to be a triumph by The New York Times–confirmed the power of the streaming services as new COVID lockdowns persist and as restrictions on entering theaters were slapped on French movie houses at the midpoint of the festival such that attendance following the festival fell almost by half.
This was a festival with a lessened global participation as the BRICS countries, 40 percent of the globe, and in particular Russia, nearly voided the festival because smaller countries they sell to were not present and as the Cannes basement market, where major distribution deals are transacted, all but disappeared, with many of the market screenings not in theaters but online.
I trace the long term COVID effects in more detail in my new book Diary of a Digital Plague Year: Corona Culture, Serial TV and The Rise of The Streaming Services.
No streaming service was allowed an entry in the Cannes main competition but that didn't prevent streamers from being a major presence at the festival. The festival opener, the ultimate French auteur spectacular, Leos Carax' Annette is being distributed in the U.S. by Amazon which presumably after a brief opening will put the film online. An outstanding documentary, Todd Haynes' The Velvet Underground, is distributed by Apple + and Netflix capped the first week with a multimillion dollar deal for CURS>R, a horror film about, of course, a student playing an '80s computer game which turns on her, making the film itself an advert for online life.
The Cannes ban on streaming services and particular Netflix participation, a rearguard action by French theater owners, rather than stemming the tide, instead resulted in increasing the visibility of September's Venice Film Festival which will now feature Jane Campion's The Power of the Dog, ineligible at Cannes, about a sadistic Montana rancher and the spurned lover who thwarts him, as well as new films by the Italian auteur powerhouse Paolo Sorrentino and the Spanish perennial Pedro Almodóvar, such that Venice, which has often featured the eventual Oscar winner, becomes not a festival with Cannes' also rans but perhaps now the European and global most prominent festival.
It grows as Cannes shrinks.
Jury president Spike Lee, whose last release, Da Five Bloods, was on Netflix, said during the festival that streaming service and theaters will work out their differences and indeed they will though the balance of power seems likely to have shifted. The pre-COVID situation saw the streaming services coming to theater owners' hat in hand often begging for an opening. The new Big 7 (Netflix, Amazon, Disney+, HBO Max, Apple+, Paramount + and Peacock) now both command a greater share of the audience and in many cases, particularly with HBO Max and Disney+, either open their films online or open both online and in theaters. With the theater chains forced by these conglomerates to accommodate to a shrunken exclusivity window, as the largest chain AMC did, the polarity is reversed.
Theaters now may function much like major television events, like the Superbowl and (sometimes) the Academy Awards, to open films that then go quickly to streaming or that play off of earlier theatrical openings for prestige. Netflix used the theatrical success of Knives Out, a splashy star-laden feature in the vein of previous star agglomeration vehicles like the '70s studio release Murder on the Orient Express, to then build attention for its $400 million dollar acquisition of the next two films of what it is making into not a theatrical but a streaming franchise while Peacock (NBC/Universal) paid $450 million to restart an Exorcist trilogy with the opener in the theaters to garner attention and the next two films going direct to the streaming service as subscriber enlisters.
For every Fast and Furious 9, which boasted global opening week profits of $405 million and a post-COVID record of $70 million in the U.S., there was, as Deadline pointed out, an Army of the Dead which, though it had generally strong reviews, garnered only $700,000 in 600 theaters as viewers, whose streaming appetite for the director Zach Snyder's brand of bombast had recently been stoked by the HBO Max release of the four hour director's cut of his Justice League, waited the extra week for it to play on Netflix.  As one media executive put it, noting that the combination of streamers setting up during the still persistent COVID lockdown had opened Pandora's box, "I hope we'll still have theatrical left in the box. But it won't look the same."
Adding to the streamer's power is the shrinking distance between film and television, in some sense erasing the last vestige of the prestige, or aura, of film as a special theatrical and artistic event. Directors and actors now frequently move back and forth. In addition, Marvel Studios, a part of Disney+, has shrunk this distance this year in its interweaving of television and films as its vaunted "Phase 4" alternates between the two and adjusts the continuity in its "universe" accordingly. Disney+' Star Wars franchise has now followed suit, with its most prominent contemporary exemplar, the multiple Emmy nominated series The Mandalorian, to be followed by nine new series and corresponding films.
Profits have never been greater for these online winners as, the week before many renters are about to be kicked out of their homes as COVID eviction moratoriums end, Apple, Google and Microsoft all almost or more than doubled their profits from the previous quarter with Apple's profits rising 47 percent to $16.5 billion but with the company stock falling because profits were predicted to have been greater.
But, as with any capitalist enterprise, the house of cards may quickly collapse and most observers do not believe that consumers, with inflation gaining ground, wages at a standstill or lowering and jobs being lost to a new wave of automation, have enough money to subscribe to all of the services. A wave of mergers accompanied this movement online and these 7 media conglomerates will likely shrink to 4 or 5 with Peacock and Paramount+ potential losers and with global and U.S. competition accelerating between Netflix, Disney+ and HBO Max. Weakened theater chains will also shrink with AMC, which itself barely survived the closing of all 10,700 theaters during the lockdown, a potential buyer for the now bankrupt California Pacific Theaters Corporation.
But what will this brave new world of streaming domination, with these services now circling the globe, look like? The nightmare scenario, as profit predominates, is supplied by HBO Max, the former Time Warner which previously merged with the conservative Texas communications company AT&T, a company which saw the enterprise purely as a least common denominator profit center and immediately attempted to discipline its occasionally rambunctious element HBO. AT&T, after the usual merger savagery in which it unmercifully cut 2000 employees, then stepped out of the spotlight, though it controls the majority of stock, and instead is merging the company with the Discovery Channel and its affiliates appointing Discovery head David Zaslav as the new HBO Max head. Zaslav comes from the world of documentary, and documentary film and television, cheaper to produce, has become much more popular as streaming service fare.
High end includes series like "The Innocence Project"
The high end of this genre are Netflix series like The Innocence Project, about DNA testing proving the guilty innocent. The low end is the non-stop Netflix True Crime series and Reality TV. Zaslav declared himself to be against paying showrunners huge fees for the kinds of scripted series that have distinguished Serial TV and added a social dimension to its offerings. Instead, the new director favors (cheaper) unscripted fare such as 90 Day Fiancé, a series which reinstitutes in the era of MeToo regressive scenarios featuring mail-order brides. One can feel the long arm of AT&T still in control.
Another problem with streaming domination is its promotion of the Netflix model of creators not being paid residuals and instead only a lump sum upfront. The studios were notorious for hiding their profits so they would not have to pay residuals, with Paramount famously declaring in the Art Buchwald case that it had made no money on Coming to America and so owed nothing to the screenwriter. The steamers hide their subscriber data and so even to calculate and pay residuals will be difficult in this era of excessive tracking of user actions but minimal accounting of those actions released to the public.
The lump sum payment then allows the streamers to build and maintain their catalogue in perpetuity with creators reaping no reward for their ongoing part in building that catalogue. In this transition period, the sudden switch to online also short circuits artist theater residual payments and is now the subject of a lawsuit by Black Widow star Scarlett Johansen against Disney.
Spike Lee is right. The streamers and the theaters will work out their differences in a shared but shifted balance of power. What this discussion, the main focus in the entertainment media, conceals though is that the major loser of this online American dominance is likely to be government financed global film and television, which is often much more socially conscious than the fare put forth by the American streamers. That is the rival that these privatized services are actually working against and working to undermine.
Next week I'll talk about what governments are doing to curb their power and to promote their own local films and television series. This week I'll conclude with a look at streaming service rivals around the world, which, though listed as private companies, are often supported by public financing.
The first point is that the Americans are attempting, as the streamers decrease theater attendance, to throttle local services as well. They do this not only by competing but also by vastly outspending these services in their own countries because of the revenues from their global sweep. However, they are also not above working with them in shared windows and in that way accommodating to them as they undermine them.
One of the most prominent local rivals is the Scandinavian service Viaplay, which is now rapidly expanding throughout Europe and soon to be available in the U.S. The service which encompasses programming from not only Sweden, Denmark and Norway but also Finland and Iceland has now also expanded into Latvia, Lithuania and Estonia. Its' signature shows are the dark crime series like The Bridge and The Killing which have been exported around the world. Viaplay now has production deals with NBC/Universal, MGM, Sony and Fox and in its expansion describes its fare as "genuinely Nordic but also tailored to a global audience." Will this American studio investment and this need to go global to compete foster a diluting of the social specifics which have made these series so tantalizing to global audiences?
The streamer would seem to be attempting to straddle this line as new entries in progress include Glacier, a Swedish disaster film written by Nordic Noir star author Camilla Lackberg and Lars von Trier's sequel to one of the greatest series on Serial TV, and along with Twin Peaks one of its originators, The Kingdom with his The Kingdom Exodus. The original, a critique of western corporate dominated medicine, is an acerbic antidote to syrupy "doctor" shows like Grey's Anatomy or even better-intentioned validations of public hospitals such as New Amsterdam.
Finnish television production is also booming with another Finnish streamer Elisa Viihde home to the series All The Sins, about the masculine cultural violence of a Lutheran sect in the extreme north of that country and Deadwind, each of whose two seasons featured major storylines about respectively a transfer from oil to wind power and the corruption around a tunnel connecting the country to the European and Estonian mainland. Deadwind, bought by Netflix, is at least partially financed by the Finnish government, a fact that tends to be concealed now that the series has the global streaming imprimatur.
In order to compete, streamers such as Viaplay are also challenging the Netflix flat fee model and instead conceding to its artists both up front fees and residuals in a way that, if they succeed, may be a break on the American streaming service pattern. However, producers are always tempted to resort to the flat fee model and sell to the American streamers because of their promise of release on a global scale.
The rise of the streaming services, spurred by COVID, is not then primarily, as portrayed in the American press, either a battle between the various services or between streaming services and theater owners. They will slice up the market as capitalist monopolies always do. It is primarily a battle between private, fully for-profit, American companies, with often little social conscience–as Netflix proclaimed itself to be in the business not to "speak truth to power" but "to entertain"–against government-backed, often more socially motivated global film and television. This is a battle for the soul of popular media.